NEW YORK -- Americans just don't get football, or soccer, or whatever they want to call it. So goes the clichéd line about the beautiful game across the water. The facts on the ground tell a very different story.
After broadcaster NBC enjoyed a hugely successful season showing every game of the Barclays Premier League (reaching a total of 31.5 million viewers, with 5 million watching the denouement on the final Sunday), the World Cup is proving similarly successful for ESPN and Spanish-language network Univision, with a combined 16 million viewers tuning in to watch the US beat Ghana on Monday – setting records for both networks.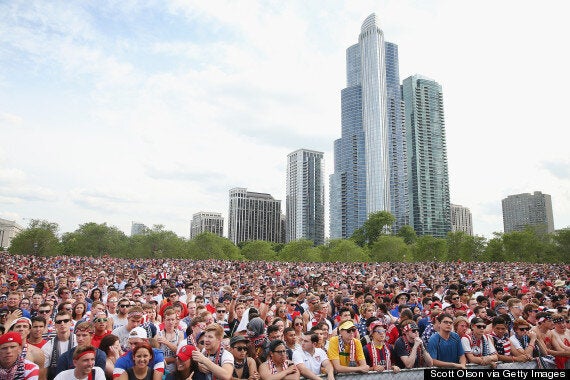 US fans gather in Grant Park, Chicago to watch the game against Ghana
To put that into context, only 6 million watched the NHL's Stanley Cup finals game the previous Friday, while the NBA's final game between San Antonio Spurs and the Miami Heat on Sunday peaked at 18 million.
Making the figures more impressive, ESPN and Univision are cable channels, requiring a subscription. More Americans watched the team's match against Ghana at the 2010 World Cup (nearly 20 million), however that was shown on free-to-air ABC as well as Univision, and was broadcast on a Saturday afternoon.
What's more, the recent figures do not take into account those watching the game in bars, at work or in World Cup viewing areas.
So it appears that John Brooks' late winner against the African team has made a nation of pitchers, quarterbacks and point guards realise that resistance is futile and that when it comes to football, or soccer, they are just as susceptible as the rest of the world.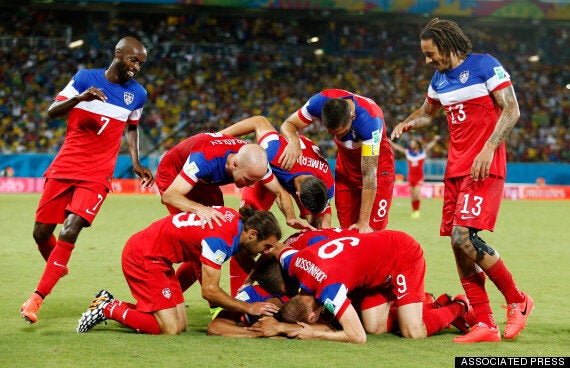 The US team surrounds John Brooks after he scored his side's second goal to defeat Ghana 2-1
And with World Cup fever rife, there is a high chance the Red, White and Blue's next game against Portugal, which will be show at 6pm EST on Sunday, could set a new all-time record for the viewing of a soccer match in the US.
However, the game still has some way to go to compete with the almost civil religious festival that is the Super Bowl, with an enormous 111 million people watching this year's season finale in New York. Should the USA reach the final against Mexico, then who knows...