That's the verdict of former Formula 1 driver and BBC commentator, Allan McNish, who thinks a return to the Austrian circuit for the first time since 2003 won't help any of the teams on the grid as they continue to try and catch a rampant Mercedes.
Formerly the A-1 Ring, the Red Bull Ring is back on the F1 calendar following the drinks mogul Dietrich Mateschitz's deal with Bernie Ecclestone but he may not find it a successful return and McNish believes that the track will benefit Mercedes.
"I don't expect the result to be much different from the first six races of the year. The Ring will favour Mercedes, they've got low speed grip, they've got great acceleration and it's got quite long straights – that doesn't really help everybody else," he told The Huffington Post UK.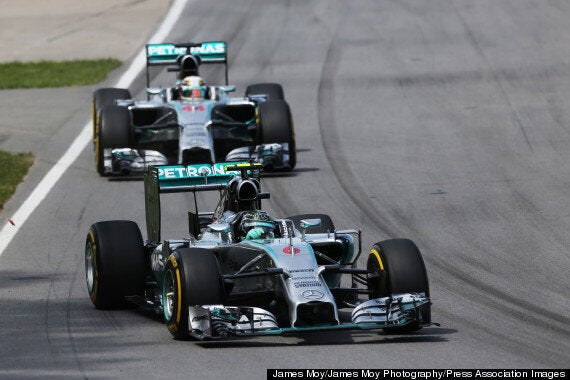 Mercedes have won all but one of this year's grands prix
As an ex-F1 driver with Toyota and Renault, McNish has experience of the circuit, as well as from his sportscar days, but the former Audi driver doesn't see it as one of the great driver tracks.
"The circuit isn't that inspiring, it's not one of the legendary tracks of Europe," he said. "I think the old circuit probably was but as ever it had to be brought into the modern age.
"I expect it to be a good grand prix but I don't necessarily expect the drivers to come out saying this is one of the new legends."
What he has been impressed with though is the young Australian Ricciardo who currently lies third in the drivers' championship behind Nico Rosberg and Lewis Hamilton. After his exclusion from his home GP and then retirement in Malaysia, the 24-year-old has finished fourth, fourth, third, third and first in the following races – and all in his first year since promotion from Red Bull's junior team, Toro Rosso.
"I think Ricciardo's developed very well, he's still got that huge smile and it was so cool to see him finally win a race," McNish told HuffPost.
"He's done a good job. I was impressed because he is riding on the crest of a wave, there was no real expectation of him
this year, so he's not had any pressure. Ricciardo enjoyed his champagne shower in Canada
"Also, however the Red Bull handles and feels it's still better than how the Toro Rosso was last year. So for him, life is fantastic, he's got a quicker car, a better car and he's doing a good job.
"Obviously, it's a bit different for [Sebastian] Vettel."
The Scot was talking to HuffPost following the Le Mans 24 Hours where double points were awarded to drivers, teams and manufacturers in the FIA World Endurance Championship, a system adopted by F1 this season that has drawn widespread opprobrium from many in the sport. But McNish is having none of that although he puts forward an interesting theory as to why it's not been readily accepted in F1.
"I don't see the problem. If you know the regulations when you start the season you prepare for it with that in mind. So, in the case of F1, you prepare for Abu Dhabi… You know that is a critical race and so you probably put a bit more emphasis on making sure your car works especially if you're in a championship fight.
"The problem with the double points is that people do not feel that Abu Dhabi is a race with a real sense of history and tradition like Silverstone and Monaco.
"If Monaco was double points then I think they would probably accept it a little bit easier. I think it's because Abu Dhabi is a new race and it was thrown in as a bit of a gimmick."
The last F1 Austrian GP was in 2003 and won by Michael Schumacher for Ferrari. This year's race is on Sunday 22 June and starts at 1300 BST