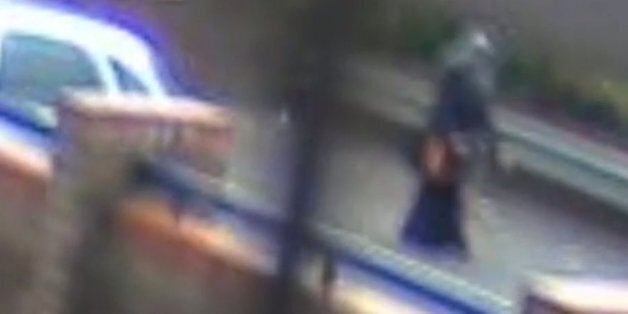 Muslim author Ed Husain, a former radical turned secularist, drew fury for his suggestion that people should re-think wearing the hijab because of such attacks. He quickly deleted the tweet and clarified his comments, but furious campaigners have labelled the statement as "victim blaming".
Detectives are investigating the possibility 31-year-old University of Essex student Nahid Almanea was targeted because she was wearing the abaya - a full-length navy blue robe - and a multi-coloured headscarf.
"Attacking Nahid Al Manea because of what she was wearing was a racist hate crime but blaming her clothing is judgemental victim blaming," Karen Ingala Smith, the director of violence against women charity Nia.
"I have no desire to defend any religion. All religions that I am aware oppress women. But I want to know why we immediately place her murder in a box called 'religion' or 'racism'. So far this year, I've counted more than 70 women in the UK killed though suspected male violence, but I've yet to see anyone other than feminists, identifying this a problem with patriarchy or misogyny."
According to statistics from anti-Islamophobia charity Tell MAMA, 58% of anti-Muslim attacks reported to them are against women and girls with a 2:1 ratio of women victims in Islamic clothing compared to men in Islamic clothing, and 75% of perpetrators are male. The overall percentage rise in Islamophobic hate crimes reported to the Met in April 2014 when compared to April 2013, show a 70% plus rise.
"The sex differences are clear – and predicable – to anyone who cares to look for them," Ingala Smith said. "We're not calling racially motivated attacks isolated incidents but that's still how male violence against women is too frequently viewed. Of course we need to drive out racism but we need to open our eyes and make the connections between all crimes of male violence against women – any woman, all women."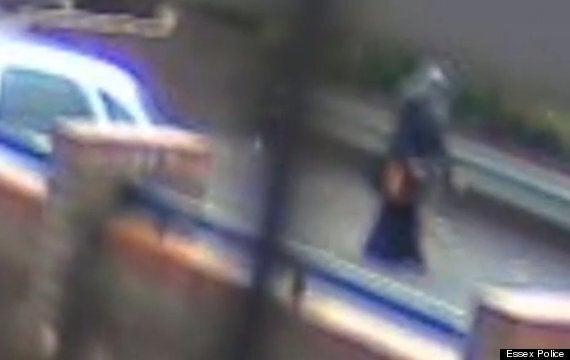 Police have released CCTV of the woman just before the attack
"If the killing is found to be an anti-Muslim in nature, then this will be the second Islamophobic murder in 14 months," Fiyaz Mughal, the founder of Tell MAMA told HuffPost UK. "The comment from Ed initially put out was read by many on Twitter as victim blaming in the sense that women should not wear the Hijab or the Hijab and the Niqab and this may then protect them in some way from being targeted.
"I understand that tweet has been deleted but it was not helpful in any way. Women should have the right to wear as little or as much clothing as they want and never should clothing be given as a reason for reducing threats against women. If we take that line, we might as well move back to the Dark Ages."
Husain declined to comment further on his tweet when contacted by HuffPost.
Leceister imam Shaykh Ibrahim Mogra told HuffPost UK that there is a precedent for Muslims, when their life is at stake, to suspend their beliefs and practices temporarily, such as denying they are Muslim if they come under attack. But he added: "The real question is, what kind of society do we want in Britain? Do we want one where people are so intimidated they have to hide their beliefs and practices that they cherish and love? Or a society where we are united against discrimination and hatred, of every kind?
"in many ways this is a double tragedy, this young woman came to our country with great hope, and she would have gone back and been an inspiration to other young women there, who would have looked up to her and said 'wow, she did it'.
"She came from a country where there are no some many opportunities for women. We are proud that our country offers so much to foreign students, we are one of the top places in the world for people to come and we want those who come here to know our country is free from racism."
Detective superintendent Tracy Hawkings said officers were keeping an open mind about the motive of the Colchester attack. But she added: "We are conscious that the dress of the victim will have identified her as likely being a Muslim and this is one of the main lines of the investigation but again there is no firm evidence at this time that she was targeted because of her religion."
Detective Chief Superintendent Steve Worron, of Essex Police, said: "She suffered at least two knife wounds which would have proved fatal on their own, but in total she was stabbed 16 times to her body, neck, head and arms."
Worron said there were "obvious similarities" with the murder of James Attfield, a vulnerable man with brain damage, who died after being stabbed more than 100 times in a park in Colchester in March.
"For the moment they remain separate but parallel investigations unless further evidence provides a definitive link," he said.
"We are also exploring the possibility that she was targeted because of her distinctive dress which would have identified her as likely being a Muslim.
"Again this is a line of inquiry which will be fully explored, but there is no hard evidence to support this currently."
Popular in the Community