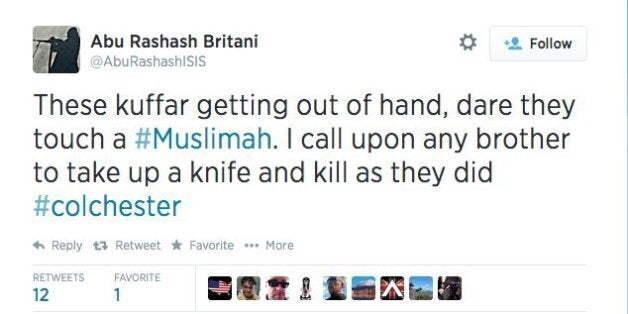 The tweeter, who goes by the name Abu Rashash Britani, has previously boasted of recruiting Brits to fight in Syria and Iraq on the direct order of Abu Bakr al-Baghdadi, the leader of the terror group now considered the world's wealthiest and most dangerous.
"Colchester attack is a cowardly act. At least when our noble brothers, killers of Lee Rigby, did so they killed a soldier not a civilian," Britani tweeted as the news broke of the killing, which police say may have been linked to the traditional Muslim dress worn by the University of Essex student.
"These kuffar getting out of hand, dare they touch a Muslimah. I call upon any brother to take up a knife and kill as they did [in] Colchester. Muslim sister killed by kuffar in UK. Allahu Mustahan. Where is the outcry by media? oh yeah she was a Muslim.
"I pray a revenge attack takes place in #uk against those enemies of #Islam."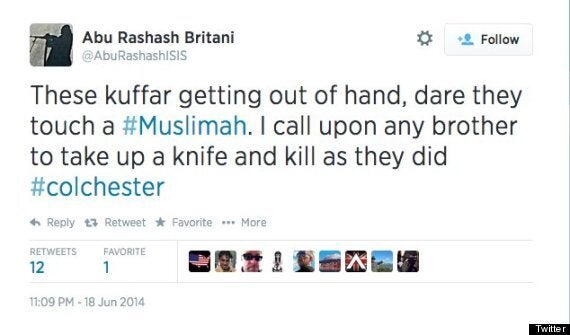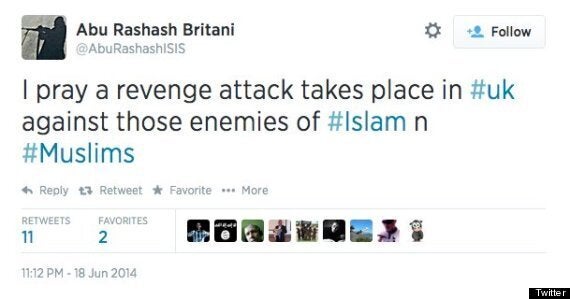 The hate-filled tweets sent from the ISIS account
The account has since been suspended.
Abu Rashash has previously tweeted about time fighting in Syria, and boasted that ISIS leader Abu Bakr al-Baghdadi, leader of the group now deemed the world's richest and most feared terror organisation, had asked him to recruit British fighters.
He said he has seen "an influx of muhajireen from the west to join #isis. Its amazing how many people rose to the occasion."
"According to the intelligence we have, just Britain alone have around 400 to 450 known people fighting amongst the ranks of ISIS," he said.
Police have released CCTV of the woman just before the attack
His comments echo those of Prime Minister David Cameron, who on Wednesday warned that Isis was plotting terror attacks on the UK and that militants returning from fighting in Iraq and neighbouring Syria now represent a greater threat than those from Afghanistan.
"We are investigating a number of individuals who are believed to have travelled abroad to engage in conflict but are unable to comment on any specific case for operational reasons," a Met spokesman told HuffPost UK.
"Travelling abroad for the purpose of engaging in terrorist related activity is an offence and we will seek to prosecute, where possible, anyone engaged in this type of activity. The police work with partners to identify individuals of concern in order to manage the risk they may pose."
Popular in the Community