These are the haunting last images of tragic student Nahid Almanea, just minutes before she was brutally stabbed to death in what police fear was a targeted attack because of her Muslim dress.
Wearing a blue abaya and a patterned headscarf, the blurry images show Almanea walking slowly passed a shop window, carrying a black and orange satchel.
A man arrested in connection with the brutal murder of the Saudi Arabian student has been released, police said, with the 52-year-old man positively eliminated from enquiries.
Almanea, 31, who was studying an English language course at the University of Essex as part of her studies for a life sciences PhD, died after she was stabbed 16 times as she walked along a path in Colchester, Essex, on Tuesday morning.
Police are investigating the possibility that the "young and very intelligent" student may have been targeted because she was wearing a Muslim abaya robe and a multi-coloured hijab headscarf but say there are other possible motives. Essex Police have called for calm, saying they were aware threats of revenge attacks had been made on social media sites.
One man, claiming to be an Islamic State of Iraq and the Levant (Isis) fighter in Syria, wrote on Twitter calling for "any brother to take up knife to kill as they did" using the hashtag #Colchester. Detective Chief Superintendent Steve Worron said the force was investigating such threats.
He added: "We will deal with those threats and we find these people. There's is no place for any kind of revenge attack - that is totally unacceptable."
Chief Inspector Richard Phillibrown, area commander for Colchester, said it was a cosmopolitan town, adding he was confident the community would pull together. The 52-year-old, from Colchester, was arrested on Tuesday. The force released CCTV footage taken from a local newsagent which showed Ms Almanea's last movements as she headed for the footpath that morning.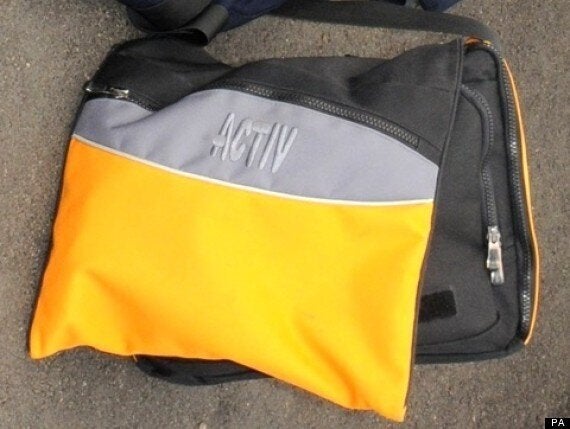 The bag that was being carried by Nahid Almanea when attacked
They also released a map of her likely route from nearby Woodrow Way to the Salary Brook trail and a photograph of the bag she was carrying. Officers said Ms Almanea lived with her brother and would normally walk to university with him.
Because he had earlier lectures that day, she was walking alone.
Mr Worron said: "She suffered at least two knife wounds which would have proved fatal on their own, but in total she was stabbed 16 times to her body, neck, head and arms." She also suffered an injury to the back of her head but this is believed to have been caused when she fell to the ground during the attack.
Mr Worron said there were "obvious similarities" with the murder of James Attfield, a vulnerable man with brain damage, who died after being stabbed more than 100 times in a park in Colchester in March. "For the moment they remain separate but parallel investigations unless further evidence provides a definitive link," he said.
"We are also exploring the possibility that she was targeted because of her distinctive dress which would have identified her as likely being a Muslim. Again this is a line of inquiry which will be fully explored, but there is no hard evidence to support this currently."
Tell Mama, a group which measures anti-Muslim attacks, issued a statement saying it has met with the Essex Police and Crime Commissioner Nick Alston eight months ago and asked him to ensure that mosques in the county were given adequate protection and to improve the way the force dealt with reports of Islamophobia.
The group added: "The response in hindsight should have been challenged by us, though there is only so much that a project like ours can do when there are incidents across the country. However, what has transpired is a brutal murder that has taken the life of a young visible Muslim woman who was studying at the University of Essex."
The Saudi Arabian Embassy confirmed Prince Mohammed bin Nawaf bin Abdulaziz, ambassador to the UK, had contacted the woman's family and is in contact with Essex Police. Staff at the University of Essex said they were "devastated" at the killing of the "conscientious student".
Students are being supported to deal with their grief, they added. Richard Barnard, head of the International Academy, said: "Nahid was a student on the Essex English Language Programme, which develops students' English language skills. Nahid joined this programme and was a very hard-working and conscientious student, who was making excellent progress.
"She was a quiet, considerate and well-respected member of the programme and had ambitions to move on to further academic study. She will be greatly missed by her teachers and her fellow students."
Vice-chancellor Professor Anthony Forster said: "On behalf of the entire university community, I express our deepest condolences to Nahid's family and friends following this devastating loss. We have students and staff here from over 130 countries and are proud of our genuinely global community. We are committed to ensuring that all our students and staff are being fully supported by the university."
Anyone with any information that could assist the enquiry is asked to contact the Major Investigation Team on 01245 282103, Essex Police on 101 or they can contact Crimestoppers anonymously on 0800 555 111. Essex Police Chief Constable Stephen Kavanagh and Mr Alston issued a joint statement saying the force would "continue unrelentingly to pursue all lines of investigation to bring her killer to justice".
They added that jumping to the conclusion that Ms Almanea was killed because of her religion was "deeply unhelpful, wrong and dangerous". "We would urge everyone to work with Essex Police, who will, supported by local communities, do everything possible to find the person or people responsible for both these awful crimes," the statement added.
"I know that everyone in Colchester will come together, and remain strong and united in ensuring that the town and the district continues to be safe and welcoming to all."