A Saudi Arabian student stabbed to death in brutal attack on an Essex footpath may have been targeted for her Islamic dress.
Detectives are investigating the possibility Nahid Almanea was targeted because she was wearing the abaya - a full-length navy blue robe - and a multi-coloured headscarf.
Police said the 31-year-old student at the University of Essex who was taking an English course before beginning a PhD in Life Sciences. Her name was trending on Twitter in Saudi Arabia last night.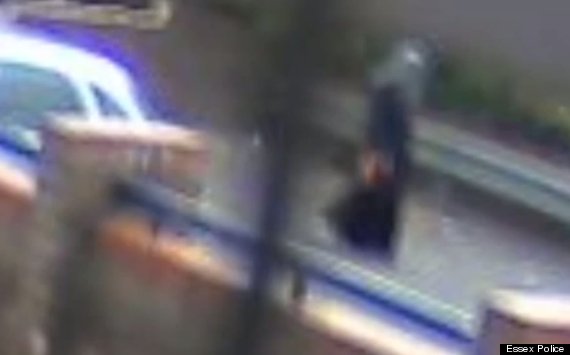 Nahid Almanea was wearing a blue abaya and a headscarf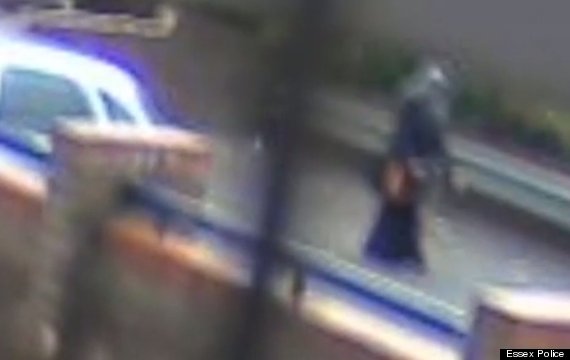 Police have released CCTV of the woman just before the attack
She was due to graduate from her English language course in August. Detective Chief Superintendent Steve Worron, of Essex Police, said: "A post-mortem was carried out on Nahid's body yesterday afternoon. We can now confirm that the cause of death was knife wounds. She suffered at least two knife wounds which would have proved fatal on their own, but in total she was stabbed 16 times to her body, neck, head and arms."
Almanea also suffered an injury to the back of her head but this is believed to have been caused when she fell to the ground during the attack. The student was attacked while walking on the Salary Brook Trail in Colchester at 10.40am yesterday. Paramedics tried to save her but she died at the scene, believed to have been stabbed in the face and on her body. A 52-year-old man was arrested last night in connection with the murder.
Police have also released CCTV of the student just before the attack. 'There were people in that shop shortly before and after she passed by who may well have seen Nahid and they are also vital witnesses that we need to speak to," the police said.
Detective superintendent Tracy Hawkings said officers were keeping an open mind about the motive of the attack. "We are conscious that the dress of the victim will have identified her as likely being a Muslim and this is one of the main lines of the investigation but again there is no firm evidence at this time that she was targeted because of her religion."
One 19-year-old Muslim student, who lives nearby and also studies at the university but did not want to be named, said: "This is normally a pretty tolerant area, I've never had any trouble. If it's true people are being picked out by somebody just because they look Muslim, it's very worrying."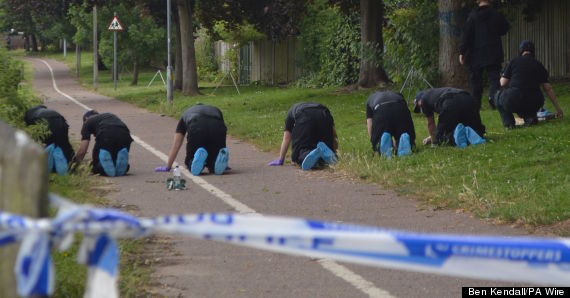 Police search the scene at Salary Brook Trail in Colchester , Essex, where a woman who died after being attacked on the footpath
Omar Ali, the president of Fosis, told the Times: "This isn't the first attack on a Muslim student and certainly is not the last on a member of the Muslim community in the UK. We will naturally wait for all evidence to become clear. However, if the attack turns out to be Islamophobic in nature because of her Muslim appearance, then it will correlate with the disturbing exponential increase in hate crimes against Muslims here in the UK."
The Saudi Arabian Embassy confirmed Prince Mohammed bin Nawaf bin Abdulaziz, ambassador to the UK, had contacted the woman's family. "The prince summoned officials of Saudi Welfare Department and Legal Affairs to consider the appropriate action to follow up the case, stand by the family of the deceased, and provide them with all necessary things in these circumstances, in addition to considering the regular and sound communication procedures with the local authorities concerned to consider the case.
"Prince Mohammed bin Nawaf expressed in a telephone call on Tuesday to the brother of the deceased his sincerest condolences to her family." The woman had a brother living in the UK, the embassy added.
The victim is believed to have left her home in nearby Woodrow Way before joining the path shortly before her death. The pathway runs along the back of a housing estate and opens on to fields. Detectives have also asked residents to check their gardens and rubbish bins for any discarded weapons or blood stained clothing.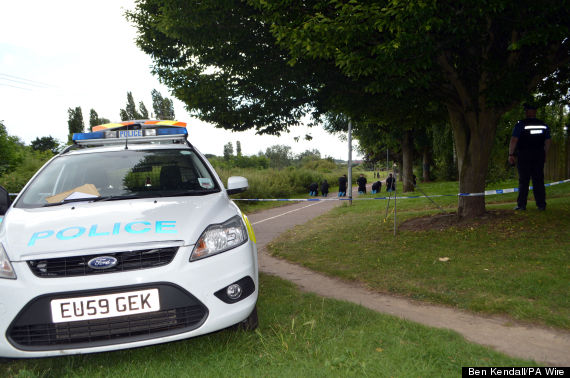 Police search the scene at Salary Brook Trail in Colchester
he attack has provoked a strong reaction from Muslims and commentators in the UK too, and Muslim author Ed Husain, a former radical turned secularist, drew fury for his suggestion that Muslims should re-think wearing the hijab because of such attacks.
@SalmaYaqoob @yvonneridley @y_alibhai did u c this disgraceful tweet frm EH of, blaming murder victim 4 their death pic.twitter.com/2iSBycfSPK

— Zbigniew G (@Zbigniew_G) June 18, 2014
No, I am not blaming poor lady attacked for hijab in UK. Islam is rich, pluralist. Scholarship exists to dispense hijab. Keep others safe.

— Ed Husain (@Ed_Husain) June 18, 2014
Several others called on the Saudi Embassy to suspend business ties with Britain:
@SaudiEmbassyUK Next time you award this country business remember Nahid Al Manea. May Allah swt grant her the highest rank in Jannah ameen

— London Muslim (@londonmuslim) June 18, 2014
@SaudiEmbassyUK you should clarify that the anti-Muslim hysteria fuelled by politicians & the media has led to this tragedy #NeverAgain

— Fahad Ansari (@fahadansari) June 18, 2014
Officers are looking at possible links with the murder of James Attfield, a vulnerable man with brain damage, who died after being stabbed more than 100 times at a park in the town in March.
"For the moment they remain separate but parallel investigations unless further evidence provides a definitive link," Worron said. "We are also exploring the possibility that she was targeted because of her distinctive dress which would have identified her as likely being a Muslim. Again this is a line of inquiry which will be fully explored, but there is no hard evidence to support this currently."
The University of Essex has informed all staff and students about the attack and reminded them of safety procedures, a spokeswoman said.
She added: "Our thoughts are with the family and friends of the young woman who died yesterday, and we are deeply saddened by this tragic incident. While we are awaiting confirmation of her identity from Essex Police, we understand the woman was one of our students from Saudi Arabia. The university is providing every possible assistance to the police."