Liberty Caton once hated her body so much she refused to have her photograph taken.
The 23-year old from Slough, Berkshire, says her confidence was shattered by a medical condition called scoliosis which left her with an abnormally curved spine.
Her condition was so severe that one leg grew shorter than the other and her shoulders and ribs protruded at different angles.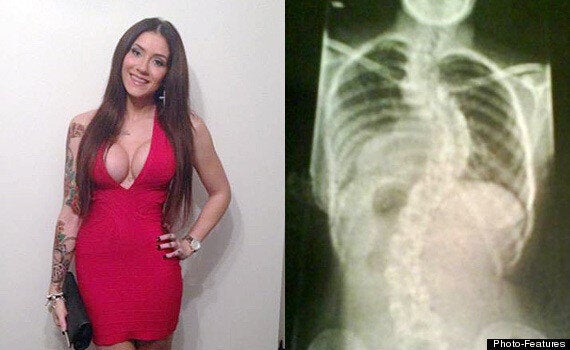 Now thanks to surgery to rebuild her back and enlarge her chest she's even taken part in a modeling shoot.
She said: "Once I hated my body so much I couldn't bare to look in the mirror, now I love it and I'm incredibly proud of what I've been through to be able to say that. It's been rebuilt and I'm delighted with the results.
"My condition stopped me feeling attractive for many years but now after the operations I could not be happier. My friends and family call me Iron Woman but it was the implants that really gave me the figure I craved."
Liberty, a customer services agent, was in her teens when she first began to notice her shape was at odds with her peers.
She explains: "My back was stooped and then I noticed my rib cage seemed twisted."
Over time it got worse and Liberty also noticed one leg was longer than the other.
She says: "Like most self conscious teenagers I kept myself covered up all the time to try and hide the irregularities in my shape."
Finally she confided in her parents who made an appointment with their GP.
Liberty was examined and referred to a specialist who confirmed she was suffering with scoliosis, an abnormal and severe curvature of the spine.
It was so extreme that one leg had grown longer than the other to compensate for the twist in her frame.
But consultants at the Nuffield Orthopaedic Centre in Oxford were hopeful that Liberty would benefit from surgery.
Story continues below the slideshow: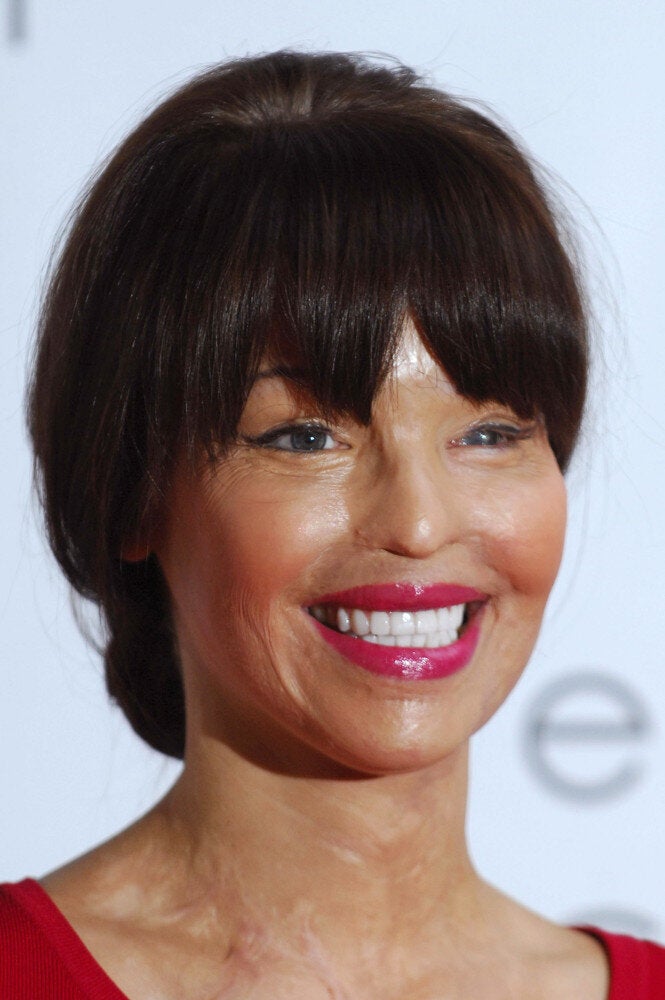 The solution was an operation to insert iron rods into her back to straighten in but could only be performed once the teenager had stopped growing.
She says: "I understood why but it was awful being told that basically I would have to spend the remainder of my teenage years feeling unhappy and unattractive.
"While my friends wore pretty dresses and strappy tops I kept covered up in baggy clothes. I felt very unfeminine and unattractive and couldn't wait to have surgery."
Finally in July 2009 she underwent the nine- hour operation and after a week in hospital spent three months at home recovering.
She was astonished to learn she had grown three inches as a result of the successful operation, going from 5ft 6ins to 5ft 9ins.
Liberty said: "It was fantastic but I knew straight away I wasn't finished. After waiting so long I was determined to look more curvy and feminine."
So Liberty decided to complete her transformation with a boob job to boost her from a 30 B to a 30FF.
She had a consultant with a surgeon from Transform Medical Group who agreed to operate and she took out a loan to cover the £3,500 cost.
Following the op last March she says her confidence has finally blossomed and she can at last enjoy being photographed.
She said: "I built this body for me, nobody else so I don't care what anyone thinks. I waited a long time and went through a lot to get here but I love my appearance now.
"I can walk into a shop and pick up anything I like knowing it will fit and look nice. I threw out all my baggy clothes and now I love tight stuff and bikinis. I spent my teenage years hidden away so I'm making up for lost time."
For more information about surgery with Transform visit the website or call 0800 655 6406.