The National Union of Journalists has condemned the far-right pseudo-militia group Britain First which threatened journalists "with direct action", and warned that its attacks will be "personal and not on the internet".
The threat came after a Channel 4 documentary about the group based on a report from anti-fascist campaigners Hope Not Hate. The uniformed group who conduct "Christian Patrols" in Muslim areas were described as having "taken Britain's far-right scene by storm".
Britain First said the claims in the 20-page report "contain literally dozens of inaccuracies, distortions and outright lies" and that journalsits reporting them would pay through "non-violent direct action".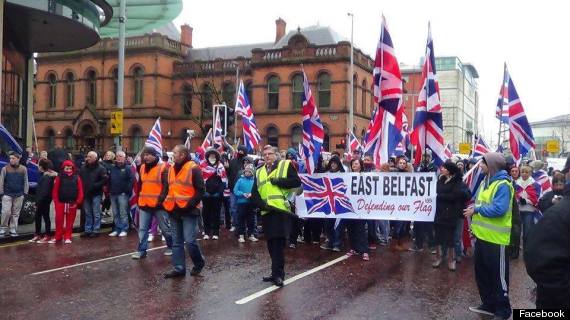 Britain First have said they will target journalists
"When journalists knowingly publish lies, smears or inaccuracies, it can lead to unforeseen circumstances for the victims of their poison," the group said in a posting on Facebook. "The Britain First Defence Force has announced that should any news outlet wish to re-publish any inaccuracies or lies peddled by "Hope Not Hate" that could place any of our people or their families in danger unfairly, they (inc journalists, directors and main advertisers) will be subject to a legal and non-violent "direct action" campaign to highlight any misinformation.
"These direct action operations will be 'personal' not on-line or via the internet. Britain First is not interested in facing lying journalists in the dock, but we shall face them. Journalists have the right to criticize, to comment, but not to lie and distort - that's where we draw the line."
Michelle Stanistreet, NUJ general secretary, said: "The threats from Britain First represent the latest attempts by far right groups to intimidate and bully journalists with the sole aim of making them fearful of investigating their activities.
"The NUJ is not prepared to have its members threatened or deterred from their work by thugs and bullies who would like to see press freedom undermined in order that their behaviour goes below the radar. We will take this matter up with the Home Office and police and robustly support any journalist targeted in this way."
Journalists have been beaten and threatened by various far-right groups in the past, and their home addresses circulated on far-right websites.
Hope Not Hate's report said Britain First "often cleverly disguises its online campaigns as support for the Armed Forces or against animal cruelty, whilst creating a climate of fear among Muslim communities on the ground".
It called leader and former BNP fundraiser Jim Dowson "a religious antagonist and Protestant extremist since the early 1980s, when he was active in anti-abortion extremism in Scotland".
Report author Matthew Collins, director of research for Hope Not Hate and a former member of the National Front (NF) and BNP, said: "Britain First is the most dangerous group to have emerged on the British far right scene for several years.
"Its confrontational style is attracting huge publicity and could potentially lead to a violent backlash. If nothing else, its provocative actions – such as distributing Bibles inside mosques and doorstepping Muslim community leaders in their homes – is generating a climate of fear.
"In effect, Britain First is the far-right version of al-Muhajiroun, the Islamist group led by Anjem Choudary. Despite numerous arrests, Golding and Dowson have not slowed their sick stunts against Muslim institutions. It's time for the authorities to act properly against Britain First."
The Electoral Commission was harshly criticised after allowing the extremist party to use a slogan featuring murdered soldier Lee Rigby on voting slips for the European elections.