The sodden, twisted wreck of the ill-fated Costa Concordia could strangle the tourism on the island of Giglio, as it is towed away next week at the start of the peak holiday season.
The wrecked cruise ship will finally be towed away two years and eight months from when it crashed into the rocks killing 32 people in the chaos.
The wreck may necessitate the closure of the ferry service that serves the island, according to the Independent, meaning holidaymakers will be unable to get to the island's beaches at the height of summer. The cruise ship was righted nearly two years after the disaster A detail of the right side of the Costa Concordia
La Repubblica newspaper said authorities were deliberating on a date between 13 July and 8 August to tow the wreckage away, a day when the waves would be unlikely to be higher than two feet.
The Concordia's captain, Francesco Schettino, is currently on trial in Italy on a number of charges related to the sinking, including manslaughter.
It is alleged he ordered the ship off its prescribed course so passengers could wave at people on the shore. The liner then hit a reef which Schettino claimed was not mapped. The Costa Concordia tragedy resulted in the death of 32 people>
More than 50 huge chains and winches were used to free the ship at painstaking speed in order to prevent damage to the hull which has been exposed to the weather since the sinking in January 2012.
It's final destination is thought to be one of two scrapyards in Italy, though there is a possibility it could be taken to Turkey. Greenpeace have previously warned there is no environmentally-friendly way to dispose of the wreckage.
The number of UK passengers who took a cruise in 2011 increased by 10.9% to 1.7 million which represented 28% of the continent's cruise market. European passenger numbers rose by 9% to 6.2 million. The global figure for 2011 was 20.6 million passengers.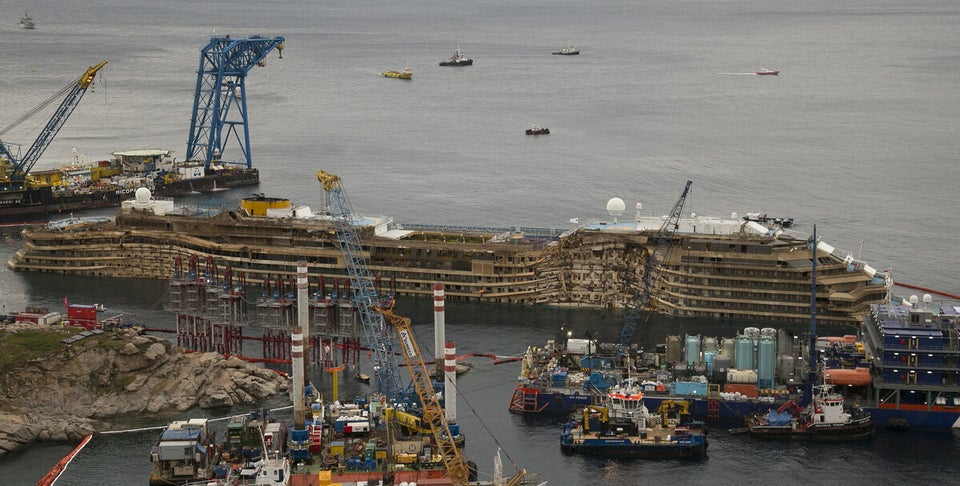 Engineers Attempt To Raise The Costa Concordia
Popular in the Community