A question for all the women out there: how many of you have sat at home and thought 'man, I wish my vibrator looked more like a teddy bear'?
We're guessing not many, but one company are hoping that's going to change.
The company are currently seeking crowd funding in order to build a teddy bear that's also a sex toy - the proposed product goes by the name of Teddy Love.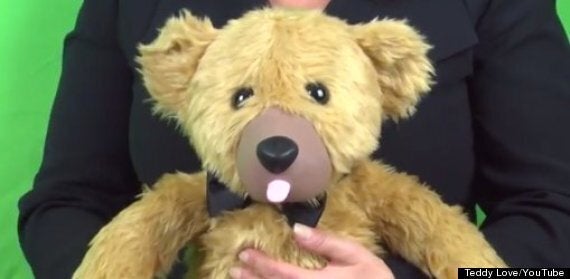 "Our product, Teddy Love, is a unique, discreet, and lovable adult Teddy Bear. Teddy has a robust, 10-speed motor housed in the muzzle.
"The result is a strong vibration in both the nose and tongue of the bear. The nose stimulates the clitoris and the tongue penetrates the vagina.
"The controls are located in Teddy's ears for easy and convenient control. Teddy Love is versatile, unique, cuddly and pleasurable," says Dawn Harmon, CEO of Teddy Love Incorporated on the company's Indiegogo campaign page.
The company aim to raise $50,000, in order to sell the toy to the masses.
Teddy Love is being marketed as the sex toy you can publicly display. On the above promotional video, Dawn asks: "Have you ever seen someone walking through an airport, in a restaurant, or in a place of business, with a large adult toy visibly protruding through a handbag or briefcase?"
Question is, does anyone actually want to publicly display their sex toys? Goodness knows who could accidentally pick this thing up...