Antonio Valencia has a lot of convincing to do. The first responses to Manchester United's tweet announcing the Ecuadorian had agreed a new three-year contract included "ffs got me excited", "are you kidding me", "Fuck sake", "Jesus Christ sign someone" and "Why?"
The internet may not always be a reliable barometer of sussed supporters' reactions to club news, however the backlash which greeted Valencia's extension is fair. This is a player who has excelled for four months over the last three years and partially blamed his woeful 2012-13 campaign on wearing the No.7 shirt.
Valencia's decision to revert back to No.25 last year arguably should have signalled the end of his United career. He later had the gall to suggest "he had not been given the chance" by David Moyes, last season's punchbag, when Moyes was not blameworthy for Valencia's feeble displays on the right wing.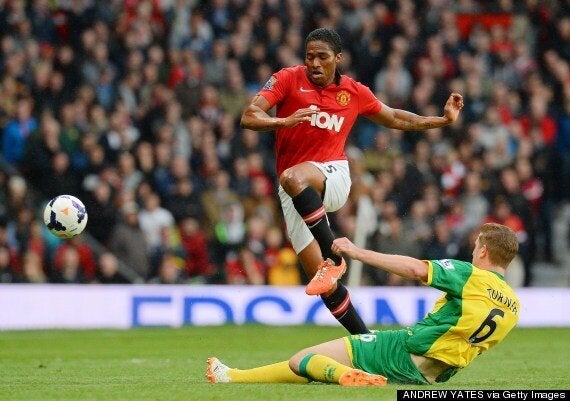 Valencia has emerged as one of the most frustrating players in United's side
He has earned the nickname "Turn around Toni". Valencia, these days, approaches a full-back unconvincingly and smacks the ball straight at him. Unlike several other United players, he did not suddenly regress in the aftermath of Sir Alex Ferguson's retirement; he actually played worse under Ferguson.
Now Valencia, 30 next year, has received an excessive reward for fruitlessness. It will be fascinating to see how or where he fits into Louis van Gaal's system but he should not have had the chance to prove himself to the Dutchman.
Valencia's best season at United came immediately after he joined for £16.25 million in 2009. His tireless and productive wing play contributed to the best form of Wayne Rooney's career, as he assisted the striker on numerous occasions in the winter and spring.
Valencia missed six months of the following term with a broken leg but surprised almost everyone with how seamlessly he returned. Ferguson purred over Valencia's impact at West Ham in a 4-2 comeback win a month after his return, opining the winger "had them on toast".
No one endured a longer hangover from the 2011 Champions League final than Valencia, though, and his failure to test Eric Abidal - Barcelona's weak link - was mystifying following a vibrant vein of form. Valencia has never truly recovered from his Wembley woe.
It was not until United's 4-1 defeat of Wolves later that year that Valencia regained his form. Ferguson had begun to use him as an auxiliary right-back, which contributed to his struggles, and Valencia flourished back on the wing up until he scored the supposedly title-clinching goal against Blackburn in April 2012.
United's eight-point advantage over Manchester City was then extinguished within four games - with two to play - and coincided with the beginning of Valencia's second regression. He was not at fault for Everton's resuscitation to claim a 4-4 draw having trailed 4-2 with seven minutes to play, however he seemed peculiarly hesitant to confront Everton's lumbering left-back Sylvain Distin. Valencia lost his place in the decisive fixture at City as a consequence of his tentativeness.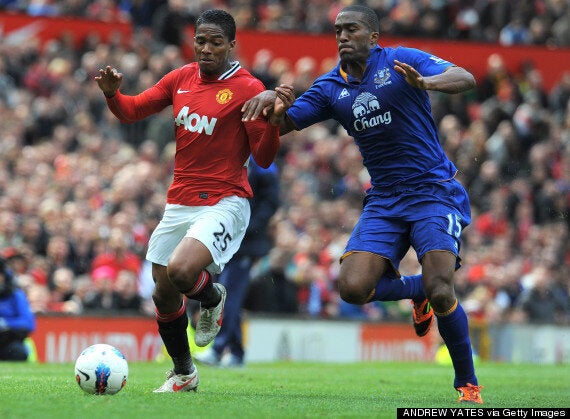 Valencia's regression at United began with an unconvincing display against Distin
Debatably, Valencia was named United fans' player of the year and subsequently asked for the No.7 shirt. He scored just once and claimed six assists in Ferguson's final title-winning season and would have claimed the award for fans' worst player of the year if such an accolade existed.
When Valencia first arrived at Old Trafford he was an antidote to the ponderous Nani. Prompt, slick and swift, his role in the 4-3 derby win over Manchester City was understated, he hit seven goals - his best haul at United - and drew credible comparisons with Andrei Kanchelskis. Back then, Valencia roared past full-backs like a Porsche leaving a Mini in its wake. Now he moves as gracefully as a lorry.
Valencia, Nani, the unloved Ashley Young and the unwanted Wilfried Zaha have come to symbolise United's malaise on the wing. Realistically, United could not sell all of them in the same summer however it sends out an unambitious statement when mediocrity is recognised with a new deal and new signings are yet to arrive.