War veterans have called on former England and Liverpool striker Stan Collymore to apologise and resign from his radio job after his comments that Britain "thieved" the Falkland Islands.
Around 40 people, including decorated ex-servicemen who served in the conflict, held a silent protest outside the talkSPORT headquarters in London where Collymore, a well-known commentator on sport and politics with more than 600,000 Twitter followers, is a pundit.
The tweet, from his personal account, read: "Falklands? Wasn't anyone's. We just thieved it, as we do."
Veterans said it was the timing of the tweet, on the anniversary of the sinking of missile destroyer HMS Coventry on May 25 leading to 19 deaths, which upset them, rather than the content.
Campaign spokesman and Falklands veteran Dougie Brimson, who organised the protest, said he believed in freedom of speech but said Collymore's comments overstepped the mark.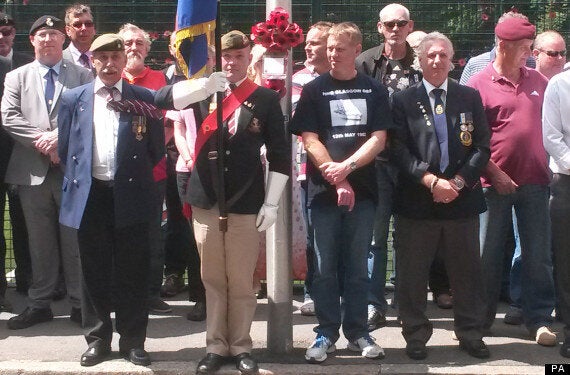 Silent protest: War veterans outside the talkSPORT headquarters in London today
The 55-year-old, from Hertfordshire, said: "On 25 May Stan Collymore posted a tweet which disrespected the memory of the 255 men and three islanders who died during the liberation of the Falkland Islands. It upset a lot of people and has taken us to this position.
"Everybody's got a right to hold an opinion and to voice that opinion. The issue with the tweet is that the words used - inferring that the islands were thieved - we found disrespectful.
"A number of people at the time asked on Mr Collymore to apologise which he refused to do. That added to the upset."
He said supporters from across the UK, including Birmingham, Merseyside and Portsmouth, travelled to the protest against former Nottingham Forest and Aston Villa striker Collymore, who made a name for himself in the top flight in the mid-to-late 90s. He made three appearances for England.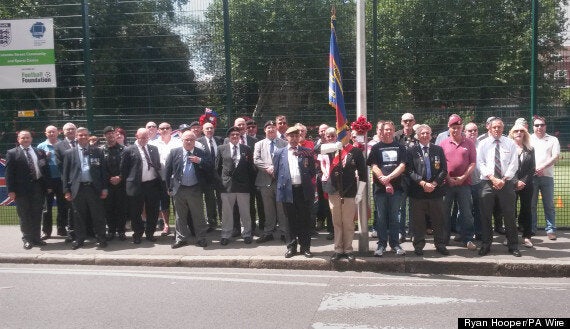 'Disrespectful': The veterans have called for Collymore to apologise or be fired.
Mr Brimson said: "Many people are calling for him to be removed from the air, I don't necessarily agree with that, but we want a resolution.
"I think if you cause offence to people, either knowingly or unknowingly, you should be strong enough and brave enough to apologise. Sadly he hasn't felt the need to do that yet."
In a statement, talkSPORT said: "A member of senior management is meeting with representatives of the group on Tuesday. We have no further comment at this point."