HS2 has barely got off the ground but the Chancellor is already weighing up HS3.
A new high-speed rail connection and improved roads between England's northern cities could help create an economic powerhouse to rival London, George Osborne will say today.
He will use a keynote speech to say an upgraded, high-speed link between Manchester and Leeds should be considered.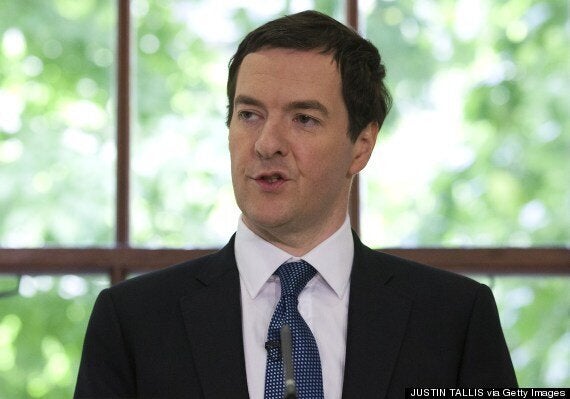 George Osborne is set to propose a HS3 line
The Chancellor will say he wants travelling through towns and cities in the northern belt to be as easy as moving around a major global metropolis as part of a plan to help them "take on the world".
Under current plans the £50 billion HS2 high-speed rail project will link London to Birmingham in its first stage, before creating a Y-shaped network with lines to Manchester and Leeds by 2032/33.
But concerns about connectivity between the northern cities were raised in the report by HS2 Ltd's chairman Sir David Higgins earlier this year.
Osborne, one of the few Tory MPs to represent a northern seat, has been accused of politicking with the scheme designed to attract northern voters to the Tories, and was evasive when asked about timescale or cost by Radio 4 Today's John Humphrys.
Osborne will say HS2 as currently planned will "change the economic geography of our country" and mean London and Manchester are an hour apart but "we must do much more to connect our northern cities".
In a speech in Manchester Osborne will say : "We need an ambitious plan to make the cities and towns here in this northern belt radically more connected from east to west - to create the equivalent of travelling around a single global city.
"As well as fixing the roads, that means considering a new high speed rail link.
"Today I want us to start thinking about whether to build a new high-speed rail connection east-west from Manchester to Leeds."
The proposed line would be based on the existing rail route between the cities "but speeded up with new tunnels and infrastructure" to create "a third high speed railway for Britain".
Following the existing route between Manchester and Leeds could help avoid the levels of political and environmental opposition which the existing plans for HS2 have faced.
Osborne will say London's dominance is "not healthy" for the economy and a northern counterbalance was needed.
"The cities of the North are individually strong, but collectively not strong enough," he will say. "The whole is less than the sum of its parts. So the powerhouse of London dominates more and more.
"And that's not healthy for our economy. It's not good for our country. We need a Northern Powerhouse too.
"Not one city, but a collection of northern cities - sufficiently close to each other that combined they can take on the world.
"Able to provide jobs and opportunities and security to the many, many people who live here, and for whom this is all about."
He will say that in a "modern, knowledge-based, economy, city size matters like never before".
Shadow chancellor Ed Balls said: "Nobody will believe the Tories can deliver the jobs, growth and investment we need for the north of England.
"Regional growth divides have widened markedly since 2010. The Tories scrapped Labour's successful regional development agencies, failed to implement Lord Heseltine's growth report and are planning to cut infrastructure investment next year."
He added: "On high-speed rail, we said months ago that we need value for money for the taxpayer and to improve the existing plans to maximise the benefits for the whole country and strengthen the links between northern cities. Ministers need finally to start listening."