Ed Miliband has slammed David Cameron for hiring Andy Coulson as a spin doctor, saying his conviction for phone hacking today meant the prime minister "brought a criminal into the heart of Downing Street".
Cameron and George Osborne have both apologised for their roles in hiring Andy Coulson to be the Tories' media chief, a role he stood down from in 2011.
Cameron gave a "full and frank apology" for employing Coulson as his spin doctor at 10 Downing Street, saying: "It was the wrong decision and I am very clear about that."
But Labour leader Miliband said that the apology did not go far enough, and that Cameron had "very serious questions to answer" about why he stuck by Coulson long after serious allegations about him had become public.
Cameron's government was "tainted" as a result, Miliband said, accusing the prime minister of putting his relationship with press tycoon and News Corporation chairman Rupert Murdoch ahead of the public interest.
Coulson always denied any knowledge of phone hacking when he was editor of the News of The world (NoTW) but resigned as Cameron's media chief in January 2011, saying the growing scandal was a "distraction".
But today a jury convicted him of phone hacking after a seven-month trial.
His former lover Rebekah Brooks, who edited the now-closed tabloid before him, was acquitted of phone hacking.
Miliband said Cameron still had "very, very serious questions to answer".
He said: "We now know that he brought a criminal into the heart of Downing Street.
"David Cameron was warned about Andy Coulson, the evidence mounted up against Andy Coulson. David Cameron must have had his suspicions about Andy Coulson, and yet he refused to act.
"I believe this isn't just a serious error of judgment. This taints David Cameron's government, because we now know that he put his relationship with Rupert Murdoch ahead of doing the right thing when it came to Andy Coulson."
He continued: "This was not some small or accidental mistake. He stuck with Andy Coulson over a long period of time, and it wasn't like there wasn't information out there to arouse his suspicions.
"He was warned by the deputy prime minister. He saw front page stories in newspapers. He was warned by newspaper editors. And yet still he refused to act and even today defended some of the conduct of Andy Coulson when he worked for him.
"I think David Cameron must do much more than an apology. He owes the country an explanation for why he did not act on these allegations against Andy Coulson, why as the evidence piled up he didn't do anything about."
Speaking from Downing Street, Cameron acknowledged that people would be "concerned" at Coulson having worked for him both as leader of the opposition and prime minister, but stressed that there had been no complaints about his work at No 10.
He said he had asked the former editor of the NoTW whether he knew about phone hacking before he was hired, and received assurances which have now turned out to be false.
Cameron said: "I take full responsibility for employing Andy Coulson.
"I did so on the basis of undertakings I was given by him about phone hacking and those turned out not to be the case.
"I always said that if they turned out to be wrong, I would make a full and frank apology and I did that today.
"I am extremely sorry that I employed him. It was the wrong decision and I am very clear about that." Cameron said hiring Coulson (right) was 'the wrong decision'
Osborne has come under fire for recruiting Coulson to head up the Tory media operation within months of resigning as editor of the NoTW in January 2007.
He said: "I too am very sorry for the decision we made to employ Andy Coulson.
"He gave us assurances that turned out not to be the case. We gave him a second chance but, knowing what we now know, it's clear that we made the wrong decision.
"It's important for the victims of phone hacking that this has now been properly dealt with by the courts; and it matters for us all that we have a free and vibrant press which operates within the law."
Wednesday's Prime Minister's Questions promises to be lively.
Miliband is sure to use the issue to attack Cameron and the Tories in the Commons tomorrow.
Asked whether Cameron regarded his apology as putting an end to the matter, the prime minister's official spokesman said: "The Prime Minister has made the full and frank apology that he said he would do.
"Obviously, there is Prime Minister's Questions (in the House of Commons) tomorrow. I can't anticipate what some members might ask the Prime Minister. But in terms of the Prime Minister's commitment to make an apology, you have it and it is frank and full.
"What the prime minister thinks is that where he has made a mistake it is right that he apologises and that is what he has done."
Following Coulson's conviction for phone hacking, former Home Secretary David Blunkett condemned phone hacking as a "gross intrusion" in people's lives.
The trial heard Blunkett's voicemails were hacked by the NoTW in 2004.
He said: "No one should misinterpret what has happened as an indictment of a free press or of the professionalism of most trained and dedicated journalists. Nor should they see this as 'vengeance' on the media as a whole or even one particular publisher.
"This was and remains a matter of criminality, of gross intrusion into the private lives of innocent people and a distortion and aberration of everything that high standards of journalism stand for.
"The damage that has been done to the lives of so many people, the undermining of trust and the undermining both of personal relationships and of professional standing, can never be restored."
Story continues beneath video
A spokesperson for News UK - the British newspaper publishing arm of Murdoch's media empire - said that they had put in place measures to ensure that the wrongdoing at the News of the World could not happen again.
In a statement, the company said: 'We said long ago, and repeat today, that wrongdoing occurred, and we apologised for it."
The Hacked Off campaign group, which has pushed for press reform in the wake of the scandal, said the trial showed hacking was more widespread than previously claimed.
"For years the Murdoch press clung to the story that one rogue reporter was responsible for phone hacking. We now know this was a lie. Far from being an isolated incident involving a few 'bad apples', the trial has shown that the entire orchard was rotten," Brian Cathcart, journalism professor and member of the group, said.
"The trial also shone a light on the appalling, systemic newsroom culture of bullying, lies, intimidation and intrusion that has devastated the lives of many people. From royalty and Cabinet ministers to victims of crime and bereaved families, nobody was safe."
Mayor of London Boris Johnson, who famously dismissed calls in 2010 for re-opening the phone hacking inquiry as "codswallop", said he was "pleased" at the acquittal of Rebekah and Charlie Brooks.
He said: "I'm pleased for Rebekah and Charlie Brooks that they have both been acquitted and that justice has taken its course in the case of the other defendants.
"Phone hacking was and is a disgraceful method of journalism, and it is right that the culprits should pay a heavy price for their behaviour."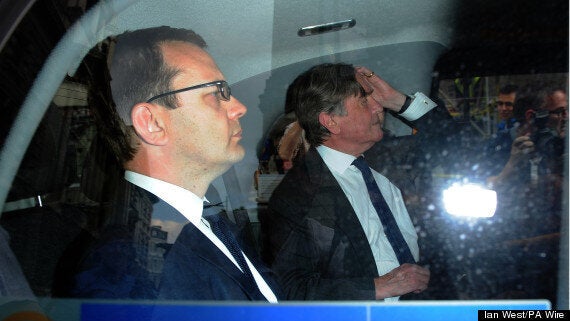 Coulson leaving the Old Bailey after his conviction
The jury is still deliberating over two more counts against Coulson and Clive Goodman, the former royal editor at the NoTW, of conspiring to commit misconduct in a public office.
They have adjourned and will resume deliberations at 11am on Wednesday.
Stuart Kuttner, former managing editor of the NoTW, was also acquitted of phone hacking.
The jury also acquitted Cheryl Carter, Brooks' PA, of conspiring to pervert the course of justice.
Charlie Brooks and Mark Hanna, the former head of security, were both cleared of one count of the same charge.
The Phone Hacking Verdicts So Far