Britain's most famous journalistic voices and faces have held a one-minute silent protest against the jailing in Egypt of colleagues from Al Jazeera which has provoked outrage around the world.
The jailing of Australian-born Peter Greste, Canadian-Egyptian acting Cairo bureau chief Mohammed Fahmy, and Egyptian producer Baher Mohammed to seven years each for terror-related charges has superseded media rivalries. Channel 4's Jon Snow, BBC Radio 4'S John Humphrys and Panorama's John Sweeney all put the now iconic black tape across their mouths in solidarity with their jailed colleagues.
Hundreds of staff from the BBC and other news organisations held a one minute silent protest outside New Broadcasting House in London at 09.41, the time of yesterday's sentencing, with regional teams also posting pictures of themselves with their mouths taped shut. Some have called for a boycott of Egypt's tourist attractions until the journalists are free.
Journalists from ITN in London also joined the call to protest. On Monday evening, Channel 4 news' evening programme signed off with a silent protest, and the website had the news covered in black tape.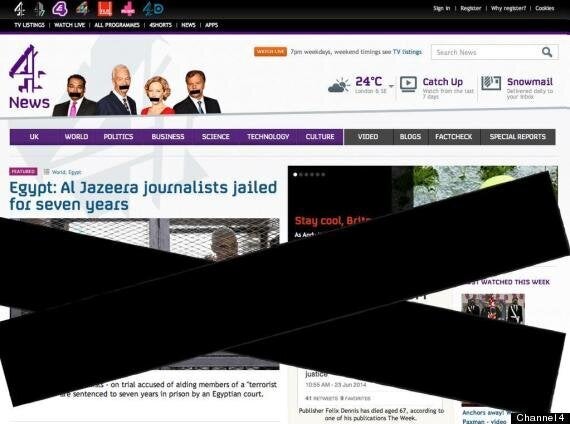 The Channel 4 website after the verdicts
James Harding, the BBC's director of news and current affairs said: "Mohammed Fahmy, Baher Mohammed and Peter Greste, an outstanding journalist who worked with many of us here during his years at the BBC, were sentenced to seven years in prison by a court in Egypt for nothing more than reporting the news.
"The verdict is unjust. The case is unfounded. And, taken together, the Egyptian authorities are not just robbing three innocent men of their freedom, they are intimidating journalists and inhibiting free speech."
Harding said that the BBC and other news organisations and broadcasters would be sending a letter calling on Egyptian President Abdel-Fattah el-Sissi to intervene.
On the steps of Broadcasting House, Sweeney, who has worked in Afghanistan and most recently undercover in North Korea, said the verdicts yesterday were "wrong, wrong, wrong".
"The Egyptian government has taken a step back into the middle ages," he told the Press Association. "They've locked up three people whose only crime was doing their job. Journalism is not a crime."
While admitting he did not believe the protest "will achieve very much", he added: "I would invite people not to go on holiday to Egypt, there are lots of other sunny places they could go to. And I would invite the Egyptian government to watch some of Peter Greste's work. Then they will see this is not a man who is supportive of extremist Islam."
Some of the broadcaster's most famous faces, including the presenters of the Today programme and its Middle East editor joined the protest.
And correspondents across the world, from Iraq to Moscow to Delhi, also taped their mouths shut for the symbolic one-minute silence.
Radio 4 presenter Julian Worricker said: "It is really important because they represent all journalists because they were just doing their jobs and they end up jailed for seven years. There by the grace of God go all of us."
BBC technician Mark Reeves said the protest would be the first of many efforts to draw attention to the case.
"This will be the start of a concerted campaign to make the Egyptian government see how strong the international reaction to this," he said. "It's essential to make a stand for press freedom."
Staff from the BBC were joined by representatives from Al Jazeera and Sky among others. Barnaby Phillips, special correspondent with Al Jazeera, described Greste as "a tough customer". He said Greste would be heartened to see the support at the protests and online, where hashtags including #journalismisnotacrime have been trending worldwide.
The New York Times also carried an image on its back page in solidarity with the Al Jazeera staff who were jailed.
Greste's father said today that his family was stunned by the court's decision to imprison his son. Juris Greste told reporters in the family's home town of Brisbane that he was in a state of shock and was struggling to think straight.
"We're not usually a family of superlatives, but I have to say this morning my vocabulary fails to convey just how shattered we are," he said. "Of course we were hoping for something entirely different. Although we considered a range of other outcomes, you can never prepare yourself for something as painful as this.
"However, we are absolutely determined and committed to continue this battle until Peter, as well as his colleagues, are all out of prison and free to do and go wherever they decide."
"To us, it is not just affecting the Greste family. We put it to you that it is also a slap in the face and a kick in the groin to Australia as well as all fair-minded people around the world. We seem to be at polar opposites on the basic things that matter in civil society.
"This man, our son, Peter, is an award winning journalist. He is not a criminal. He is not a criminal."
Juris said he and his wife Lois were taken by surprise at the verdict. "I don't want to suggest that anybody has been misleading us. But clearly the messages that we did get from the Egyptian authorities did truly give us great confidence certainly for other possible outcomes," he said.
Australian Prime Minister Tony Abbott said: "We're obviously shocked, dismayed, really bewildered by the decision of the court in Egypt."
He said he had a "very constructive discussion" about Greste over the weekend with Egyptian President Abdel-Fattah el-Sissi. "My understanding is that the Egyptian court system does work at arm's length from the government, but I do understand that once the court system has done its work, then there are options for presidential acts - presidential clemency, presidential pardons and so on - that's why I'm not in the business of being critical of the government," Abbott said.
Australia summoned the deputy Egyptian ambassador so that the country could continue to "express their disappointment".
Senator Christine Milne, the leader of the Green Party, said the country should consider sanctions, something Foreign Minister Julie Bishop has ruled out.
"I think our best hope is for President (Abdel Fattah) al-Sisi to intervene and pardon the journalists concerned and let them leave the country but, in order for pressure to build on Egypt, I think we should consider sanctions," Milne told Reuters.
There were 14 other co-defendants in the case, including two British journalists, Sue Turton and Dominic Kane, both of whom were tried in absentia each received 10-year prison sentences.
The Foreign Office political director Simon Gass met with the Egyptian Ambassador in London Ashraf El Kholy yesterday to convey the UK Government's displeasure about the sentencing.
A Foreign Office spokesman said Gass told the ambassador, who had been summoned by Foreign Secretary William Hague, that the Government is "deeply concerned by the verdicts and the procedural shortcomings seen during the trial".