A teenage boy has snapped what he believes to be the ghostly figure of a soldier during a school visit to war graves in France.
Mitch Glover snapped the images at the Neuville-St Vaast German war cemetery near Arras, in northern France, scene of bloody battles nearly a hundred years ago.
The 14-year-old used an atmospheric black and white setting to take four pictures with his iPhone. Schoolboy Mitch Glover took this snap in the Neuville-St Vaast German war cemetery near Arras, northern France
In one of the four, a pale shape can be seen at the left of the frame.
Glover, from Leamington Spa, decided to research the history of the region and discovered the shape of the apparition could resemble that of the kilt and Tam o'Shanter uniform of the historic Seaforth Highlander regiment.
The largest German cemetery in France, containing 44,833 burials, it is located a few hundred metres away from Nine Elms military cemetery. Buried at Nine Elms are twelve N.C.O'S. and men of the 114th Seaforth Highlanders who fell on the 9th April, 1917.
Glover's mother Sue, an antiques dealer said: "I thought, I need to show a few people this. I showed some friends and they all went 'that's a bit strange'. I showed it to one friend who knows photography a couple of days later and that's when he said 'somebody needs to see that'. Glover with his ghostly photo
"At first I thought when I saw it looked a bit Tudorish. It looked like Henry VIII with the hat on the side, stood with hands on hips. It didn't look like a German soldier. I thought it just looked out of place. And then a friend of mine said, do you realise that looks a bit Scottish, like World War outfits from the Seaforth Highlanders.
"I could see what they meant. It looks like they are holding something in one arm. Whether it's a rifle or something one friend said it looks like he's stood on guard over them. There is a British graveyard right by it. It is not just that one, there is a British Commonwealth graveyard there as well."
The school trip saw the class visit Ypres, Somme and Loos and the trenches where the bloody battles of WWI occurred and the craters left by shells that rained death on thousands of young soldiers, some not much older then Glover and his schoolmates.
The Seaforth Highlanders was a historic regiment of the British Army associated with large areas of the northern Highlands of Scotland. During the Great War they took part in the retreat from Le Cateau, the Battle of the Marne and the subsequent chase of the German forces to the River Aisne.
In mid-September 1914, the battalion was heavily involved in the Battle of the Aisne, suffering heavy casualties including the CO.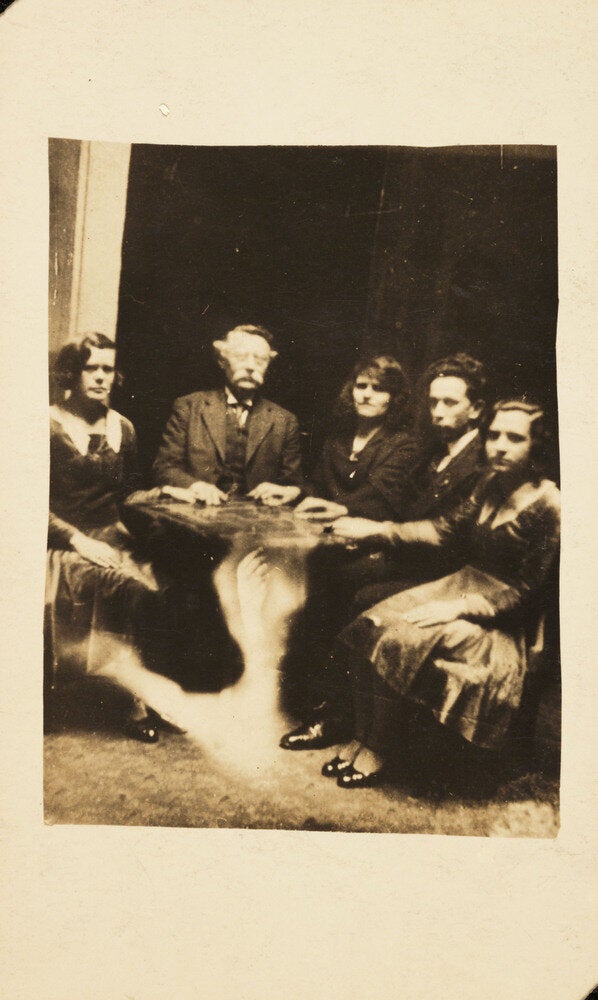 Vintage Pictures Of 'Ghosts'
Related