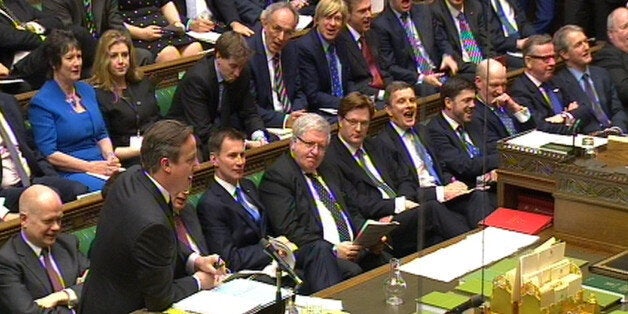 David Cameron has urged firms to be more transparent about the ethnic breakdown of their staff in a bid to improve diversity, despite his own government and party failing to do the same.
The prime minister told Colourful Radio earlier this week that more needed to be done to "level the playing field" and suggested he would consider further measures for transparency, like making firms publish an ethnic breakdown of their employees, would help.
But he and his party have fallen short of this aim, even though Cameron himself promised in 2006 that "party headquarters will now record the numbers of people from ethnic minorities the Conservative Party employs to ensure fairness and transparency".
Asked to disclose the ethnic breakdown of staff working at Conservative headquarters, a spokesperson told the Huffington Post UK: "We won't comment on internal staffing matters."
The situation is even more striking inside government, where there is a striking lack of ethnic diversity among ministers' special advisers - who are appointed by the prime minister.
A Downing Street spokesperson declined to reveal the ethnic breakdown of the government's pool of special advisers, only saying: "We welcome more transparency and would encourage employers to do what they can to attract the best possible workforce from across different communities."
Francine Fernandes, deputy director of Operation Black Vote, an initiative campaigning for greater diversity in politics, told HuffPostUK: "Doing by example is always the best form of leadership, and whilst the Prime Minister recognised back in 2006 that, "a mono-ethnic party cannot represent a multi-ethnic country", with only 5% of advisers from a BME background, his senior team, at best replicates, and at worst, reinforces, the diversity deficit which he claims to seek to rectify".
The few special advisers from ethnic minority backgrounds include Shabnum Mustapha, who works for the Lib Dem deputy prime minister Nick Clegg, Ramesh Chhabra, who works for chancellor George Osborne, and Ameet Gill, who works for the Prime Minister.
Sajid Javid, the new culture secretary, picked former Channel 5 producer Salma Shah as his special adviser, while Foreign office minister Baroness Warsi has Naweed Khan as her special adviser.
A spokesman for the Institute of Directors warned against any move by the government to force companies to publish data about the ethnic breakdown of their staff, saying: "It's hard to see any meaningful benefits coming from the state ordering businesses to collect and publish this kind of data. It certainly shouldn't be mandatory."