A baby snow goat whose boundless enthusiasm for life despite his disability captured the hearts of thousands, has sadly died.
Little Frostie was fitted out with wheels after contracting a joint disease called joint navel ill shortly after he was born.
The condition rendered his rear joints unusable – but help arrived in the form of a tiny wheelchair – on loan from a piglet named Leon Trotsky, who had previously suffered a crushed pelvis.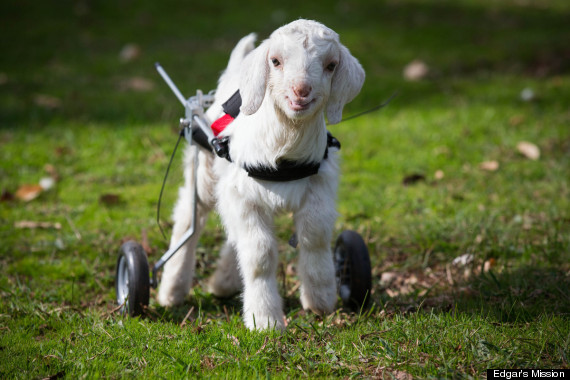 Sad faces all around: Frostie on his wheels
Frostie was living at an non-profit animal rescue sanctuary called Edgar's Mission in Victoria, Australia, and had even graduated from his wheelchair when he fell ill on Monday and died shortly after.
A blog from the sanctuary revealed his last moments:
"As the little guy made his last gasps of breath he looked into my tear-filled eyes as I begged him to stay. I told him I loved him and would do so forever more. It was not until his spirit had passed that I would scream 'Why?' at the top of my lungs and sob inconsolably into his warm, sweet-smelling white fur."
The autopsy noted Frostie's spinal column had been riddled with abscesses, with one particularly large one pressing on and compromising his rumen.
RIP Frostie, you were a good little goat.