A mosque attended by two British jihadis fighting with Islamist rebels in Syria has denied teaching extremist ideologies.
But it denied encouraging members to take up arms to join extremists abroad.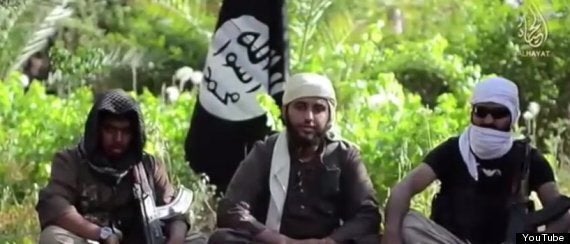 A mosque attended by two British jihadis fighting with Islamist rebels in Syria has denied teaching extremist ideologies
In a statement reported by Sky News, the Al-Manar Centre said: "It is worth mentioning that ACT's stance is well known, that we are opposed to going to Syria or any other country, to participate in an armed struggle and have always made this clear.
"We have on many occasions tackled the issues of extreme ideologies. Indeed, feeling the responsibilities towards our local community, especially those concerning the youth, we have engaged with parents warning against such dangers.
"We would like to emphasise that the vast majority of the local Muslim community are law abiding British citizens.
"May we reiterate our concerns that the internet has become an alarming source for radicalisation of such vulnerable members of our British society."
Nasser Muthana and Reyaad Khan, both from Cardiff, featured prominently in the polished video by Isis, which urged Muslims in the West to join their fight.
Abdul Raqib Amin, who was brought up in Aberdeen, is also said to appear in the footage using the name 'Brother Abu Bara' al Hindi'.
Giving a speech on defence and security in the City of London tonight, Home Secretary Theresa May said that around "400 UK-linked individuals" are thought to have travelled to fight in the Middle East.
The Home Secretary said: "The overall number we believe has gone to fight in Syria is around the 400 mark. Some of those will have come back already to the United Kingdom."
Meanwhile, the father of a British teenager who is thought to be fighting with Isis in Syria has spoken of his "limitless grief" and begged his son to come home.
Rahim Kalantar said he fears his 18-year-old son Ali may die fighting, kill innocent people or cause trouble if he returns to the UK.
Addressing his son on the BBC, Kalantar said: "You are my son. When you return I will be beside you everywhere and all the time. I won't let others harm you, whether's it's in the UK or anywhere else."
"Just come back. Return and put an end to the grief of your father, mother and sisters."
Mr Kalantar's anguish has been matched by the father of Nasser Muthana, who has said his son had "betrayed'' his country.
Ahmed Muthana believes his other son, 17-year-old Aseel, is also in the Middle East and said they were "brainwashed" in the UK.
Internet video-streaming sites such as YouTube are being pressed to take down the film by the Government.
A No 10 spokeswoman said the Government had already succeeded in removing 15,000 pieces of extremist material from the internet since starting a drive in December to block jihadi terrorists from using online messages to recruit Muslims in Britain to their cause.
Last night, the Prime Minister spoke with US president Barack Obama and the Crown Prince of Abu Dhabi, Mohammed bin Zayad Al Nahyan, to discuss the Isis threat.
A No 10 spokeswoman said the Prime Minister and President Obama agreed that the Iraqi government must reach out to Sunni, Shia and Kurdish communities.
Cameron and the Crown Prince "agreed that the ISIL onslaught in Iraq was of huge concern and that the Iraqi government needs to adopt a more inclusive approach".
The spokeswoman added: "The PM also raised the need for countries to work together to counter radicalisation and to deal with the growing terror threat posed by Islamic extremism."
Popular in the Community