We all know we should try to get our five a day (or seven if we're being really sensible), but which fruits and vegetables are the best to eat?
Researchers at William Paterson University of New Jersey aimed to find out by defining "powerhouse fruit and vegetables" which could help to tackle chronic disease.
They tested 47 different types of fruit and vegetables for their levels of 17 nutrients - the foods were scored by their content of potassium, fibre, protein, calcium, iron, thiamin, riboflavin, niacin, folate, zinc, and vitamins A, B6, B12, C, D, E, and K.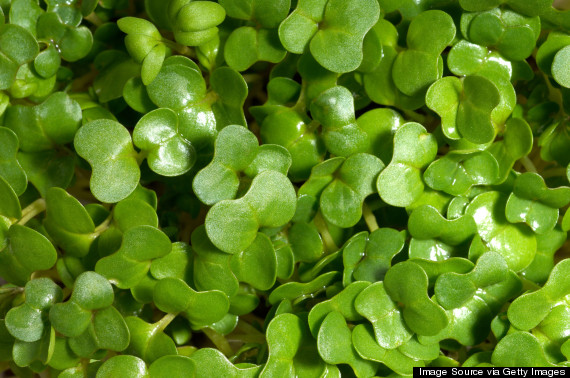 The study leaders defined foods as 'powerhouse' if they provided, on average, 10% or more daily value per 100 kcal of 17 qualifying nutrients. Of the 47 foods studied, 41 satisfied the powerhouse criterion.
The nutrient density score was based on the percentage of a person's daily needs for each nutrient the food provides.
SEE ALSO:

How This Mum Of Three Started The UK's First Fruit And Veg Juice Company

Type 2 Diabetes: Eating Fruit Can Reduce The Risk But Steer Clear Of Sugary Fruit Juice
Watercress achieved the top score of 100 thanks to its particularly high levels of vitamin K- important for bone health - and vitamin A which help eye health.
The six fruits and vegetables that didn't make the powerhouse list were raspberries, tangerines, cranberries, garlic, onions and blueberries.
The paper was published in the CDC journal Preventing Chronic Disease.
Here's the list of the full results:
Watercress 100.00
Chinese cabbage 91.99
Chard 89.27
Beet green 87.08
Spinach 86.43
Chicory 73.36
Leaf lettuce 70.73
Parsley 65.59
Romaine lettuce 63.48
Collard green 62.49
Turnip green 62.12
Mustard green 61.39
Endive 60.44
Chive 54.80
Kale 49.07
Dandelion green 46.34
Red pepper 41.26
Arugula 37.65
Broccoli 34.89
Pumpkin 33.82
Brussels sprout 32.23
Scallion 27.35
Kohlrabi 25.92
Cauliflower 25.13
Cabbage 24.51
Carrot 22.60
Tomato 20.37
Lemon 18.72
Iceberg lettuce 18.28
Strawberry 17.59
Radish 16.91
Winter squash 13.89
Orange 12.91
Lime 12.23
Grapefruit 11.64
Rutabaga 11.58
Turnip 11.43
Blackberry 11.39
Leek 10.69
Sweet potato 10.51
Grapefruit (white) 10.47