As I sit outside the office of the Leader of the Opposition, I spot the latest issue of The Spectator magazine on the coffee table in front of me. My eye falls on one of the sub-headlines on the cover: 'Miliband's real problem'.
Pundits and politicians are, once again, queueing up to give the Labour leader advice. His personal poll ratings are in freefall; Labour's lead over the Tories has narrowed in recent months. Miliband himself has been attacked for making a series of visual gaffes while unnamed shadow ministers and Labour backbenchers whisper to journalists that he can't win the next election and will have to stand down if (when?) he doesn't.
Before I can flick to Matthew Parris' piece on Miliband inside the magazine, the Labour leader comes striding out of his corner office, on the second floor of Westminster's Norman Shaw North building. "How are you?" he says, with a big grin on his face. Miliband may come across as a little wooden, robotic even, on television but, in the flesh, he is warm, witty and always friendly.
I introduce the Labour leader to the photographer who is standing next to me. "Do you want me eat a bacon sandwich?" he deadpans, in a self-deprecating reference to his recent, on-camera altercation with a breakfast roll.
A few moments later, seated on a pair of hideous light-green couches in the furthest corner of his corner office, overlooking the Thames, our interview begins. Does he really believe his party is on course to win a majority next May?
"Yes, it's a winnable election for us," declares the leader of the opposition, before conceding - with an endearing chuckle - that "you may have noticed there has been some unfavourable press coverage over the last few weeks". Miliband tells me he thinks the reason his critics are targeting him "is not because they think we're going lose but they fear we're going to win. And, frankly, if they didn't fear we were going to win they wouldn't be bothered." It's a nice line but I can't help but notice that the headline to a Guardian column by Seumas Milne on the day we meet is headlined: "They say Miliband's a loser – that's because they fear he could win."
Miliband reminds me of the Westminster narrative almost four years ago, in September 2010, after he won the leadership in a tight race against his brother David: "Labour turning on itself, [we] can't win, etc. It hasn't happened. For all of the business of the last month or so, that is the reality. Why is that?" First, he argues, "because actually we have shown discipline and unity" and, second, because "ideas do matter in politics more than bacon sandwiches". He laughs. "We have set out a deep analysis of the problems the country faces and what has to change."
"What is interesting," he continues, his arms and legs crossed, "is the way the criticism evolves. First it was: 'They're just going to tear themselves apart.' Then it was: 'They don't stand for anything'. Then it was: 'They don't have any policies'. A year ago if we were having this discussion, they'd be like" - his affected voice is full of disdain - 'Yeah... he's got his responsible capitalism, he's got his analysis [but] no policy. Where's his policy?'" For Miliband, "the caravan moves on".
It's a sunny afternoon and the Labour leader looks like he has a mild tan. Dressed in the obligatory shirt sleeves and bright tie - blue shirt, red tie - he exudes remarkable calm and confidence, despite the relentlessbattering he has had to endure in recent weeks at the hands of the Tories, the papers, the pollsters and, of course, his own internal Labour critics, too.
How does he reassure nervous colleagues that Labour will win next year? "The most important thing I say [to them] is that this is going to be a close election - and I knew that when I took on the job. Nobody [in 2010] believed this was going to be a runaway election for Labour; if anything, people believed the opposite."
For Miliband, "the reality is that I won a close leadership. I think the party is a united party, and I think that's true right across the board".
The leader of the current opposition reminds me how "if you'd been Labour in 1982 or the Tories in 2000, by now people would have said the next election is a foregone conclusion". It's a fair point - Labour continues to sustain a clear lead over the Tories in the polls. Perhaps Miliband's 'image' problem is already factored into Labour's share price.
How keen is he to have a re-run of 2010's televised leaders' debates? And would the Labour leader rather face David Cameron on his own, without Nick Clegg present?
"The most important thing for me is to have the TV debates with David Cameron in the election campaign," he replies. "We've said the same format as last time because I think that served the public perfectly well last time… Look Cameron is desperately stalling on these [debate] negotiations." Why? "He doesn't want to debate, does he?" Why? "He's obviously really confident, isn't he?" Miliband, it seems, does do sarcasm.
He also finds it difficult to mask his self-confidence. "He obviously doesn't want to debate me. What they're really worried about [is] he debates me, I get airtime to speak directly to the public and he loses as a result. There's no other explanation."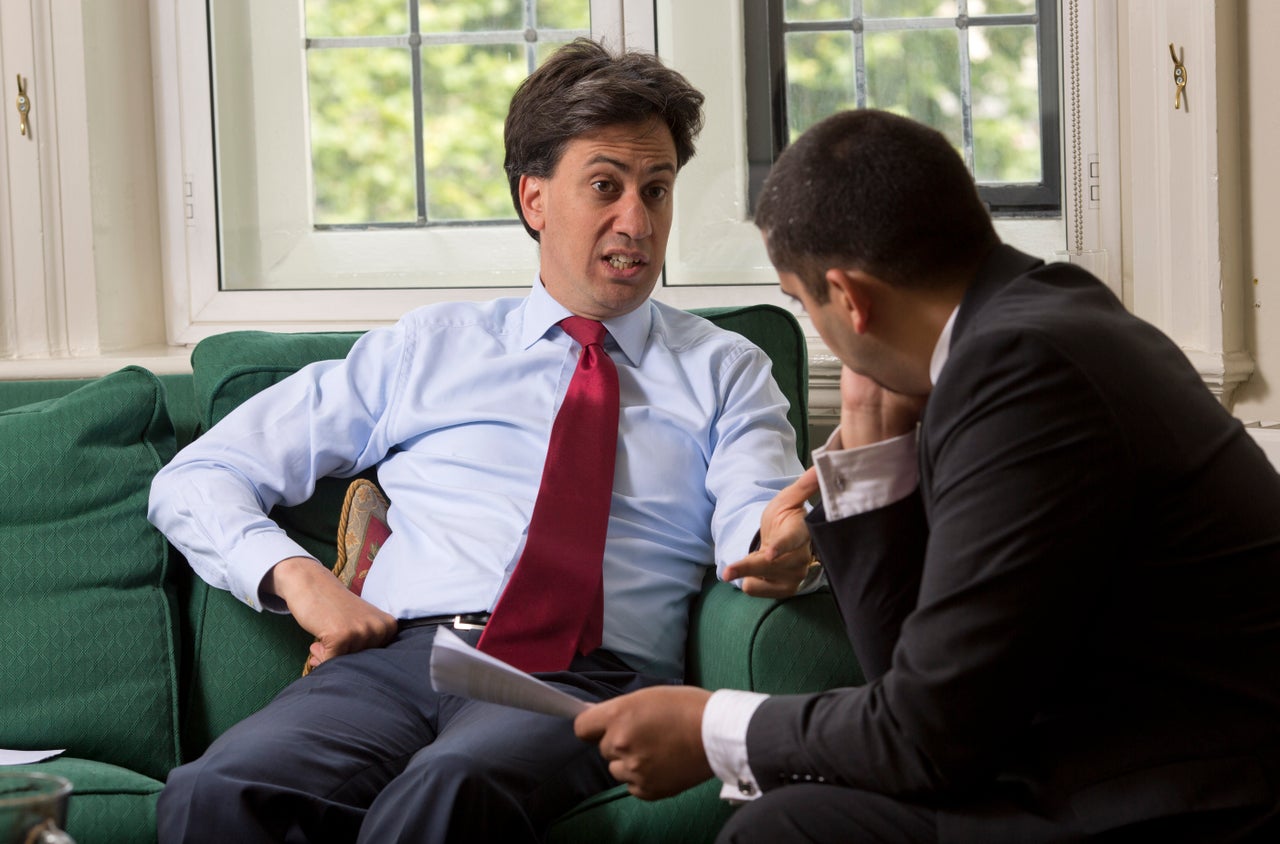 In 1996, the then leader of the opposition Tony Blair famously said his "three main priorities for government" were "education, education, education". What are the current Labour leader's three main priorities for government?
"First of all, you've got to get young people working again, because you've got to give people hope and opportunity. You can tell a lot about a government by the way it treats the young. Secondly, obviously, there is a much wider set of issues about the way our economy works and whether it works for working people in this country. Some people think the cost of living issue is somehow solved. It isn't. There is deep insecurity [and] low pay. Thirdly, I think housing is a massive issue the country faces; an absolutely massive question."
Miliband has said in the past that he felt he had to run for Labour leader in 2010 because he had something different and distinctive to say. Over the past four years, what has he done that his defeated brother David would not have done? Or that Ed Balls wouldn't have done? Or Andy Burnham? How is Ed Miliband's agenda different to theirs?
"What I'm not going to do for obvious reasons is sort of re-run the leadership election against people who weren't elected," he says, smiling, before adding: "I think we needed to move on from New Labour.. What have I brought that was distinctive in the job? First of all, it is about saying that you're going to stand up to powerful interests, whether that's Murdoch or the energy companies or the banks. Nobody should be above accountability. You've got to make big change happen to make the country work for people."
Second, he argues, he has helped Labour adapt "to the post-crash world.. to new circumstances. So post the financial crisis it is about building a different kind of economy for the future, it's about adapting to a world in which there isn't going to be money around."
Third, he highlights the biggest foreign policy decision of his leadership - preventing David Cameron from taking military action against Syria in August 2013. "The decision I took on Syria, for example, is clearly a moving on from the past, learning the lessons of the past."
David Miliband, who took a more hawkish line on Syria than his younger brother, quit parliament in March 2013 to move to New York and run the humanitarian charity, the International Rescue Committee (IRC). Yet a recent YouGov poll found Ed Miliband trailing Cameron by 23% to 33% on the best prime minister question, whereas David Miliband beat Cameron by 35% to 23%.
Such stats in favour of his elder sibling must bother the Labour leader, surely? He wouldn't be human if they didn't, right?
He shakes his head. "It's honestly not what my focus is on."
But what is his reaction to the news David is seemingly more popular than him, even now? "My reaction is to focus on what is really important. In the end the public are going to make their decision at the next election."
So gaffes like 'bacon-gate' don't matter? "I really believe this: the public think that principles matter more than photo opportunities. Principles are what matter, and what happens in people's lives, and that is where their focus is. The Westminster village is focused on a whole different set of things."
But don't pollsters survey ordinary members of the public, rather than the politics-obsessed inhabitants of Westminster? And can he really afford, 11 months away from an election he himself says will be "close", to pretend he doesn't have an 'image' problem?
He rolls his eyes. "What I'm saying to you, and let me answer [your question] in my own way: I think principles do matter more than photos ops. I think if people want somebody who will put good press coverage, good photo ops, before their principles, than David Cameron is clearly that person.
"If they want someone who will put their principles first, who thinks they are more important than photo opportunities, then I am that person. And, in a way, this week of all weeks is a week when you see the difference."
Is he saying the prime minister is unprincipled? "This is a guy who brought Andy Coulson into Downing Street, despite all the suspicions, because he wanted to put press coverage before his principles. I am the person who stood up to Rupert Murdoch because I put principles first."
At the end of the day, he says, "I have absolute faith in the wisdom of the British people."
How does he square that view with recent polls suggesting almost half of voters think Miliband should be replaced as Labour leader while 60% believe he is "not up to the job" of being prime minister? He may have faith in the British people but, if the polls are to be believed, the British people don't have much faith in him.
"All leaders of the opposition" have faced such scepticism, he tells me. What about the recent YouGov poll which found voters deemed Miliband to be the 'weirdest' of the three main party leaders? That must have stung?
He looks at me with deep disappointment, like a teacher about to admonish an unruly pupil. "Come on, Mehdi. Come on. Somebody once said it's not the bigness of our problems that worries me, it's the smallness of our politics. That's what Obama said. Never was that more true than in the last few weeks. There are massive issues this country faces… when I go round the country, the question you asked me is not the question people ask me. They ask me: 'Are you going to get my son or daughter a job?'"
Why, then, does he think he gets such a rough ride from sections of the press? Is it pure "vindictiveness", as his ally Neil Kinnock claimed last weekend?
Miliband sighs. "There are some.. people who are desperate for me not to win the election. First of all, they said I was 'Red Ed'. Then they said I was weak. Then they said it's back to the 1970s. They're desperate to find a point of criticism. I genuinely believe one of the reasons we are in a position to win the next election is because actually, in the end, the British public do judge people on their ideas and what they stand for and what difference they'll make to the country. And I think principled leadership matters a lot, a lot more than all this other stuff.."
It is hard to describe Miliband as anything other than sanguine. If the US president is 'No Drama' Obama, then perhaps the Labour leader is 'Steady Eddie'. "What is the one constant?" he asks me, before answering his own question. "Three and half years ago people wrote me off, people wrote the Labour Party off. People may try and do that [now] but they can't really because they know we're in a position to win the election."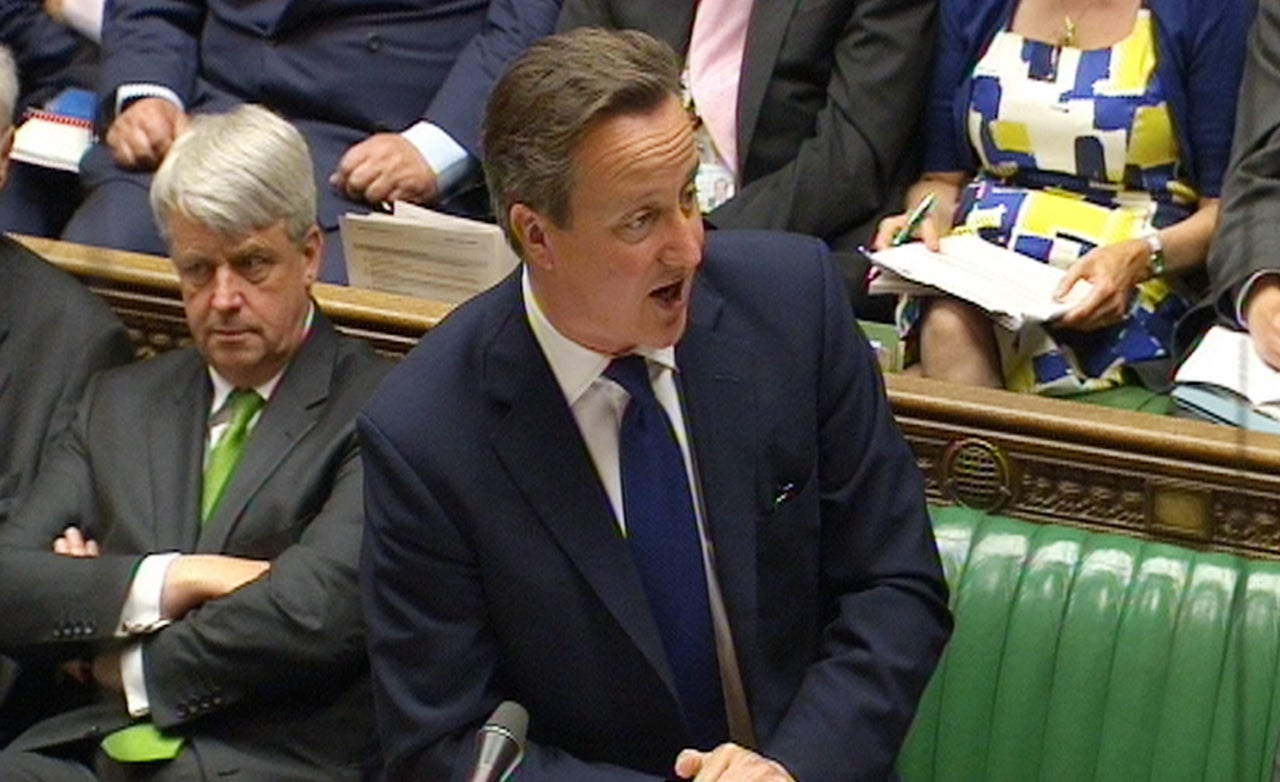 The day before our interview, Miliband challenged Cameron in the Commons over his appointment of Andy Coulson as Downing Street director of communications and called him "weak". The prime minister hit back hard: "I will tell him what is weak: attacking Murdoch and then standing up with a copy of The Sun newspaper, only to apologise a few hours later."
The PM had a point, didn't he? Miliband's decision to first pose with the Sun's special World Cup issue and then issue a prompt apology, after coming under criticism from, among others, Labour councillors and activists in Liverpool, was pretty shambolic, wasn't it? "No," he replies, shifting uncomfortably in his seat. "Look what I did was.. I did something that I thought was promoting England's World Cup bid. I underestimated the offence it would cause on Merseyside, and the deep feelings that there are, and the right thing to do is when you offend people, who are decent people on Merseyside.. who feel a deep sense of hurt about what The Sun did over Hillsborough, the right thing to do is apologise. That is the strong thing to do, and that's what I did."
The "Merseyside" explanation, however, only goes so far. It doesn't explain why a leader who sells himself as the man who "stood up to Murdoch" decided to promote the Murdoch-owned tabloid in the first place?
"I wasn't intending to promote Murdoch's paper." He laughs uneasily. "It was about England's World Cup bid… I've apologized to those who've I've caused offence to."
Would he do it again? "No, it was a mistake."
And is there a particular aide or adviser who should take the blame? Miliband shakes his head. "I take full responsibility for all the decisions that I make," he replies, loudly, before adding: "I was struck about this by Cameron [at PMQs], he wanted to blame everybody but himself." Miliband says he is happy to take "responsibility" for his errors, just as he takes "credit" for Labour's successes.
Was his attack on Murdoch and News International in the summer of 2011 the high point of his leadership so far? He shrugs. "I'll let others judge that. The high point of my leadership will be winning the next election."
In the Commons on Wednesday, Miliband claimed Cameron would "always be remembered as the first ever occupant of his office who brought a criminal into the heart of Downing Street". Does he, therefore, believe the Tory leader has brought the office of prime minister into disrepute?
"Yes," he replies, without any hesitation. Cameron, he continues, "said it would be a 'disgrace' if it turned out that Coulson.. knew about phone hacking. It's in [Cameron's] own words that he brought disgrace to his office."
Miliband is in full flow now. "People will judge at the next election what they think of somebody who brought a criminal into Downing Street and it goes absolutely to the heart of the leadership choice at the next election… I think it's fair to say [as leader of the opposition] he was far better at photo ops than me. I've been far better when it comes to principle. He did the huskies and u-turned on climate change. He brought in Andy Coulson and we know he must have had a sense of suspicion about him. He said he was a 'compassionate conservative' and look what he's done on the bedroom tax."
Are there any circumstances in which the leader of the opposition would call on the prime minister to resign over this issue, I wonder? For example, if it were to emerge that Cameron had ignored warnings about Coulson from the then cabinet secretary, Gus O'Donnell?
"I think it's very serious what [the prime minister] did. I think he's got some very serious questions to answer."
Does he agree with Gemma Dowler, sister of murdered teenage Millie, whose mobile phone was hacked by the News of the World, that Cameron and Tony Blair are guilty of having had an "incestuous relationship" with the press and, in particular, Murdoch?
He leans forward in his seat and stares at me intently. "Labour got too close to Rupert Murdoch. Definitely got too close… Totally."
Does he therefore also agree with the Dowlers' lawyer, Mark Lewis, who has called on Tony Blair to apologise to the family for ringing Rebekah Brooks to offer advice while failing to ring the family to give them his condolences?
Miliband hesitates. "That's.. I'm not going to get into that." He tries to change the subject, away from his former boss, Blair. "There is a bigger issue.. what Gemma Dowler was saying is that when this independent self-regulatory body [for the press] is actually up and running and doing it's bit, it's got to be compliant with what went through parliament."
Sticking with Blair, does he endorse the former PM's recent argument that the 2003 invasion and occupation of Iraq - which Miliband opposed - isn't to blame for the current crisis in that country and the rise of al Qaeda-inspired terror groups such as Isis? "We have to liberate ourselves from the notion that 'we' have caused this," Blair wrote on his website on 14 June. "We haven't."
Miliband distances himself from Blair's stark claim while trying to strike a balanced position: "You can't ignore the previous history of what happened in Iraq.. on the other hand, the causes of what's happening in Iraq are very complex. You've got a deeper Sunni-Shia set of issues in the whole region."
He reveals that, back in 2003, he did have his own "concern about the consequences" of an Anglo-American invasion but he doesn't "want to claim some sort of clairvoyance": "Of course one of [my] concerns [at the time] was what will the wider implications be."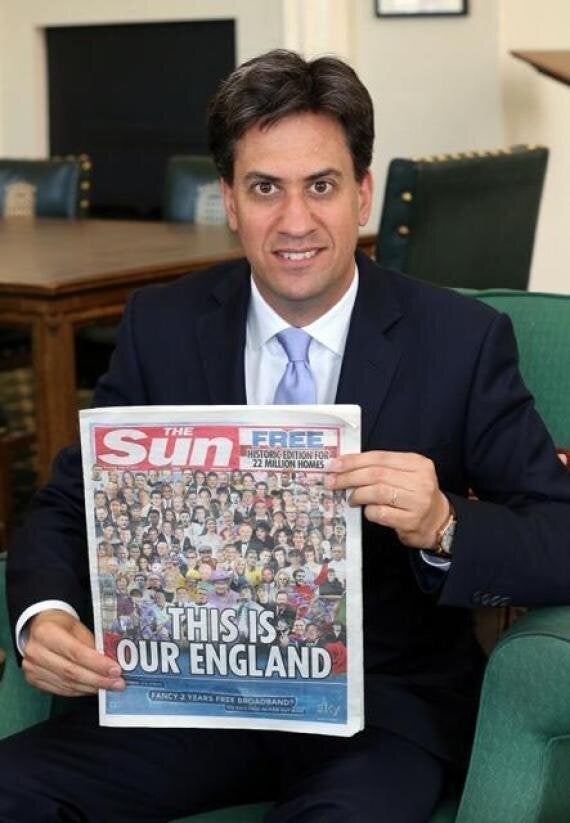 What does the future hold for Miliband? Does he plan on being Labour leader a year from now? He grins. "I plan on being prime minister and Labour leader."
And if he's not PM, if he loses next May's general election, will he still be Labour leader come June 2015? He laughs. "It's kind of you to invite me to look at the possibility of us not winning the next election but I'm focused on.. winning the next election."
So when an unnamed source close to the Labour leader revealed to the press last weekend that Miliband had told friends he planned 'to do a Kinnock' and stay on as party leader even if he loses next May, the source was wrong? That story is flat false? Miliband refuses to confirm or deny, and dodges my yes/no question again: "I'm planning to win the next election."
I persist. And if he doesn't win? "I don't countenance defeat," he replies with a shrug. "It's interesting in the run up to the leadership election I was the one most convinced amongst my team that we were going to win. I approach the next election with the same attitude. Therefore I'm not looking at the other possibilities."
Miliband, friends often say, is an optimist. He doesn't do panic and he doesn't do drama. These are the qualities that undoubtedly served him well during his insurgency campaign, against the odds, for the Labour leadership in 2010, which involved him taking on his big brother and beating him. They are also the qualities, say friends, that will serve him well again over the next 11 months in the run-up to the general election.
Back in the 1997-2001 parliament, the then leader of the opposition William Hague tried rebranding his party and offering a 'compassionate conservatism'. He talked the language of 'change' and 'moving on', donned a baseball cap and attended the Notting Hill Carnival. After a couple of years, and struggling in the polls, Hague dropped his modernisation campaign and reverted to a 'core vote' strategy.
It is difficult to imagine Miliband doing the same. None of the various 'crises' - both real and imagined - that have dogged his leadership so far have thrown him off from his central goals of moving on from New Labour, challenging vested interests and tackling Britain's inequalities.
Miliband tells me that despite all the "ups and downs", he has his "eye on the prize": Downing Street.
Before we wrap up the interview, I ask the Labour leader which team he is backing in the World Cup in the wake of England's shock exit during the group stage. Will it be the social democrats of France? The responsible capitalists of Germany? The neoliberals of the United States?
"I was supporting England so I haven't particularly transferred my allegiances, I'm afraid," is his rather disappointing answer. "I actually thought to be fair to England, in previous World Cups, we got through [the group stage] and people have been pretty critical about the performances. I think they put in a pretty good effort and I think it's important to stay behind the team."
It's an interesting choice of words: 'stay behind the team'. Miliband's advice to England fans could perhaps be equally applied to disgruntled Labour backbenchers and nervous Labour activists. The party might be in the midst of one of its periodic wobbles. But a quietly confident Miliband isn't.