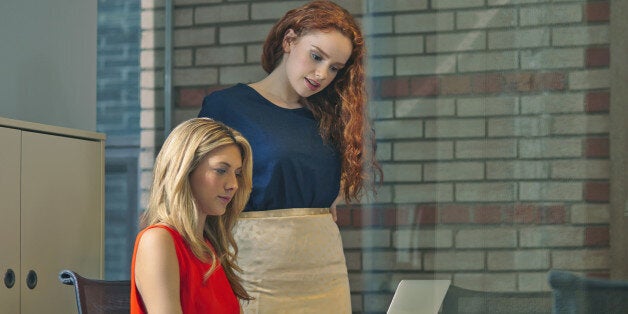 The working world is stressful enough without the added pressure of worrying about what to wear.
It doesn't help matters that businesses rely on confusing corporate jargon such as "business casual" to describe their dress codes. As much as they think this answers your question perfectly, it's far more likely to lead to clothes-related panic and confusion.
But getting your outfit right is essential. Fortunately, The Gateway is here to channel their inner Trinny & Susannah and help you figure out this tricky topic once and for all.
Unsure what to wear even after being informed of a dress code? The simplest way to avoid any clothing mishaps is to contact the HR department and ask for clarification.
If they continue to be vague, ask for a specific example of what would be deemed appropriate. It's not worth suffering in silence.
If, as can be the case with more relaxed work environments, you're still a bit unsure how to dress ahead of your first day in the office then it's a good idea to dress up rather than dress down.
A slightly over-dressed person doesn't turn nearly as many heads as someone who's under-dressed compared to everyone else, plus a smart outfit can quickly be relaxed (usually just by ditching your jacket or tie), whereas it's practically impossible to smarten up a casual outfit.
You might be informed your workplace has a casual dress code for Fridays. The idea originated in the US during the dot-com bubble and while it offers a chance to be a bit more relaxed in what you wear, judging how much you can relax is tricky.
Dressing down doesn't mean the dress code rules are thrown out the window, so whatever you wear still needs to look smart.
Firms with a stricter dress code will probably define dressing down as not needing a jacket and tie, while more relaxed workplaces might take a more business-casual approach. If it's your first Friday on the job, find out from co-workers what they normally wear and remember it's better to be overdressed than underdressed!
Even on a Friday, there are some items of clothing that will never belong in the workplace. Only Abercrombie models wear flip-flops to work. While we're on footwear, leave the white trainers and open-toed shoes at home too.
Other big no-no's include cargo trousers, t-shirts with "funny" slogans, beach shorts, fleeces, sportswear and low-cut tops (that last one goes for men as well as women!). The reasons are hopefully fairly obvious.
A more perplexing question is raised by the idea of wearing jeans. While a pair of jeans might seem like a good fit for a business casual workplace, it's wise to proceed with caution as some workplaces might deem them too casual.
Should jeans be permitted, darker colours such as indigo are best. Remember you still need to look professional, so any pair of jeans you wear has to have a smart fit: leave your baggy, ripped ones at home.
The three types of dress code you can expect to encounter:
In a nutshell: Suit up! A conservative style as worn by the vast majority of City workers.
Men: Dark-coloured (navy/grey) suit, shirt, tie, cufflinks, black belt and smart black leather shoes (with laces).
Women: Suit with trousers or skirt (make sure the hem is below the knee), shirt or smart plain top, modest heels, modest jewellery.
In a nutshell: Usually reserved for formal occasions, evening events, award ceremonies and so on. A dressier version of the business professional outfit.
Men: Dark-coloured suit (not cotton), white dress shirt, silk tie (modestly coloured), cufflinks, pocket square, smart black leather shoes.
Women: Suit with trousers or skirt (make sure the hem is below the knee), shirt or smart plain top , tights, closed-toe shoes preferably with a heel, modest jewellery.
In a nutshell: There's no widely accepted definition for business casual so check what your employer expects. Usually, it means you don't need to wear a suit but it's worth having one close to hand at work in case an important meeting crops up.
Men: Shirt or polo shirt, suit trousers or chinos, smart leather shoes (brown/black).
Women: Shirt or smart plain top, trousers or skirt (make sure the hem is below the knee), smart shoes, modest jewellery.