Grappling over the deposit with your landlord has become a bit of a rite of passage for undergraduates moving out of student homes, however these pictures released by estate agents prove sometimes, they're probably in the right.
In fact, whoever lived in these houses, probably had very little chance of seeing any of their deposit money after leaving their accommodation in a pretty disgusting state.
Pictures sent in by one estate agent in Manchester shows trashed living rooms, broken beds and horrific kitchen conditions.
"Some of the states properties have been left in is unbelievable," Nigel Loughtman, managing director of a local estate agents, told the MEN.
"We try and talk to tenants and make sure they understand about returning the property in the state they found it to get their full deposit back but it doesn't always happen.
"I'd say only one per cent of our student tenants get none of their deposit back at all and around 10 per cent get all of their deposit back.
"On average we charge £70 per student to clean up the property but we have an in house maintenance team."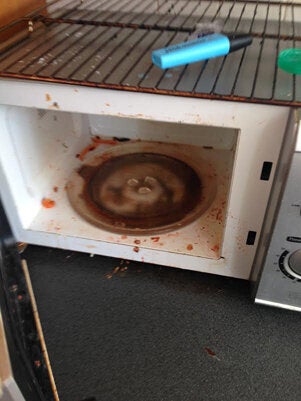 Student housing