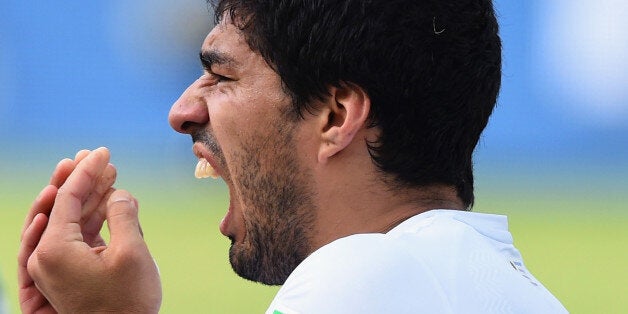 Luis Suarez has said he did not bite Italy's Giorgio Chiellini on purpose at the World Cup, but that he "lost balance" and fell on him…
In what is arguably a classic "dog ate my homework" defence, Suárez claimed the incident was an accident.
The Uruguay striker, who has been banned for nine international matches and from all football for four months over the attack, made the claims to Fifa's disciplinary panel.
"In no way it happened how you have described, as a bite or intent to bite," he wrote in Spanish, in a letter dated June 25.
"After the impact ... I lost my balance, making my body unstable and falling on top of my opponent.
"At that moment I hit my face against the player, leaving a small bruise on my cheek and a strong pain in my teeth."
Twitter users were unsurprisingly somewhat sceptical of the Uruguay striker's defence…
The player could be seen holding his teeth following the clash with Chiellini but the seven-strong panel dismissed Suárez's argument after studying the incident from 34 camera angles.
The bite was "deliberate, intentional and without provocation," the ruling stated in paragraph 26 of the panel's conclusions.