The 100,000-plus people who were thought to have flocked to see her sang along to hits including 'Jolene' and 'Blue Smoke', while many paid homage by dressing up as the star.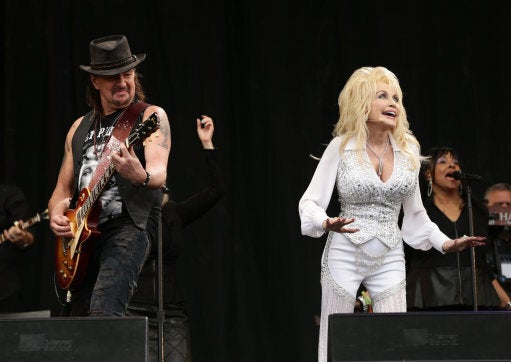 Dolly Parton Does Glastonbury 2014
But although she went down a storm with those watching, many viewing her set as it was broadcast on TV questioned whether the singer was miming.
A spokesman for the star rubbished the claims, saying: "No, she sings live.
"Some people don't know an amazing singer when they hear one."
As promised, Parton appeared in white, dressed in a rhinestone-encrusted waistcoat and matching trousers, after saying previously that the colour went well with the brown mud.
Parton told the adoring crowd it was "such an honour and such a thrill to be here at Glastonbury Festival".
"I've been waiting a lifetime for this and of course we want all of you to have the best time," she added.
The 68-year-old has been the most talked about act of the festival, with excitement building ahead of her taking to the Pyramid Stage for what has become know as the Sunday Afternoon Legend's Slot following other artists including Ray Davies, Shirley Bassey and James Brown.
Parton, who said she had composed a special "mud" song in honour for her trip to Glastonbury, was also joined on stage by Bon Jovi guitarist Richie Sambora for Lay Your Hands On Me.
The crowd stretched back in all directions with all the walkways leading to the stage full and many complaining they had no chance of seeing the diminutive star.
But as she began classic Nine to Five they erupted into cheers, singing along and dancing on the spot.
Kim Tew, 52, from Corby, Northamptonshire, said: "I think she's fantastic. I've listened to her for a very long time, she was a favourite of my mother's.
"She looks amazing - she's still got it."
Jane Riddiford, 44, from Caerphilly, said: " She's just fantastic. She's been going for years. I knew she would put on the show of the festival."
Earlier, Parton told a press conference backstage that she had planned to play some of her more upbeat tracks from her extensive back catalogue.
"I can't do a bunch of sad songs because everyone is drunk and high," she said.
Describing Glastonbury as the "biggest festival in the world", she added: "I thought I had to write a song about the Glastonbury mud, even though the sun's shining today."
She said the conditions underfoot made her feel at home as she grew up in Tennessee on a farm.
"I'm just a country girl and now I feel like a rock star," she added.
The singer was speaking as she was presented with an award backstage at the festival in recognition of her having sold 100 million records worldwide.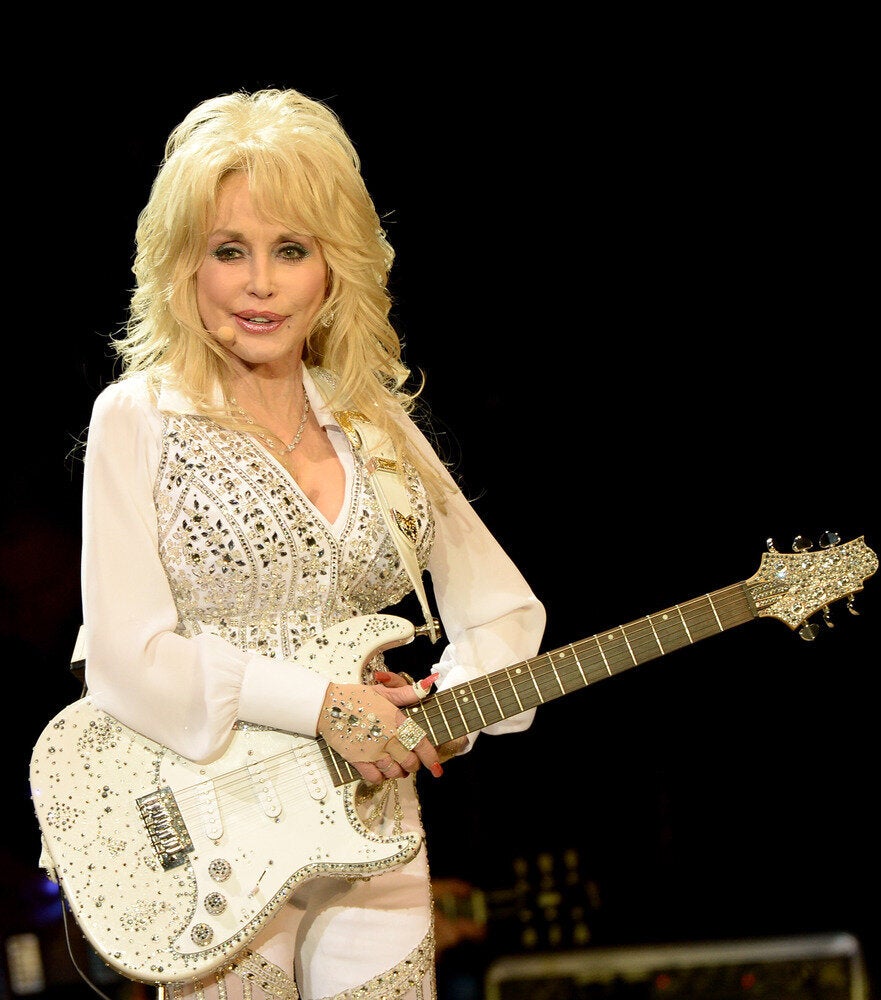 Glastonbury 2014: 12 Female Acts To See At The Festival
Earlier festival organiser Michael Eavis said he - like most people on site - was excited about seeing the country queen perform.
"I'm really looking forward to hearing some of her songs live for the first time in my life," he said.
Kasabian follow Arcade Fire and Metallica as headliners tonight, while Bombay Bicycle Club, Massive Attack and Ellie Goulding were also performing across other stages today.
The last day of official acts saw the rain that had been forecast fail to materialise, with revellers enjoying mainly sunshine all day.
Once all festival-goers have left the Somerset-site tomorrow the big clean-up begins, with hundreds of volunteers and workers involved. It will take up to six weeks to restore Worthy Farm to its normal state.