Extremist preacher Omar Bakri Mohammad will not be allowed back into Britain, the Government has insisted amid reports he intends to claim asylum in the UK.
The radical Islamic cleric faces the death sentence for running a terror cell in Lebanon and claims he has been tortured, according to reports.
Family members have said they are launching an urgent appeal to allow him back into Britain under asylum laws but the Home Office has ruled out a return.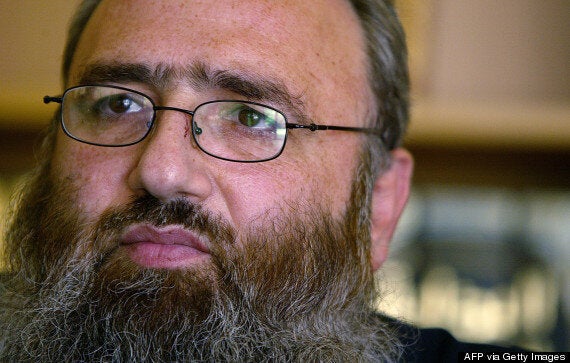 Omar Bakri Mohammed, an Islamist preacher who was barred from Britain
Bakri, who holds Syrian and Lebanese citizenship, lived in Britain for 20 years and led radical group Al Muhajiroun until it was disbanded.
He faced possible treason charges over his support for the London bombers in 2005 and fled Britain for Lebanon. The British Government barred him from returning.
The cleric has been repeatedly linked with al Qaida but has denied the claims.
Earlier this year he went on the run after raids in Tripoli to end sectarian violence after clashes that left dozens dead.
"I'm here on the humanitarian basis. At the end of the day, many people find what he says distasteful, and he quotes things from the Islamic perspective.
"But I think unless you know the character, himself, like my father - I grew up with him - so therefore I understand the tactics that he uses to attract the media in order to pass the message of Islam.
"You may find that distasteful, but at the end of the day he has not committed any crimes in the UK."
A Home Office spokesman said: "An individual must be physically present in the UK in order to make a claim for asylum.
"Omar Bakri Muhammad was permanently excluded from the UK in 2005 on the grounds that his presence is not conducive to the public good.
"As Omar Bakri Muhammad is excluded from the UK, he will be unable to make a claim for asylum."
Downing Street has insisted the man once dubbed Osama Bin Laden's right-hand-man in Europe is "not coming back" to Britain. "He is a Jordanian and he does not have a UK passport. He would not be granted permission to enter the UK, end of story," a spokesman said.
"This is a man who the British courts have deemed a risk to national security. You saw the outcome, the very successful outcome, of all the work the Home Secretary and her team did when Qatada was put on a plane to Jordan, and he is not coming back."
Asked if Britain would do everything possible to stop Qatada's return, Deputy Prime Minister Nick Clegg replied: "Of course. We don't want this man back."
"What is absolutely clear to me is this man needed to face justice and needed to do so out of the United Kingdom and that's what this government finally achieved," he told LBC.