Conservationists have spoken out after gruesome images emerged this week of a dead whale being carved up in front of a group of schoolchildren in Wada, Japan.
Japan's supporters of eating whale meat say that it is a tradition that dates back hundreds of years, and accuses western critics of cultural imperialism.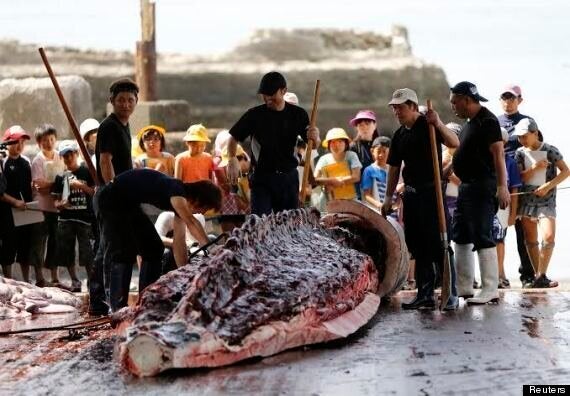 Captain Paul Watson, founder of the marine conservation group Sea Shepherd, told the Huffington Post UK that whalers are becoming "desperate."
"The Japanese whalers know that whaling is a dying tradition and thus they are desperate to promote it to younger generations," he said.
"It is obvious some children were distressed by being forced to witness the destruction of such a beautiful animal."
The students from Wada's primary school visiting Gaibo Hogei whaling company could be heard murmuring and gasping as workers sliced open the whale carcass.
Gaibo Hogei president Yoshinori Shoji, who gave the demonstration to the children, told them to close their eyes if they were scared.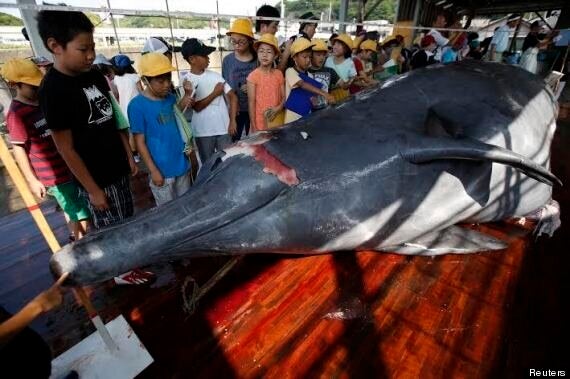 The Baird's beaked whale was chopped into pieces, carved into, and had its entrails removed as the students looked on.
Captain Watson said his hope for the future "lies in cultivating compassion for the whales and dolphins amongst Japanese children and young people."
Similarly, Patrick Ramage from the International Fund for Animal Welfare told CNN: "Japanese school children should be meeting whales through whale watching, not eating whale meat."
This year's hunting season, which began on June 20, is the first since an international court ordered Japan to end its controversial research whaling expedition in the Antarctic, after failing to find evidence the program had legitimate scientific value.
So far this year, Gaibo Whaling Company has hunted six whales in the city's coastal waters and plans to catch another 24 before the season ends in August.
Despite the Antarctic ban and growing pressure from the international community, Japan has continued its northwest Pacific scientific whaling mission. It is also eager to revise its Antarctic program to allow the hunt to continue while satisfying the demands of the UN's International Court of Justice.
In Japan's parliament last month, Prime Minister Shinzo Abe said he would like the country to resume commercial whaling "in order to obtain scientific information indispensable to the management of the whale resources."
But environmentalists say Japan's whaling research program is a thinly veiled attempt to circumvent a ban on the commercial whale meat trade.