A former News of The World (NoTW) journalist involved in the hacking of murdered teenager Milly Dowler's phone, has apologised to the victims of his crimes.
Former news editor and chief reporter Neville Thurlbeck, who tasked PI Glenn Mulcaire to hack phones 261 times including the infamous hacking of Dowler in 2002, made an "unreserved apology" to the victims of phone hacking during a setencing hearing at the Old Bailey.
Thurlbeck is one of three former news editors, who admitted their part in the long-running hacking plot before the mammoth trial of Andy Coulson and Rebekah Brooks.
The court heard that senior managers at the NoTW "condoned and encouraged" the endemic practice of phone hacking which was "standing policy" at the tabloid.
Thurlbeck, Greg Miskiw, James Weatherup and private investigator Glenn Mulcaire joined former editor Coulson in the dock as their lawyers mitigated on their behalf.
Coulson, 46, had denied conspiring to hack phones between 2000 and 2006 but was found guilty following a marathon seven-month trial. His co-defendants Rebekah Brooks and managing editor Stuart Kuttner were cleared.
In mitigation, lawyers for two out of three of the ex-NotW newsdesk staff implicated more senior executives of the newspaper, who cannot be named for legal reasons.
Previously, the NoTW had insisted phone hacking was the work of one "rogue reporter" - former royal editor Clive Goodman - who was convicted of phone hacking with Mulcaire in 2006.
The defendants now face up to two years in jail for their part in the plot which the prosecution said involved a veritable "Who's Who of Britain" having their private lives invaded.
Thurlbeck's lawyer implicated more senior staff. He said Coulson was not truthful in his evidence about David Blunkett's 2004 voicemail declaring his love for Spectator publisher Kimberly Quinn.
Coulson had told the jury he was shocked and angry when he found out about it from Thurlbeck and told him to stop phone hacking.
But Hugh Davies QC said: "That is simply not accurate. No such disapproval of the practice was given by Mr Coulson. There was no direction to stop."
Story continues below slideshow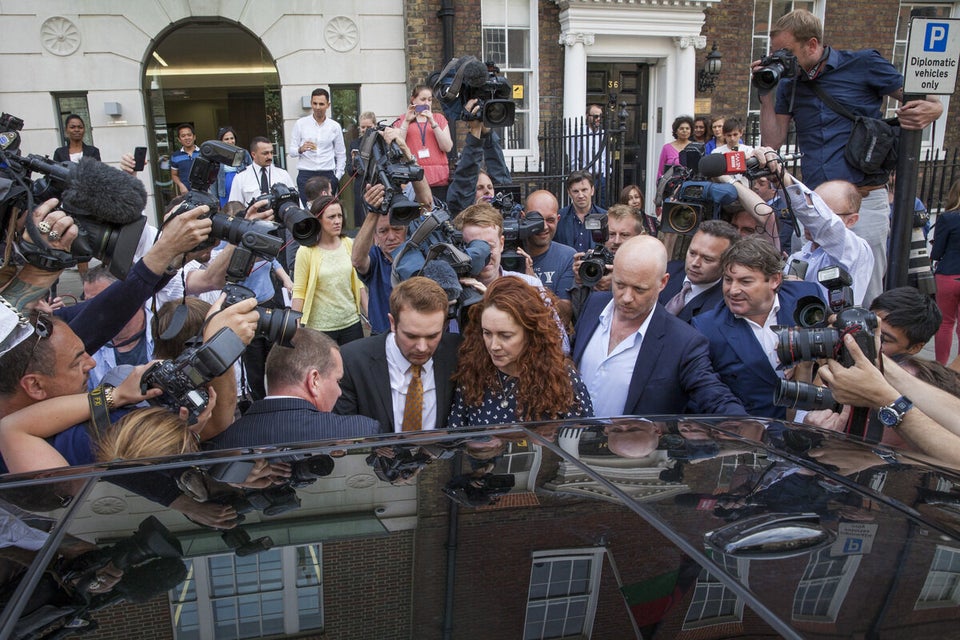 Rebekah Brooks phone hacking claims
Weatherup only instructed Mulcaire to hack phones because it was the "standing policy" of the NotW, his lawyer said.
Charles Bott QC said: "At the time of Mr Weatherup's offending we say phone hacking was endemic. Secondly we say the ultimate responsibility for that lay at senior editorial levels. Thirdly the suggestion that phone hacking was the responsibility of a small clique of news editors is falsely misleading.
"We have gone from rogue reporter to rogue reporter-plus - but neither of those reflect the truth.
"Phone hacking was condoned and encouraged by senior managers at the NotW for the simple reason it was an expedient and cost effective way to obtain information."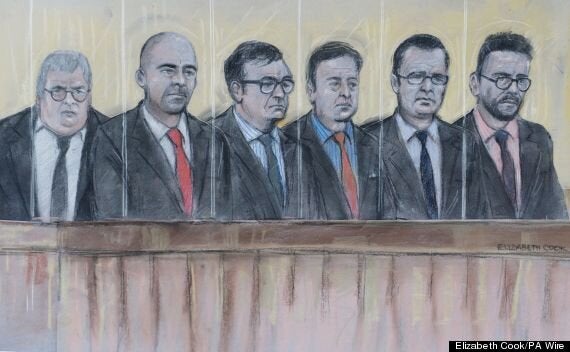 In the dock for sentencing from left: former news editor Greg Miskiw, reporter Dan Evans, journalist James Weatherup, former chief reporter Neville Thurlbeck, Andy Coulson and private detective Glenn Mulcaire
Miskiw's lawyer Trevor Burke QC asked the judge to take account of his early guilty plea and the fact he had expressed "genuine remorse".
Gavin Millar QC for Mulcaire, said his client had already been jailed for phone hacking in 2007 and questioned whether he should be punished again.
Since he served his time, the married 43-year-old had not only faced bankruptcy but also become the "personification" of the NoTW scandal in the media, the lawyer said.
Millar added: "Of course he has to accept such is life and this is a conspiracy of his involvement before 2006 but we say that the court should recognise that all of that happened and Mr Mulcaire uniquely and unilaterally over this period was named and shamed in the media as effectively the personification of the phone hacking scandal and that placed a huge pressure on Mr Mulcaire and his family during those years."
Over the years, Mulcaire was paid around half a million pounds by the NoTW to hack phones at the request of the newsdesk, the court heard.
Miskiw tasked him 1,500 times, Thurlbeck 261 times and Weatherup 157 times, according to the private investigator's notes.
Miskiw and Thurlbeck were responsible for instructing Mulcaire over the Milly Dowler hacking in 2002, the court heard.
Following the 2011 police investigation, Mulcaire, 43, from Sutton in Surrey, admitted three further counts of conspiring to phone hack plus a fourth count of hacking the voicemail of murdered schoolgirl Milly Dowler in 2002 - an act which eventually led to the downfall of the NotW in 2011.
Edis went on to apply for costs. The total cost of the hacking trial was around £1.7 million but the elements of the case which led to convictions for phone hacking was around £750,000, the court heard.
The case was adjourned until 10am on Tuesday when Coulson's mitigation will be heard.
The Phone Hacking Verdicts In Full