For a country so enamored with hot dogs, it always seemed like an odd ban. Senior aides to Barack Obama are now to be urged to let traditional Scottish haggis back into the US by ending a decades-old import ban.
The consumption of sheep lung, a key ingredient of haggis alongside heart and liver, has been banned in the US since 1971 while all British lamb has been banned since 1989 following the BSE crisis.
UK Environment Secretary Owen Paterson will ask his US opposite number Tom Vilsack to end the ban during a meeting in the US today, and open up a market potentially worth millions to Scottish producers.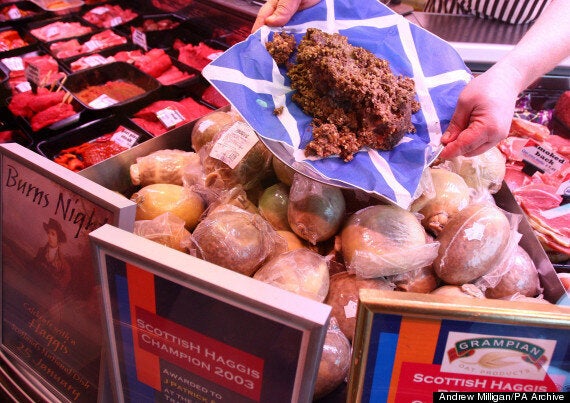 Butcher Robert Patrick from Patricks of Camelon with his award winning haggis
The haggis market is already worth approximately £15 million in the UK and could be worth far more in the US, given the popularity of Scottish heritage in the country, Paterson said.
Scottish producers asked Paterson to take action when they met him at the Royal Highland Show in Edinburgh last week. "I share many haggis producers' disappointment that American diners are currently unable to enjoy the taste of Scotland's wonderful national dish in their own country," he said in a statement.
"I am meeting my US counterpart today to discuss how we can begin exporting it, particularly as so many Americans enjoy celebrating their Scottish heritage.
"This Government has opened many markets for our home-grown food and drink businesses.
"I will continue to do everything I can to boost exports of everything from whisky to haggis to support Scotland's farmers and rural economy."
Scottish Secretary Alistair Carmichael said: "In my own constituency, we produce some of the finest lamb in the country, if not the world, so I know just how good Scottish meat can be.
"It seems only right that the UK Government continues to use its considerable influence to open up as many opportunities as possible, to reintroduce our produce where markets have been closed and to create new ones wherever it can.
"As for haggis, all I can say is, the Americans don't know what they're missing. Let's try to put that right too."
James Macsween, director of haggis maker Macsween of Edinburgh, said: "The opportunities for exporting our haggis into the American market are very exciting and I am delighted to hear progress is being made in this respect.
"With the huge popularity in the US of all things Scottish, hopefully these negotiations will allow American consumers the chance to finally taste authentic, high-quality Macsween haggis very soon."
The UK Government hopes the ban on British lamb can be lifted as part of a European Union-US trade deal currently being negotiated, which is potentially worth more than £10 billion to the British economy overall.
It follows Paterson's successful lobbying to lift a ban on UK beef exports to the US earlier this year.
During his visit, Paterson will also promote British food and drink products at the Summer Fancy Food Show in New York, where brands like Walkers' Shortbread have made inroads into the American specialist food market, which is worth an estimated 85 billion US dollars (£49.9 billion) a year.
Scotland's Food Secretary Richard Lochhead said: "Haggis - which is produced to the highest standards - is Scotland's national dish and is enjoyed by people from all over the world.
"With almost nine million Americans claiming Scots ancestry there is clearly an appetite in the US for haggis made to traditional recipes. We look forward to the USA resuming imports of Scotch Beef and are optimistic that this will pave the way for the resumption of imports of other iconic Scottish products such as haggis and Scotch Lamb.
"The US has long been a top priority market for the Scottish food and drink sector. I have been pushing for this development for years - therefore I welcome Owen Paterson's efforts to open up this lucrative market, even if it's taken the forthcoming referendum to get his attention."
Popular in the Community