Let's face it, Robin Thicke's #AskThicke Twitter Q&A was never going to end well, was it?
The controversial singer angered plenty of people with his chart-topping track 'Blurred Lines', which has been criticised for its questionable lyrics and comments about women, and his recent cringey pleas to his estranged wife Paula have been awkward to say the least.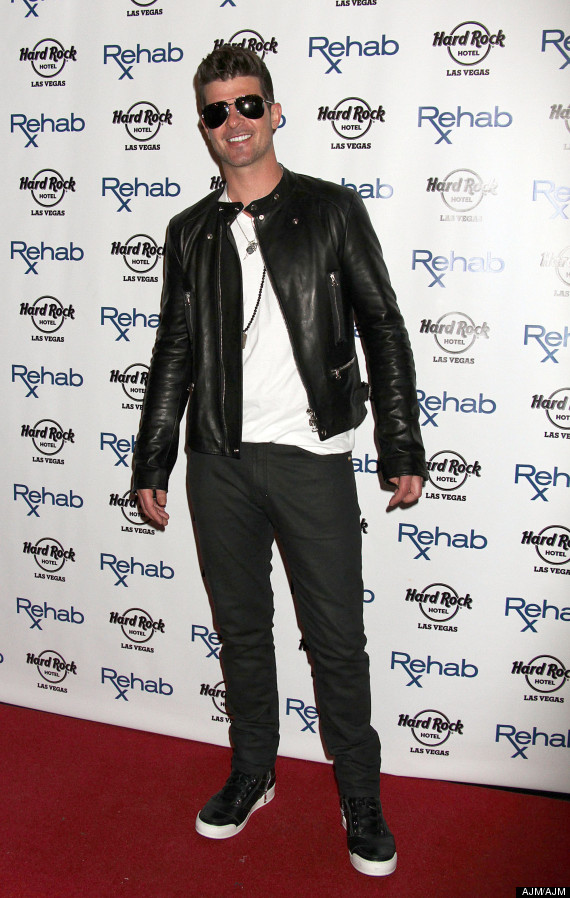 This smile will probably disappear soon
As a result, his Q&A hashtag has been hijacked by the wonderful people of Twitter, who have taken the chance to ask him a whole host questions, including a number of 'Blurred Lines' inspired queries:
#AskThicke if i worked in mcdonalds and you asked for no gherkins would it be okay if i gave you them anyway? i know you want it really

— eve (@centipedehearts) July 1, 2014
#AskThicke don't you think this is an ironic hashtag considering you're not one for asking?

— Thomas Simpson (@Simmy41) July 1, 2014
#askthicke do you still see blurred lines? If so, that might be an astigmatism?

— Wayne (@wayno1305) July 1, 2014
#AskThicke if asked if you want salt and vinegar on your chips and you say no but they put it on because no means yes is that ok?

— mostly grumpy (@mostly_grumpy) June 30, 2014
There are also some perfectly silly questions - we're really hoping Robin answers at least a couple of these:
#AskThicke Can a zombie and a ghost come from the same body?

— Eben Marks (@EbenMarks) July 1, 2014
#AskThicke Have you ever seen Planet of the Apes? Turns out he's on Earth all along.

— Ferrrgle (@Ferrrgle) July 1, 2014
Finally, there are the totally serious queries. Twitter is the best, isn't it?
Even though it seems like a retrograde step, do you think we should arm the Syrian rebels in their fight against ISIS? #AskThicke

— Ian Stone (@iandstone) July 1, 2014
#AskThicke Why do you drive a new porsche when there are a lot of very affordable high quality used cars on the market?

— Aunty Shub (@_surelymermaid) July 1, 2014
#AskThicke. Do you think scotland should vote no to leaving the union?

— paul collins (@Laupsays) July 1, 2014
Our thoughts are with the poor person who has to hunt for the (very few) #AskThicke questions that can actually be put to Robin.
LIKE US ON FACEBOOK | FOLLOW US ON TWITTER
Robin Thicke Twitter Q&A, #AskThicke, askthicke, Paula Patton, Robin Thicke Paula Patton, blurred lines, Robin Thicke new album, robin thicke, Blurred Lines lyrics, robin thicke blurred lines, @noad_mid_article, blurred lines controversy, @health_models, @health_gad, @health_pain, @health_ibs, @health_adhd, @health_hiv, @health_depression, @health_ost, @health_erectile, @health_ht