Cameron Diaz is on the cover of the latest issue of Esquire, and features inside the magazine discussing her upcoming film 'Sex Tape', which sees the actress go nude on screen for the first time in her career.
The star appears on the magazine cover wearing a high-cut black swimsuit that shows off her fabulous pins, while she leans casually against a wall in some pretty impressive-looking high heels.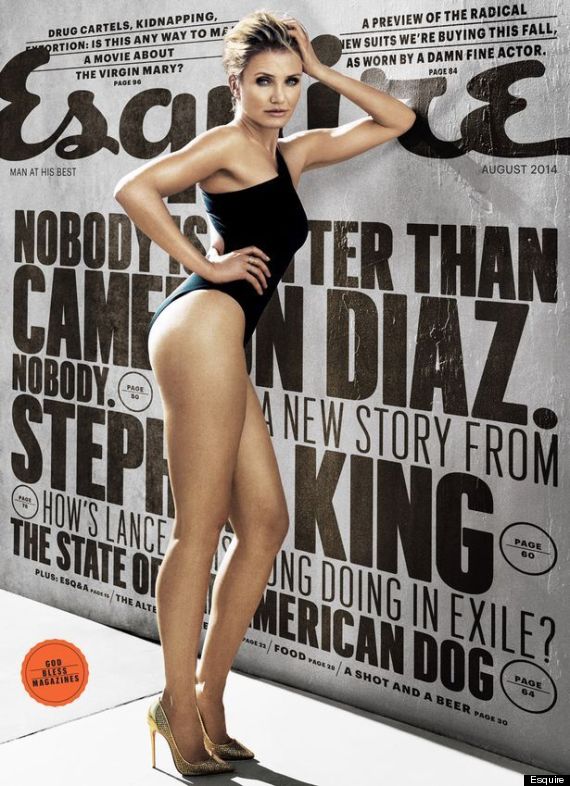 Cameron Diaz on the cover of Esquire
But if you think she's showing off some flesh now, just wait until Cameron bares all in 'Sex Tape', her latest film which she co-stars in alongside Jason Segel, who previously appeared in her film 'Bad Teacher'.
She tells Esquire that she wasn't fussed about getting naked on film for the first time, saying: "It's just part of the role. So I did it. I mean you see everything."
"It's a first for me. But Jason [Segel] gets naked, too."
It seems there's not much that fazes Cameron, including getting older, as she goes on to reveal that she's loving life in her forties.
She explains: "I like being 41. I love it. So much s**t just falls away. Fear, mostly. It's the best age. That's when a woman knows how to work things, or she doesn't care about that anymore.
"You just stop being afraid. You don't worry about what men think. You just don't worry that time registers anything awful."
Cameron previously spoke to HuffPost UK about Hollywood's portrayal of women over 30, while in a recent radio interview she said she "wouldn't want to be 21 again".
Read Cameron's full interview in the August issue of Esquire, out 18 July. For more, click here.
href="http://www.facebook.com/HuffPostUKEnt"target="_hplink">LIKE US ON FACEBOOK

| FOLLOW US ON TWITTER