Oscar Pistorius is now a suicide risk and will be at increasing risk of taking his own life if he does not receive mental health care, his murder trial has heard.
The Paralympian's defence has told the trial in Pretoria that his depression and post-traumatic stress disorder will worsen if professional help for these conditions stops.
Pistorius, who claims he mistook his girlfriend Reeva Steenkamp for an intruder when he fatally shot her in the early hours on Valentine's Day 2013, was sent for a six-week psychiatric evaluation to determine if he had a mental condition that caused him excessive anxiety.
Though it concluded he was mentally sound at the time of the shooting, his lawyer, Barry Roux, read excerpts from a separate report that said Pistorius was prone to suffering a "fight of flight" response and his reactions "might seem extraordinary" to people without this condition.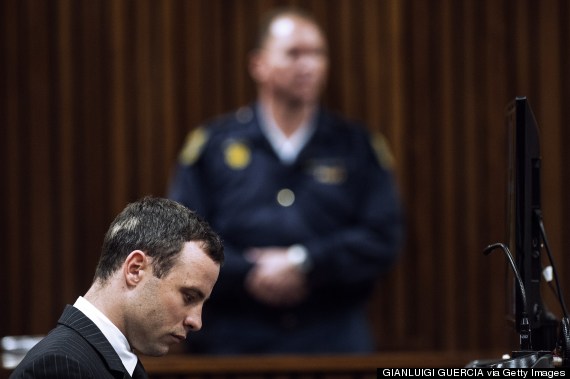 Pistorius in court today
The prosecution argues Pistorius shot Steenkamp deliberately after the pair argued.
The court heard the athlete had developed a hand tremour and a sleep disorder that required medication.
The report that Roux read from said Pistorius had no history of "abnormal aggression or explosive violence" and his relationship with Steenkamp was not abusive.
BLADE RUNNER TRIAL:
Roux said the report also said Pistorius does not have "narcissistic" tendencies associated with abusive partners.
"Should he not receive proper clinical care, his condition is likely to worsen and increase the risks for suicide," he quoted it as saying.
Also on Wednesday, a medical expert from the University of Cape Town, Wayne Derman, said Pistorius was "hyper-vigilant" and often scanning for possible threats.
The professor said: "He is an anxious individual."
Pistorius faces 25 years in jail if convicted of Steenkamp's premeditated murder.