This is the stomach-churning moment a pair of 80ft long blue whales capsized a 21ft boat just off the coast of California.
Wildlife photographer Dale Frink is heard screaming "Oh my god" as one of the beasts lurches out of the water, flipping the boat over, in footage revealed by Sky News.
Captain Cici Sayers can also be heard crying out as the camera somersaults underwater in a hail of bubbles.
The pair were whale-watching 12 miles off the shore of San Diego when they came across the two marine mammals, who were feasting on krill.
They went under for a few minutes until one lunged, then slammed down onto the boat, tipping it over and throwing the pair into the water.
Fortunately another boat was nearby and the pair were saved.
Tony Olson from Vessel Assist, San Diego told Fox5 San Diego: "This would be the first one. The first one ever I've heard of around here flipping a boat over from a whale."
Sayers insists she has always had a health respect for the animals, and told the channel: "I've always stayed away from them as far as I can, I don't deliberately allow them to come close. This was just kind of freaky.
"I'm anxious to get my boat fixed and yeah, I think I'll go back out there. It's not for the feint of heart, but I have never been a shrinking violet."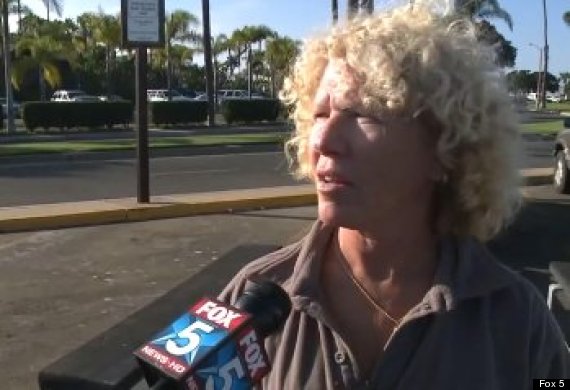 'This was just kind of freaky': Cici Sayers