West Africa's Ebola epidemic is completely "out of control", with more than 60 outbreaks across three nations and doctors overwhelmed by the number of infected and dying, a global health charity has said.
Ebola is one of the world's most deadly diseases, highly infectious and likely to kill 90% of those who catch it. The epidemic has caused widespread terror in infected communities across Guinea, Sierra Leone and Liberia.
"The epidemic is out of control," says Dr Bart Janssens, director of operations for Médecins Sans Frontières. It is the worst epidemic of the virus in history, with 467 people dead, and almost 300 other suspected or confirmed cases. The number of infections jumped by 38% in between June 25 and July 2, according to the World Health Organisation.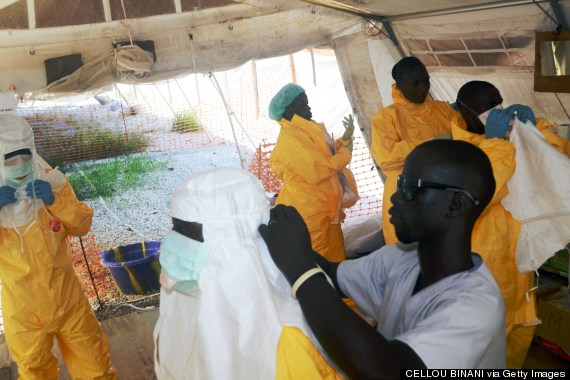 Doctors Without Borders (MSF) putting on protective gear at the isolation ward of the Donka Hospital in Conakry, where people infected with the Ebola virus are being treated.
Health workers in the area are often faced with threats of violence, from a population wary of outside intervention and who hold an deep fear of diagnosis.
The Red Cross in Guinea said it had been forced to suspend operations after staff there were threatened by a knife-wielding gang in the men armed with knives in the southern town of Gueckedou.
"We've suspended operations for safety reasons," a Red Cross official in West Africa told Reuters, asking not to be named. "I imagine this won't be the last time this happens."
Healthcare workers have also frequently been infected while treating Ebola patients, because of the lack of protective gloves, masks or goggles.
Bodies of victims remain infectious even after death, and traditional methods of burial, involving the manual washing of the body, has been identified as one of the key factors in passing on the disease.
Liberian authorities have promised those suspected of hiding Ebola patients will face arrest, after it was rumoured that faith healers were taking patients from hospitals to take them for special prayers and to administer traditional medicine.
"It is illegal under our public health law to expose the people to health hazard such as Ebola," said Liberian President Ellen Johnson Sirleaf.
"Let this warning go out, anyone found or reported to be holding suspected Ebola cases in homes or prayer houses will be prosecuted under the laws of Liberia," she said.
West African health ministers are meeting today in Ghana to draft a regional response to the outbreak. "In Liberia, our biggest challenge is denial, fear and panic. Our people are very much afraid of the disease... but do not believe that the disease exists and because of that people get sick and the community members hide them and bury them, against all the norms we have put in place," said Bernice Dahn, Liberia's deputy health minister.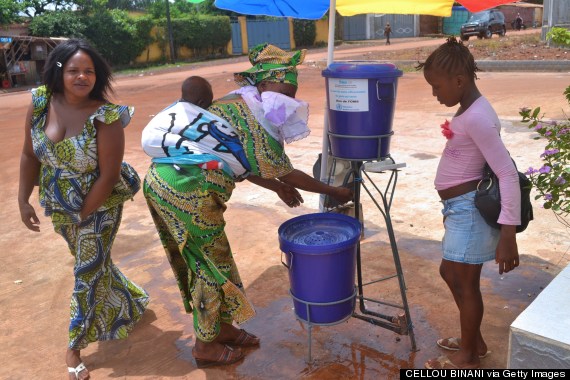 Guinean women washing their hands at the entrance of the Sino-Guinean hospital of Kipe in the Ratoma municipality, where the first person infected with the Ebola virus was treated
Sierra Leone announced on Wednesday that President Ernest Bai Koroma, his vice president and all cabinet ministers had personally said they would donate half of their salaries to help the fight against the outbreak - though the official amount was not given.
No specific treatment or vaccination is available for Ebola, which causes the sudden onset of fever, feeling weak, muscle pain, headaches and a sore throat, followed by vomiting, diarrhoea, rash, impaired kidney and liver function and, in some cases, internal and external bleeding which causes death.
Jeremy Farrar, a professor of tropical medicine and director of The Welcome Trust, told Reuters that people should be offered new and experimental treatments as a last resort.
"We have more than 450 deaths so far, and not a single individual has been offered anything beyond tepid sponging and 'we'll bury you nicely'," Farrar told Reuters. "It's just unacceptable."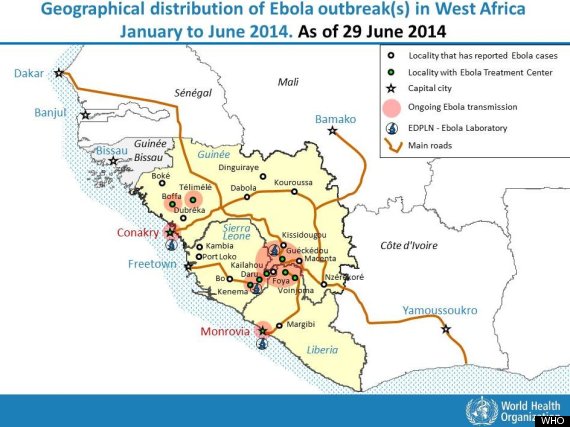 The WHO map showing the outbreak
Glasgow organisers of the 2014 Commonwealth Games have said that they do not suspect that they will need to quarantine any teams.
A joint statement issued by NHS Greater Glasgow and Clyde, Health Protection Scotland and Glasgow 2014 said: "Based on current advice from the World Health Organisation, we estimate that the risk to the delegates from Sierra Leone is extremely low.
"Nevertheless, we are monitoring the situation on a daily basis and communicating with international colleagues to ensure we are up to date with all appropriate and available information so that we can assess and communicate any change in risk.
"Members of the Sierra Leone 2014 team will not be treated any differently from those arriving from other countries.
"Human-to-human transmission of the Ebola virus is primarily associated with direct or indirect contact with blood and body fluids of infected individuals.
"Standard precautions will be applied in dealing with all clients and patients attending Commonwealth Games medical venues during games time."