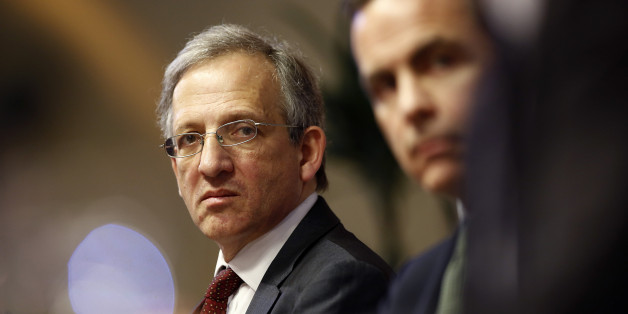 Bloomberg via Getty Images
The housing market remains the "biggest risk' to Britain's economy, Bank of England deputy governor Sir Jon Cunliffe has warned.
Cunliffe, who oversees financial stability at the central bank, singled out in an interview with BBC Radio 5 Live the danger of house prices "rising faster than people's incomes" as it "leads to... a big increase in the amount of debt in the economy".
Cunliffe, who has previously warned that the housing market was the "brightest light" blinking on the dashboard of risks to the financial system monitored by the Bank, made his remarks as new figures from Nationwide found that average property prices in London had soared at their fastest rate in 27 years.
The Bank of England last week unveiled measures to rein in risky lending, but stressed that they would only have a "minimal" effect on the mortgage market. From October, lenders will face a 15% on cap on the number of mortgages they can hand out at more than 4.5 times someone's income, as well as having to check that applicants can cope with a 3% rise in interest rates.
"Because we're acting early, we don't have to reverse mistakes that have been made," Bank governor Mark Carney explained to reporters.
Cunliffe told the BBC that a "sustained rise" in house prices would be concerning, saying: "It's not the risk around house prices as such, it's the risk that we get a sustained rise in house prices - and this is very important - [the risk of] house prices rising faster than people's incomes. That leads to the sustained increase, a big increase in the amount of debt in the economy, in the amount of debt that mortgage holders have."
This comes after Britain's biggest building society Nationwide said that house prices in the capital had jumped by 25.8% annually, now making it more than double the average UK house price, at £400,404, and 30% higher than its 2007 peak.
This meant, it added, that the gap between prices in the capital and the rest of the country had grown to the "widest it's ever been".