In the swell of anger and bitter hatred that surrounds the killing and kidnapping of three Israeli teenagers, and a Palestinian boy, families of the murder victims pleaded for peace and calm.
On Wednesday the Arab youth was purportedly dragged into a car, his body later found in a forest near Jerusalem, in a suspected revenge attack by Jewish extremists for the killing of three Israeli teenagers, kidnapped as they hitchhiked home.
The bodies of Eyal Yifrah, 19, Gilad Shaar, 16, and Naftali Fraenkel, 16, were found on Monday. On Wednesday, Frenkel's family condemned the killing of the Palestinian teenager, 16-year-old Muhammad Hussein Abu Khdeir.
"If the Arab youth was murdered because of nationalistic motives then this is a horrible and horrendous act. There is no difference between (Arab) blood and (Jewish) blood. Murder is murder. There is no forgiveness or justification for any murder," said Yisahi Frenkel, Naftali's uncle.
Hussein Abu Khdeir, Muhammad's father told the New York Times he did not expect justice for his son. But he added: "I am against kidnapping and killing. Whether Jew or Arab, who can accept the kidnapping and killing of his son or daughter? I call on both sides to stop the bloodshed."
Beautiful words from Abukhdair father and Naftali's uncle. #Israel #Palestine pic.twitter.com/YM9DSd30fg

— Linda Sarsour (@lsarsour) July 3, 2014
Much of the rhetoric from both sides has been one of blood and anger. The head of the World Bnei Akiva Jewish youth movement called for the "blood of the enemy" and for the IDF to take Palestinian foreskins as trophies after the discovery of the Israel teenagers' bodies. He later apologised for his post.
According to the Jerusalem Post, one Facebook group called "Revenge against Arabs" has more than 3,500 likes, "The People Demand Revenge Now" has over 3,600 likes, "The People of Israel Demand Revenge" has some 5,700 likes, and "Bibi, the People Want Revenge" has over 4,644 likes.
But many more have spoken out against the calls for more violence. Israel's Chief Rabbi David Lau said citizens "must rely on the security services that they will do their work properly and not to think at all about independent and dangerous revenge operations which could endanger lives across the entire region," said Lau.
"A God of revenge is God. Our revenge will be to the punishment of the murderers and the continuation of the wonderful path if unity and strengthening the Jewish faith."
Around 1,000 people took part in the so-called 'Tag Meir' march, demanding a peaceful resolution, though the numbers paled in comparison to those attending the angry demonstrations calling for revenge, which took place after the funeral of the teens on Tuesday. Tag Meir, a grassroots forum, campaigns against 'price tag' attacks committed by Jewish settlers who set fire to Palestinian property or use racist graffiti.
The protesters, who wore badges with the Hebrew word for 'Enough', shouted "Jews and Arabs refuse to be enemies" and "Enough violence, enough racism" according to local reports, though several told the Jerusalem Post they had been kicked or spat at as they gathered to protest.
Michal Biran, a Labor member of the Israeli parliament told the Times of Israel: "Dragging teenagers into a political conflict, on either side, is illegitimate. The way to deal with this is through conversation and dialogue. There are those who incite and those who calm things down."
Across town, both far-right Israeli demonstrations and rioting in Palestinian east Jerusalem continued, with police making multiple arrests. Israeli airstrikes also continued on the Gaza Strip, in response to several militant rocket attacks.
The popular Israeli anti-war group Israel Loves Iran posted several images, which have been shared hundreds of times, calling for restraint.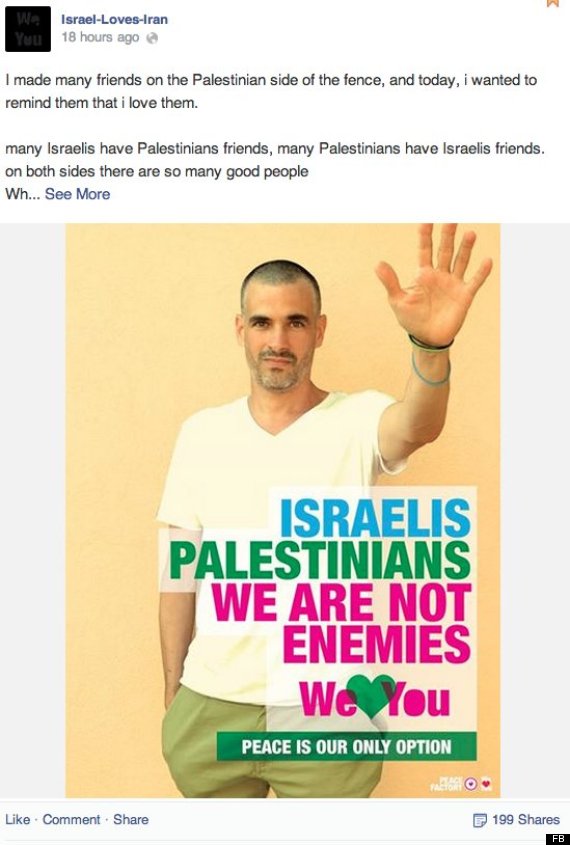 Palestine Loves Israel, another pro-Peace group which has 15,000 likes, posted this message: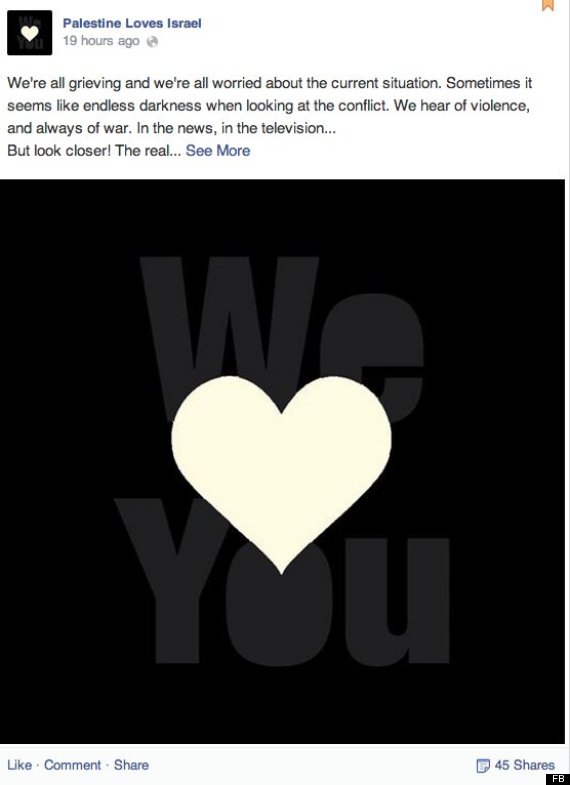 Yoaz Hendel, a former director of communications for Israeli Prime Minister Benjamin Netanyahu, expressed dismay at how the reaction from both sides had damaged relations yet still further.
"It is unbelievable how a few hundred racist Jews can cause so much damage to an entire country," Hendel wrote on his Facebook page in Hebrew. "The results of the investigation into the death of the boy are already unimportant. After pictures of the mob shouting 'Death to Arabs,' the damage is done."