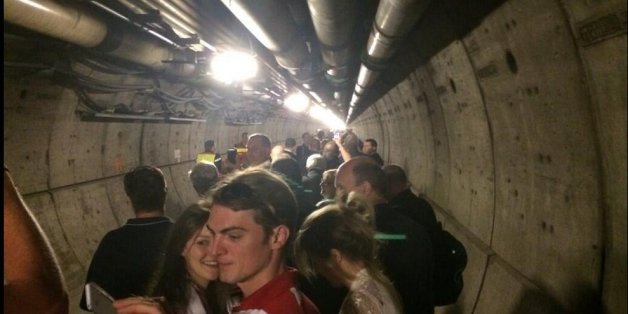 Richard Byrom
It must be a Eurosceptic's worst nightmare. Hundreds of passengers have had to be evacuated from a broken-down train in the Channel Tunnel in an incident which has led to long delays to travellers.
One of the passengers caught up in the chaos was Ukip's director of communications, stuck at Ashford International en-route to Brussels.
People stranded on delayed Eurostar trains starting to think that a little more information would not go amiss.

— Patrick O'Flynn (@oflynnmep) July 7, 2014
@oflynnmep It's an establishment liblabcon plot to prevent the people's army getting to Brussells and telling the truth I reckon

— Ian Austin (@IanAustinMP) July 7, 2014
He bonded with BBC presenter Sophie Raworth - bound for Lille - over his predicament.
Now stuck outside channel tunnel entrance at Folkestone. This is going well..! #eurostar pic.twitter.com/zgIzQMc7p7

— sophieraworth (@sophieraworth) July 7, 2014
@sophieraworth oh well in that case just remember the best pay off line is "...and that is why Britain should leave the EU" ;-)

— Patrick O'Flynn (@oflynnmep) July 7, 2014
The French-bound Eurotunnel passenger shuttle train came to a halt about a quarter of the way through the tunnel after a problem with the overhead power line.
As it was likely to be some time before the train could be moved, the 382 passengers and four dogs were evacuated and taken on to the French terminal.
Services through the tunnel, using one of the two running tunnels, were able to continue but Eurotunnel warned that services were being delayed, with hold-ups possibly lasting for the rest of the day.
The incident happened at around 7.30am today about 7.5 miles into the 30-mile long tunnel.
Long wait for trains at St Pancras after evacuation http://t.co/RZuw9Sumt9 pic.twitter.com/OwYgsdyzcs

— ITV News London (@itvlondon) July 7, 2014
Evacuation from the Eurotunnel this morning after the power lines came down #eurotunnel pic.twitter.com/xTk1S70Pz3

— Richard Byrom (@richardbyrom) July 7, 2014
"The evacuated passengers are now at the French terminal and are waiting for the affected train to arrive so they can get their cars," a Eurotunnel spokesman said.
He went on: "We are advising people who don't need to travel today to travel on another day. There are queues building up and travellers should expect delays throughout the day."
Channel Tunnel high-speed train company Eurostar said it had had to cancel four services today and warned passengers to expect delays to ones that are able to run.
Eurostar told customers: "If travel today is non-essential you can exchange your ticket, free of charge, to another available service within the next four months."