Members of the protest group Femen have staged a topless protest against female genital mutilation (FGM) outside the Palace of Westminster during the third stage of the Tour de France cycling race, which started in Cambridge and finished in London on Monday. Police officers tackled several of the demonstrators, who stripped down before trying to vault over a fence, covering them with their high-visibility jackets.
The group, which was started in Ukraine before moving to Paris, has become known for it particular method of protest, having demonstrated on a raft of issue from prostitution to the wearing of the hijab. The UK chapter, which was announced late last year, said that it would focus on the issue of FGM, which Femen founder-member Alexandra Shevchenko told the Guardian, "no one is talking about in England". She added: "People assume it is too violent and extreme to exist here, that it only happens in Africa and the Middle East, but the UK has some of the highest levels in the west."
On the road, 26-year-old German Marcel Kittel, one of the best sprinters in the world, won the third stage of the race in a bunch finish at Buckingham Palace. Earlier, rider Geraint Thomas complained of members of the crowd standing in the road with their backs to the speeding peloton in order to take selfies. "It's the new pain in the arse," said Thomas.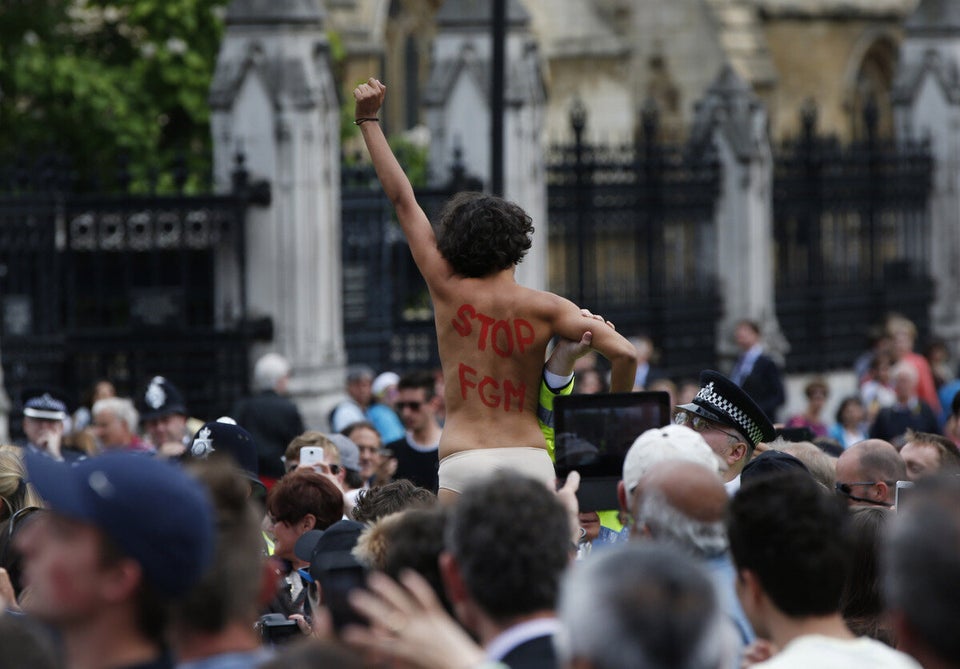 Femen Protests During Tour De France