The first clip from Cameron Diaz's forthcoming comedy film 'Sex Tape' has been released online.
The film tells the story of a married couple who try to spice things up in their relationship by making a sex tape… but are mortified when they inadvertently publish it online and send it to everybody they know.
This leads to a mad dash for the pair, as they go around their friends and try and reclaim their devices before they get the chance to see the explicit tape.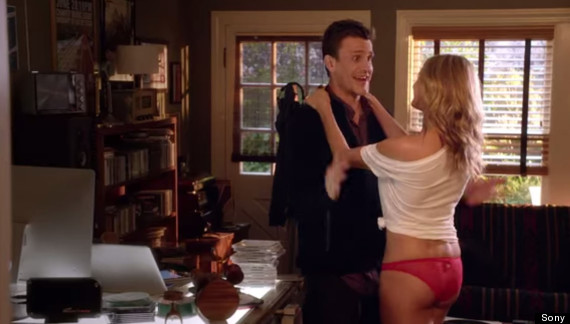 Cameron Diaz and Jason Segel in 'Sex Tape'
Cameron and Jason Segel, who plays Cam's husband appear in the newly released clip, which sees Cameron's character Annie berating her husband Jay after accidentally sharing their sex tape online.
After freaking out about the mishap, her character contemplates the repercussions of everyone seeing her in the act, angrily lamenting: "Nobody cares about the guy, it's the woman who has to live with it forever."
Cameron has previously spoken about stripping off her role in the upcoming film, which sees her going nude on screen for the first time in her career.
She told Esquire magazine: "It's just part of the role. So I did it. I mean you see everything. It's a first for me. But Jason [Segel] gets naked, too."
Rob Lowe co-stars in the film, as does 'Bridesmaids' and 'The Office' actress Ellie Kemper.
'Sex Tape' reunites Cameron and Jason, who previously starred alongside each other in the 2011 comedy 'Bad Teacher', which saw Cameron taking on the role of a disgruntled middle school teacher, while Jason was her love interest, whose character taught P.E. in the same school.
href="http://www.facebook.com/HuffPostUKEnt"target="_hplink">LIKE US ON FACEBOOK

| FOLLOW US ON TWITTER