A botched assassination attempt, or maybe the Dear Limper just got pins and needles?
Speculation is rife after North Korean leader Kim Jong-un was seen limping across the stage at the memorial for his grandfather Kim Il-Sung.
It is a rare show of human weakness that state media would ordinarily be reticent to broadcast. Kim Il-sung had a fist-sized tumour on the back of his neck, but it was never pictured, with media banned from filming him at certain angles.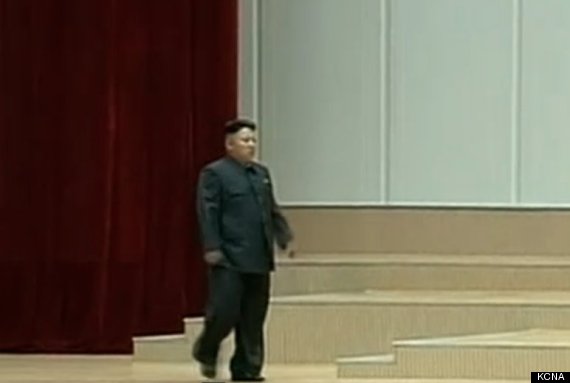 Kim Jong Un is seen limping across the stage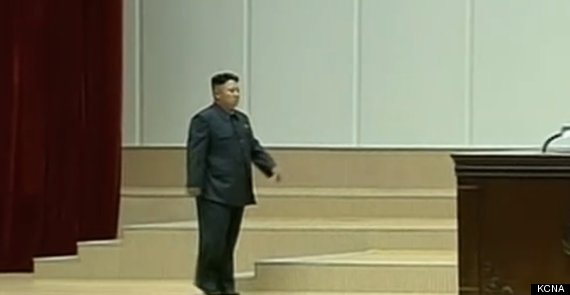 The anniversary marks the start of a 10 day mourning period
North Korean authorities have declared a 10 day period of mourning to mark the 20th anniversary of the death of Kim Il-sung. The founding father of the current state, he is still considered the leader of the nation, despite having died in 1994. His son, Kim Jong-il, became Supreme Leader after him, and his son, Kim Jong-un, succeeded in 2011.
The injury does not seem to be putting the despot off his duties. It was reported on Monday that Kim had visited a defence detachment on Ung Islet, an outpost in the "East Sea of Korea" - more widely known as the Japan Sea.
North Korea has test-fired short-range missiles and rockets three times in the past 10 days, at the same time as issuing a statement on the anniversary of Kim Il-sung's death, calling for the north and the south to |end reckless hostility and confrontation and open up the road for reconciliation and unity.
"The grave situation in which even a single remark and act and tiny friction may lead to a dangerous conflict and destruction of the nation is prevailing on the Korean peninsula as hostility and confrontation have reached the extremes."