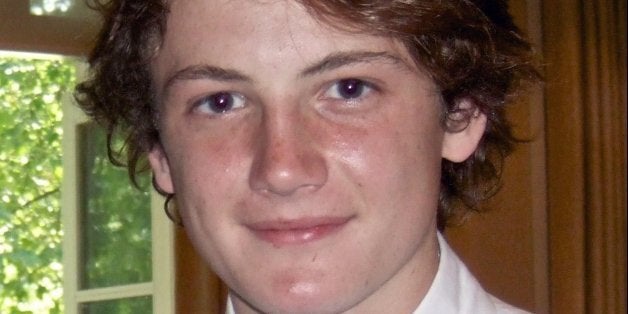 The paper is run by the Socialist Worker's Party, and published by Sherborne Publications Limited. Neither the party nor the publishers were answering calls on Thursday afternoon or Friday morning.

A screengrab of the story in the Socialist Worker
"That the Socialist Worker thinks the violent death of a child is a fit subject for humour indicates a level of depravity and insensitivity to the suffering of others which is surprising. The paper should undoubtedly apologise to the family of Horatio and take a long hard look at their editorial process."
It also provoked a storm of response on Twitter, but still failed to get a rise out of the paper. The article is still available online.
Chapple was on an adventure holiday to the remote Svalbard islands in August 2011 with the British Schools Exploring Society (BSES) when he died.
The Eton pupil from Salisbury, Wiltshire, was sleeping in his tent when the bear went on the rampage, inflicting fatal injuries to his head and upper body.
Yesterday an inquest heard that the polar bear which mauled the 17-year-old schoolboy to death was elderly and had been suffering from worn-down teeth which would have led to it becoming stressed and behaving more "aggressively and unpredictably".
Four others were hurt before the bear was shot dead at the camp site, where the group, known as Chanzin Fire, had been staying.
Also injured during the incident were trip leader Michael "Spike" Reid, from Plymouth, Devon, Andrew Ruck, from Brighton, Patrick Flinders, from Jersey, and Scott Bennell-Smith, from St Mellion in Cornwall.
An independent report produced by High Court judge Sir David Steel on behalf of BSES also said the bear was seriously underweight at about 250kg rather than the typical 400kg and the maximum age of a polar bear was normally 25.
In his conclusion, Sir David criticised the reliance on a tripwire system to alert the group to the presence of polar bears and said that a bear watch should be used instead and also called for an overhaul of rifle training.
Sir David concluded: "In future a bear watch must become the norm for expeditions to Svalbard.
"There needs to be complete review of available tripwire systems but they should be treated only as a secondary protection device. There needs to be a rigorous upgrade of rifle training."