This is the dramatic moment a wailing two-month-old baby is freed from the rubble of a bombed building, after 16-hours under the weight of dust and rocks.
Rescuers worked for hours to free the infant girl, who was buried after a barrel bomb crushed a building in the beleaguered Syrian city of Aleppo.
The video, tweeted by the Syria Civil Defence, shows the baby's head caught between to enormous shards of rubble, covered in a fine grey dust. The baby's cries get louder as the rescuers chip away at the rubble in the rebel-held city.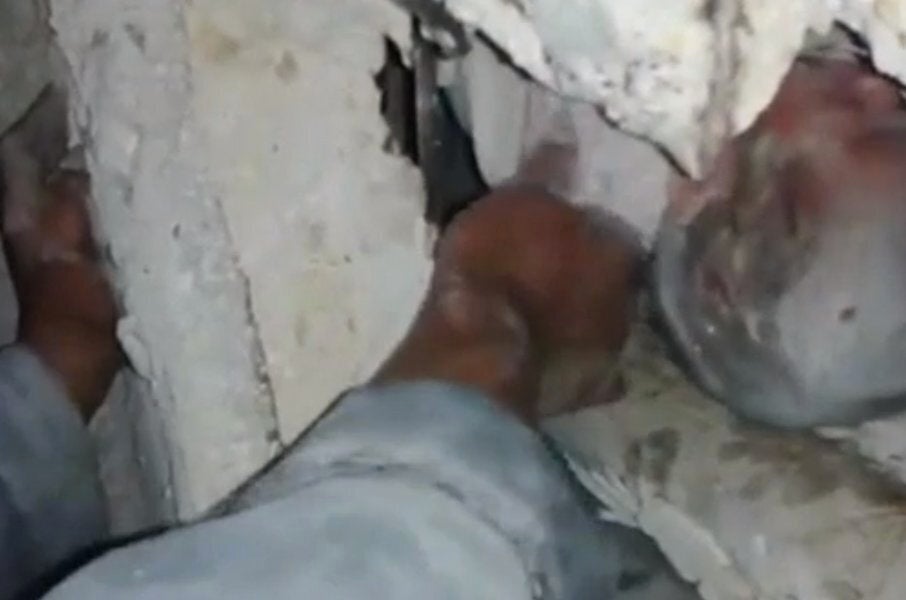 Syria rescued baby
Shouts of 'God is Great' can be heard, as well as the baby's sobbing, as the head emerges from the debris.
Finally, the baby girl is carefully pulled free and is in the arms of a beaming rescuer, covering in dust but very much alive, and wearing her pink babygro with a cartoon bear pattern. "It's a miracle," shouts one of the rescuers, as the man holding the baby beams.
"After 16 hours working under difficult conditions, the civil defence in Ansari was able to rescue a baby girl barely two months old as well as her mother who was injured," the Twitter account said.
It is impossible to independently verify the video, or know when it was taken, and the identity of the family is not known.