Hamas has embarked on "unprecedented" psychological warfare by broadcasting threats and warnings of imminent rocket attacks to Israelis in Hebrew, as it steps up its response to Israel's offensive in the Gaza Strip.
The militant group has fired hundreds of rockets as Israel conducts air strikes and sends in ground forces to the densely-populated territory.
Israel has also continued its 'knock on roof' bombing, dropping loud but non-lethal devices on buildings to warn the inhabitants the building is about to be targeted.
A total of 172 Palestinians, mostly civilians, have died in in the attacks since Israeli operations began last Tuesday.
Israel has carried out hundreds of air strikes and sent in special forces troops on Sunday. It has said the operation is intended to end the rocket fire against Israel.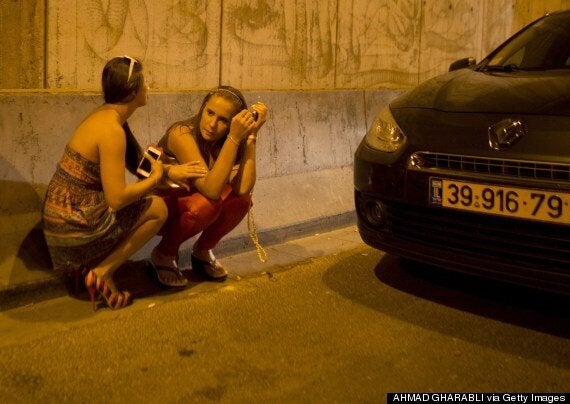 Israelis comfort each other as they take cover under a tunnel during a rocket attack in Tel Aviv
Thousands of civilians fled northern Gaza at the weekend when Israel dropped leaflets warning of further strikes there.
Over the weekend, Hamas broadcast a warning via its television station of its plan to fire rockets at Tel Aviv with only an hour's notice.
Abu Ubeida, spokesman of the group's armed wing, gave the warning which was followed by an audio translation in Hebrew.
"Zionists, wait and see stabbing attacks everywhere. Wait for suicide attacks on every bus, café and street. Wait for the rage and for revenge for Gaza, wait for the flames of the West Bank and inside you," another broadcast in Hebrew said, The Jerusalem Post reported.
The group has also reportedly set up a Hebrew-language website that gives news, videos and pictures of its activity and what is happening in Gaza.
Story continues beneath slideshow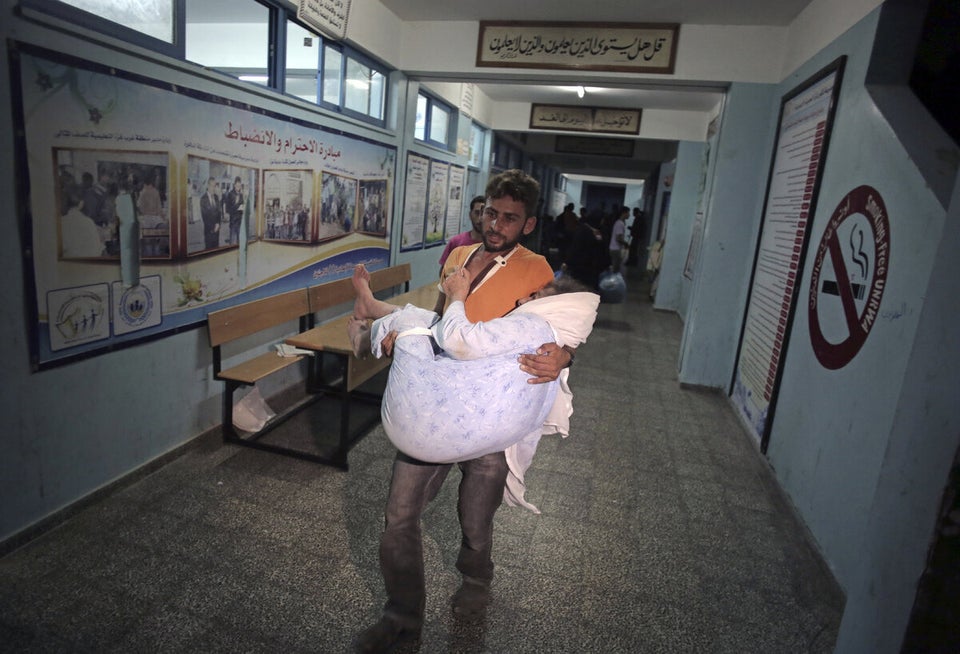 Palestinians flee Israeli offensive
It has also translated one of its battle hymns 'Shake Israel's Security' into Hebrew and posted it to YouTube, Al-Arabiya reported.
Amnon Abromovitch, an analyst for Israeli television, described their propaganda efforts as "unprecedented" and said "it appears to have achieved its objective".
Psychological warfare has been used by the Israelis as well.
The IDF uses a controversial tactic of 'knock on roof' bombing, where loud but non-lethal devices are dropped on buildings to warn the inhabitants it is about to be targeted.
The agency said the people were contacted by the IDF, which warned an attack was imminent. Quarter of an hour later, the warning missile was fired.
Five minutes after that, two missiles from an F16 jet struck the building, the agency said.
While the IDF claim this is designed to minimise civilian casualties, Amnesty International has said there is "no way" firing a missile at a civilian home "can constitute an effective warning".
The IDF has also been making phone calls to civilians in Gaza to warn them that an attack near their home is imminent.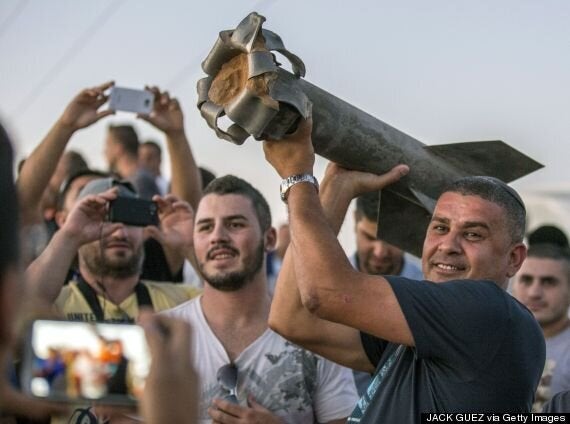 Residents of Sderot in Israel show the remains of a rocket fired at the town
More than 700 rockets have been fired at the south and centre of Israel since the fighting began last week.
Sunday was the bloodiest day of the onslaught so far, with Israeli strikes killing 54 people, including 18 of them from the same family when their home was bombed.
Mass funerals have been taking place in Gaza.
Popular in the Community