NEW YORK -- Growing calls for the impeachment of President Obama, most recently proffered by former vice presidential candidate Sarah Palin, are partly the product of racism, according to the US Attorney General. Speaking on ABC's This Week on Sunday, Eric Holder said that some Republican criticism directed at him and the President was based on "racial animus".
He said: "There's a certain level of vehemence, it seems to me, that's directed at me [and] directed at the president. You know, people talking about taking their country back… There's a certain racial component to this for some people. I don't think this is the thing that is a main driver, but for some there's a racial animus."
Holder was responding to an opinion piece published on the Breitbart.com website last week in which the former governor of Alaska called for the president to be removed from office. On the humanitarian crisis on the border between Mexico and Texas, a demarcation that has witnessed an influx of more than 50,000 children in recent months, many fleeing violence in Guatemala, El Salvador and Honduras, Palin wrote: "His unsecured border crisis is the last straw that makes the battered wife say, 'no mas.'"
She continued: "It's time to impeach; and on behalf of American workers and legal immigrants of all backgrounds, we should vehemently oppose any politician on the left or right who would hesitate in voting for articles of impeachment… The many impeachable offenses of Barack Obama can no longer be ignored. If after all this he's not impeachable, then no one is."
Holder said of Palin: "She wasn't a particularly good vice presidential candidate… She's an even worse judge of who ought to be impeached and why," adding: "For whatever reason, [some] Republicans decided early on that this was a president they were just simply not going to cooperate with. And over the past five-and-a-half years, we have seen demonstrations of that, where the president has reached out his hand, offered compromises that have simply not been met [in the way] they have been in the past by a Republican Party willing to do the appropriate things."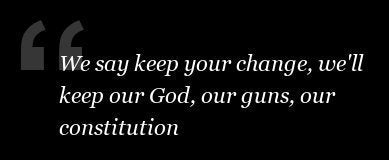 Sarah Palin In Her Own Words