Markets have reacted with shock to reports of a Malaysian Airlines passenger jet being shot down near the Russia - Ukraine border, as the price of gold has soared.
Initial reports from Interfax news agency say the Boeing 777 was flying at an altitude of 32,000ft, with there believed to be 280 passengers and 15 crew members onboard the flight from Amsterdam to Kuala Lumpur.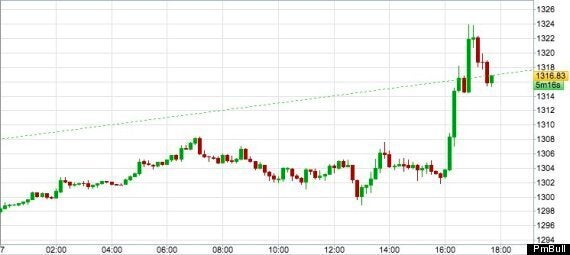 The price of gold, typically an indicator of market volatility, on Thursday afternoon
From 4pm this afternoon, the price of gold shot up from around $1,300 per ounce to around $1,318.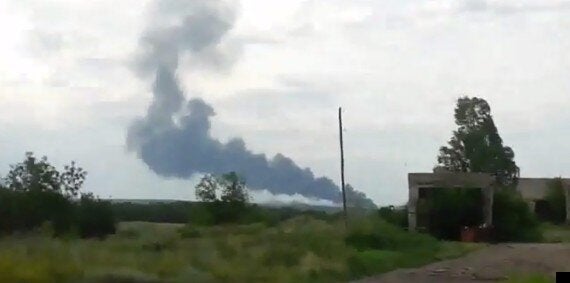 YouTube footage reportedly showing the aftermath of the incident
Vladimir Putin brushed aside America and the European Union's toughest sanctions yet warning that the "aggressive" response would have a "boomerang" effect that would hurt the United States' own interests.
The latest shock comes in the wake of the MH17 jet coming down 20miles (50kms) short of entering Russian airspace. It "began to drop, afterwards it was found burning on the ground on Ukrainian territory," the unnamed source said.
The jet's path would have seen it flying at high altitude on an intercontinental flight that took it over the crisis hit region of Ukraine, where the authorities have accused Russia-backed separatists of previous attacks on aircraft.
This afternoon Malaysia Airlines tweeted it had: "lost contact of [sic] of MH17 from Amsterdam. The last known position was over Ukrainian airspace. More details to follow."
Malaysian Prime Minister Mohammad Najib Tun Razak tweeted of his shock at the news.
The flight is understood to have been around four-and-a-half hours into its 11-and-a-half hour journey. It took off at 12.14pm from Amsterdam Schipol airport and was due to arrive in Kuala Lumpur at 6.10am local time.
A Foreign Office spokesman said: "We are aware of reports and we are urgently working to establish what has happened."