Just minutes after reports emerged that Malaysia Airlines flight MH17 had crashed in Eastern Ukraine, speculation and accusation began about who could be responsible for downing the flight.
An adviser to Ukraine's Interior Ministry has reported that the Malaysia Airlines plane was brought down by a ground-to-air missile by pro-Russian Ukrainian rebels, while rebels have claimed it was brought down by Ukrainian Government forces.
The Ukrainian Air Traffic agency has reportedly confirmed the Malaysian Airlines plane crashed near Ukrainian-Russian border.
The flight was said to be "found burning on the ground in Ukraine," a source told Interfax.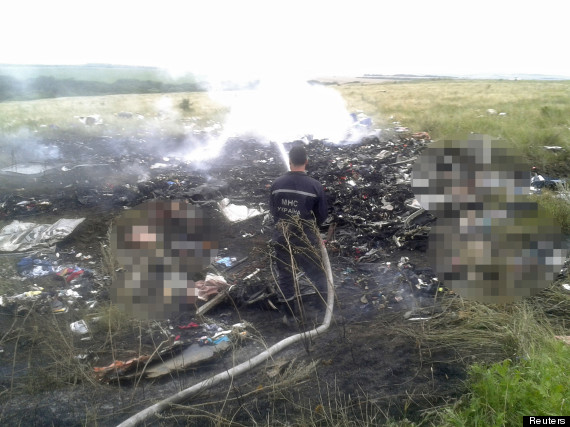 Reuters, citing Interfax, reports that the plane was shot down at an altitude of 10 km above eastern Ukraine, which has been the battleground of a months-long war between Ukrainian government forces and pro-Russian rebels.
The Donetsk region government said Thursday's plane crashed near a village called Grabovo, which it said is currently under the control of armed pro-Russian separatists.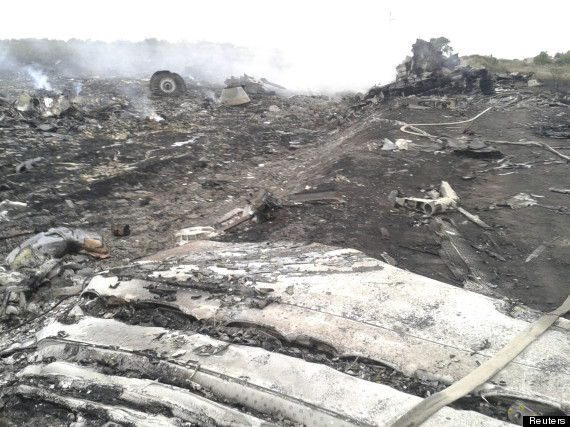 A launcher similar to the Buk missile system was reportedly seen by Associated Press journalists near the eastern Ukrainian town of Snizhne earlier Thursday.
The self-proclaimed "Donetsk People's Republic," the pro-Russian separatist movement in southeastern Ukraine has denied involvement in the downing of the Malaysian Airlines plane, gazeta.ru reports.
"The plane was shot down by the Ukrainian side. We simply do not have such air defensce systems, MANPADS have our firing range of 3-4 thousand meters, Boeing is flying at a much higher altitude, " said group spokesman Sergey Kavtaradze.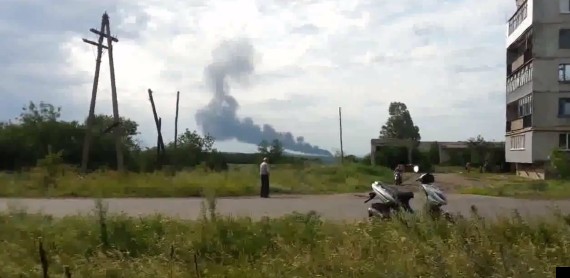 The Malaysia Airlines Boeing 777 plane carrying 280 passengers and 15 crew crashed in Ukraine near the country's border with Russia.
There is "no sign of survivors," according to Associated Press.
Associated Press also reported that separatist rebels in the eastern Ukrainian city of Donetsk denied that they are responsible for shooting down the Malaysia Airlines plane.
Andrei Purgin, deputy prime minister for the rebels, told The Associated Press the plane must have been shot down by Ukrainian government troops. He gave no proof for his statement, and Ukraine earlier denied shooting at any airborne targets.
On Wednesday evening, a Ukrainian fighter jet was shot down by an air-to-air missile from a Russian plane, Ukrainian authorities said Thursday, adding to what Kiev says is mounting evidence that Moscow is directly supporting the separatist insurgents in eastern Ukraine. Security Council spokesman Andrei Lysenko said the pilot of the Sukhoi-25 jet hit by the air-to-air missile was forced to bail after his jet was shot down.
Pro-Russia rebels, meanwhile, claimed responsibility for strikes Wednesday on two Ukrainian Sukhoi-25 jets. The Ukrainian Defense Ministry said the second jet was hit by a portable surface-to-air missile, but added the pilot was unscathed and managed to land his plane safely
Moscow denies Western charges that is supporting the separatists or sowing unrest in its neighbor. The Russian Defense Ministry couldn't be reached for comment Thursday about the Ukrainian jet and Russia's foreign ministry didn't respond to multiple requests for comment.
Earlier this week, Ukraine said a military transport plane was shot down Monday by a missile fired from Russian territory.
The rebels are known to possess portable anti-aircraft rocket launchers, but Ukrainian officials say that kind of weapon would have been unable to
A spokesman for Ukrainian President Petro Poroshenko said in a statement: "In recent days, this is the third tragic accident after Russians downed aircraft AN-26 and SU-25 belonging to the Armed Forces of Ukraine.
"We do not exclude that this aircraft was also shot down, and stress that the Armed Forces of Ukraine did not commit any action to defeat the purposes of the air.
"The President of Ukraine on behalf of the State expresses its deep and sincere condolences to the families and relatives of the victims of this terrible tragedy.
"The Head of State appealed to the Cabinet of Ministers to urgently established the State Commission for the investigation of the incident in order to properly investigate the causes of this tragedy.
"The President proposed to involve the Commission experts from International Civil Aviation Organization (ICAO) and other international organiSations, as well as representatives of the Netherlands and Malaysia.
"We are confident that the perpetrators of this tragedy will be brought to justice."
The Ukrainian ambassador to the UK told LBC: "We expect to see the response not only from the American government, but from all the European countries.
"What the Russians are doing this is undermining all this system of international security."
He added: "We would like to hear from the British government comprehensive support of Ukraine."
Malaysia's Minister of Defence, has tweeted that there is no confirmation the plane was shot down:
No comfirmation it was shot down! Our military have been instructed 2 get on it! "@Nessie43: @tenoq Ukr Gov report plane was shot down

— Hishammuddin Hussein (@HishammuddinH2O) July 17, 2014
The Prime Minister of Malaysia has also tweeted his shock:
I am shocked by reports that an MH plane crashed. We are launching an immediate investigation.

— Mohd Najib Tun Razak (@NajibRazak) July 17, 2014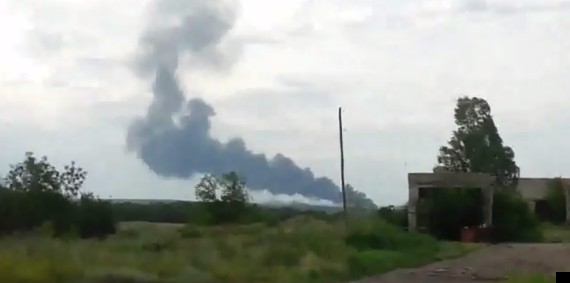 YouTube footage reportedly showing the aftermath of the incident
Malaysia Airlines has so far only tweeted that it "lost contact" with the plane. "The last known position was over Ukrainian airspace."
Malaysia Airlines has lost contact of MH17 from Amsterdam. The last known position was over Ukrainian airspace. More details to follow.

— Malaysia Airlines (@MAS) July 17, 2014
It was reportedly at 32,000ft when it was shot down but it is unconfirmed whether the aircraft was in Russian or Ukrainian airspace.
Labour MP John Mann has called for the parliamentary recess to be delayed if it turns out the plane was shot down by Russia.
Writing on Twitter he said: "If Russia/Russian missiles have shot down passenger plane as being suggested Europe enters a new unchartered [sic] era. Parl recess on hold."
The House of Commons is due to rise for the long summer recess on 22 July.