Almost 300 people have died including reportedly, nine Britons, after a Malaysia Airlines passenger jet was apparently shot down near the Russia - Ukraine border.
Flight MH17 - a Boeing 777-200ER travelling from Amsterdam to Kuala Lumpur - was in transit over the war-torn region when it disappeared from radar screens.
All 295 people onboard, including 280 passengers and 15 crew members, are believed to have perished.
Graphic images and footage showed a pall of smoke, charred wreckage and bodies at the crash scene in the rebel-held eastern Ukraine village of Grabovo.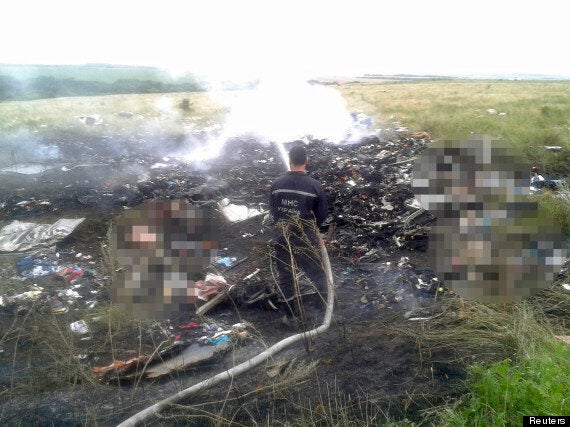 These are the first images of aircraft debris from the scene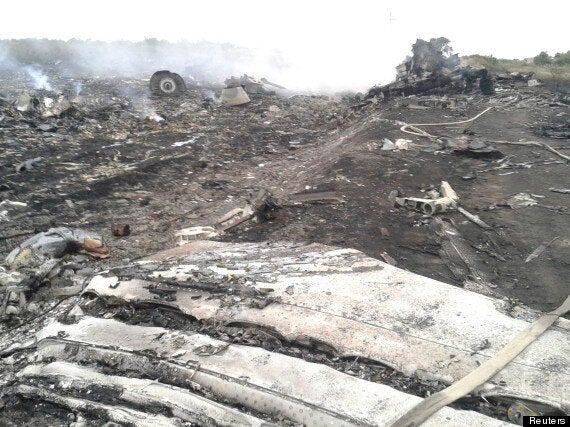 Flight MH17 is said to have been flying at an altitude of 32,000ft when it was downed
Interfax news agency said the plane came down 20miles (50kms) short of entering Russian airspace.
It "began to drop, afterwards it was found burning on the ground on Ukrainian territory," an unnamed source said.
As the drama unfolded, several other passenger jets were flying through Ukrainian airspace on one of the main routes from Europe to Asia for air traffic.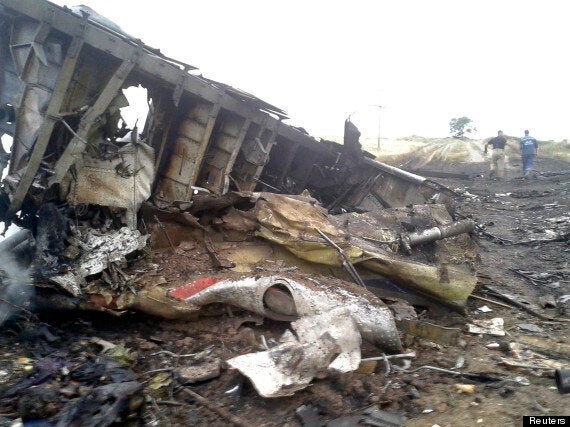 The flight was en route from Amsterdam to Kuala Lumpur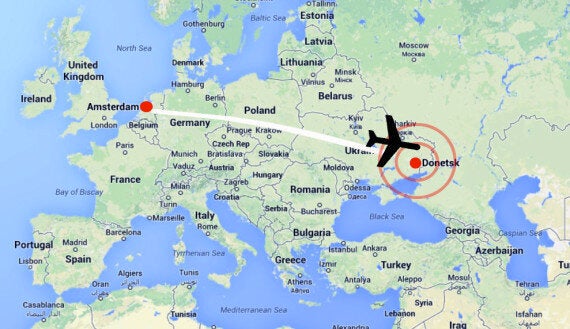 The route of Malaysia Airlines flight MH17 and where it was shot down
The jets path would have seen it flying at high altitude on an intercontinental flight that took it over the crisis hit region of Ukraine, where the authorities have accused Russia-backed separatists of previous attacks on aircraft.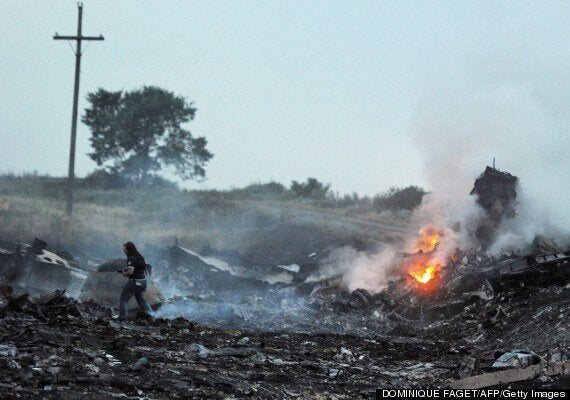 Officials at the scene of the disaster in the rebel-held eastern Ukraine village of Grabovo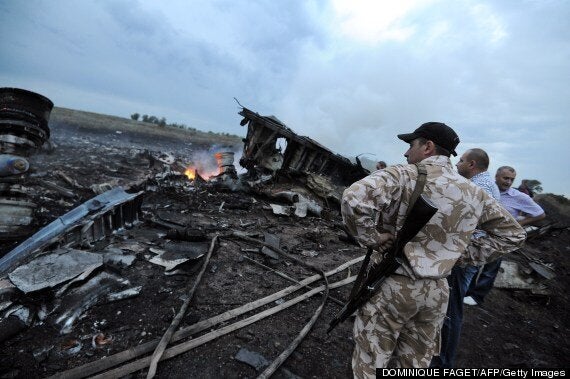 Writing on his Facebook page, Gerashenko claimed the plane had been hit by a missile from a Buk launcher, which can fire up to an altitude of 22,000 meters (72,000 feet).
Earlier on Thursday the Ukrainian authorities said one of their fighter jets was shot down by an air-to-air missile from a Russian plane and Ukrainian troops were fired upon by missiles from a village inside Russia.
A similar launcher was reported by journalists near the eastern Ukrainian town of Snizhne on Thursday. In this June 30, 2010 file photo, a Russian Buk-M2 air defence system is displayed at a military show in Zhukovsky, outside Moscow
Andrew MacDonald, at defence analysts Vision Gain told HuffPost UK initial reports that pro-Russian rebels were responsible for downing the plane were "quite plausible".
He said: "Earlier today separatist fighters claimed to have shot down a Ukrainian Su-25 ground attack fighter in the area, so the goal may be to create a de-facto no-fly zone in the east of the country in a show of force after their ousting from Slovyansk.
"However, the aircraft will at that stage in its flight will have been cruising at a very high altitude – around 30,000 feet – so would have been well out of range of any shoulder-launched MANPADS weapons you might expect insurgent groups to possess.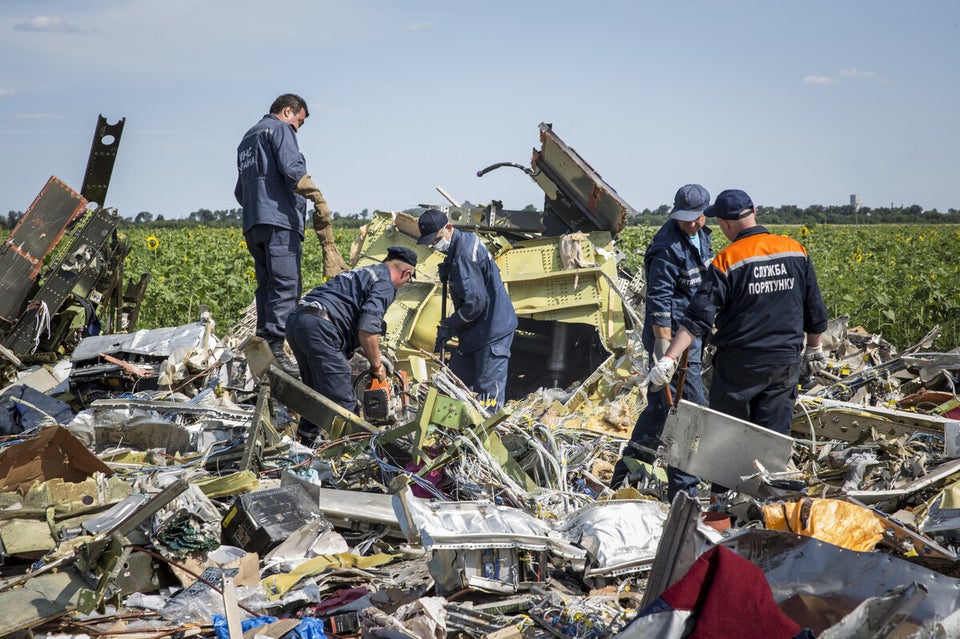 MH17 Malaysia Airline Plane
"This makes the Ukrainian interior minister's claims that a BUK self-propelled SAM system was used quite possible, and such a substantial bit of kit would presumably have to have been provided by Russia.
"Whether or not this strike against a civilian airliner is a deliberate act of terrorism or the result of poorly trained, over-enthusiastic irregular forces, is currently unclear."
Ukrainian President Petro Poroshenko called the downing an act of terrorism and called for an international investigation into the crash.
"We do not exclude that this plane was shot down, and we stress that the Armed Forces of Ukraine did not take action against any airborne targets," he said. "We are sure that those who are guilty in this tragedy will be held responsible."
The self-proclaimed "Donetsk People's Republic," the pro-Russian separatist movement in southeastern Ukraine has denied involvement in the downing of the plane, gazeta.ru reports.
Prime Minister David Cameron tweeted that he was "shocked and saddened" by the disaster and confirmed that Whitehall officials were meeting "to establish the facts".
US President Barack Obama said the downed plane "looks like it may be a terrible tragedy" and vowed the US would offer any assistance necessary to determine the cause of the crash.
This afternoon Malaysia Airlines tweeted it had: "lost contact of [sic] of MH17 from Amsterdam. The last known position was over Ukrainian airspace. More details to follow."
Malaysian Prime Minister Mohammad Najib Tun Razak tweeted of his shock at the news.
The flight is understood to have been around four-and-a-half hours into its 11-and-a-half hour journey. It took off at 12.14pm from Amsterdam Schipol airport and was due to arrive in Kuala Lumpur at 6.10am local time.
A UK Foreign Office spokesman said: "We are aware of reports and we are urgently working to establish what has happened."
A Department for Transport spokesman said of the Malaysian Airlines crash: "Flights already airborne are being routed around the area by air traffic control in the region. Pilots around the world have been advised to plan routes that avoid the area by Eurocontrol, the European organisation for the safety of air navigation."
The incident brings tragedy to Malaysia Airlines for the second time this year.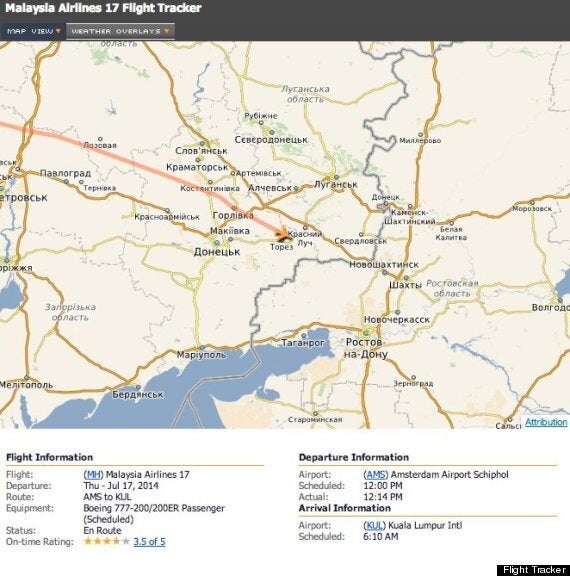 The flight tracker which reportedly shows the flight over Ukraine
Related