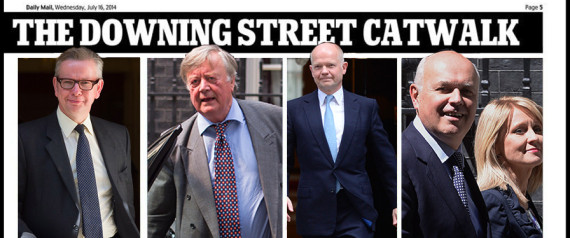 As this week draws to a close, the news has, of course, been distinctly unamusing...
I have lost control of the situation.

— God (@TheTweetOfGod) July 17, 2014
BREAKING: The world, apparently

— Rex Huppke (@RexHuppke) July 17, 2014
But before these tragic new stories there was silliness to be found. In the form of jokes about David Cameron's cabinet reshuffle...
-Hi Boss

-Hi. I'm moving you to a new job.

-OK, what is it?

-I can't tell you now you have to walk to my house first.

— Keri (@kerihw) July 15, 2014
And specifically: the fact that Michael Gove was no longer Education Secretary...
students react to #govegone pic.twitter.com/jAGyLDocz5

— Kates Bush (@katesbush) July 15, 2014
There was also the Daily Mail's coverage of said cabinet reshuffle...
The Daily Mail political cat walk, what they really mean. pic.twitter.com/iUGIC3ievV

— TechnicallyRon (@TechnicallyRon) July 16, 2014
What I wore to the office today. Fingers crossed the Mail approves. Hope I don't look too '80s cabin attendant'. pic.twitter.com/bVy7wCkfrG

— Nick Clegg (@nick_clegg) July 16, 2014
The Church of England's vote to allow women bishops...
As @David_Cameron announces his #reshuffle @Number10gov makes changes to let new ministers and bishops in pic.twitter.com/FN9B22RPVt

— UKITTY (@UkUkitty) July 15, 2014
The World Cup final between Germany and Argentina...
The cruelest cake in history!! pic.twitter.com/1O6wy9Mped

— The Football Jester (@FootballJester) July 15, 2014
And Cheryl Cole's wide-legged marriage announcement:
Has Cheryl Cole taken up the cello? pic.twitter.com/YZ1Ip0DXK3

— Peatree Bojangles (@peatreebojangle) July 14, 2014
Yes, sit back for jokes about all these things and more in our round-up of this week's funnies from Twitter...
SEE ALSO: