Israel is stepping up its ground offensive in Gaza, as reports surface that at least 60 people have died in one bombardment overnight.
Overnight, at least 60 people were reported killed and scores injured in heavy shelling of the Shejaiya district in the north east of Gaza.
Palestinian President Mahmoud Abbas described the attack as a "massacre".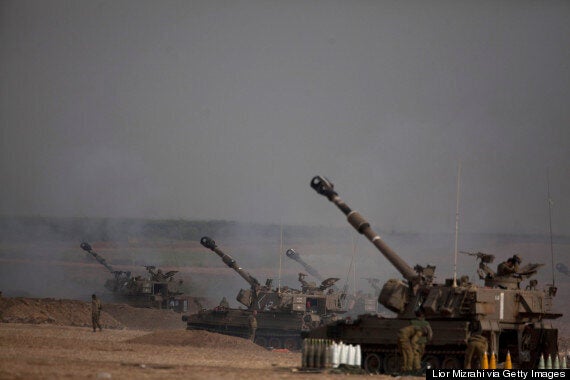 Israeli artillery cannons fire shells at the Gaza border
Israel said it had expanded its offensive, as militants kept up rocket fire into the country with no sign of a diplomatic breakthrough to end the worst fighting between Israel and Hamas in two years.
Gaza residents said land and naval shellings were the heaviest in 13 days of fighting. Explosions rocked the coastal enclave overnight and shells fired by Israeli naval forces lit up the sky.
Among the Palestinians killed as a 15-year-old girl in the neighbourhood of Beit Lahiya.
At least 100 Palestinians have been killed since Israel began its ground incursion last week and total death toll in Gaza is now understood to stand at 425 since the operation began 13 days ago.
This includes scores of children.
The death toll in #Gaza rises to 425 including 112 children.

— Ian Lee (@ianjameslee) July 20, 2014
It was initially reported that 40 people had died in Shejaiya but this was later revised upwards.
A humanitarian truce was called in the area after the attack but violated after just one hour, with both sides blaming each other for the attack, the BBC reported.
As well as those killed, more than 3,020 people have been injured, most of them civilians,' deputy health minister Yussef Abu Rish told reporters at al-Shifa hospital in Gaza City