US Secretary of State John Kerry has apparently criticised Israel's offensive against Gaza in an unguarded moment when he did not realise he was being recorded.
Kerry, who was speaking between television appearances, was speaking to a caller, identified only as "John", and said the offensive, which killed more than 100 people yesterday, was "a hell of a pinpoint operation".
"It's a hell of a pinpoint operation, a hell of a pinpoint operation," Kerry, apparently unaware he was being recorded, told John, who is understood to be one of his aides.
"We've got to get over there ... I think, John, we ought to go tonight. I think it's crazy to be sitting around."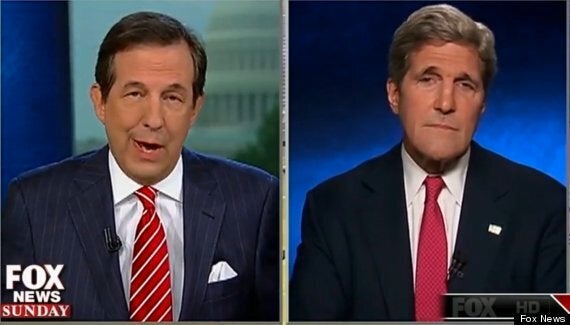 John Kerry was played the clip while appearing on Fox News
The comment appears to be a sarcastic remark about Israel's claims its operation is trying to avoid civilian casualties.
He was speaking on Sunday, which saw over 100 Palestinians killed during the ground offensive.
The UN Security Council has called for an immediate ceasefire to end the violence.
Kerry;s remarks were put to him while he appeared on Fox news, minutes after he made them. Host Chris Wallace described it as an "extraordinary moment of diplomacy".
Kerry said: "I reacted obviously in a way that, you know, anybody does with respect to young children and civilians.
"But war is tough. I said that publicly, and I'll say it again. We defend Israel's right to do what it is doing in order to get at those tunnels."
Heavy shelling of the Shejaiya district in the north east of Gaza has been described as a "massacre" by Palestinian President Mahmoud Abbas.
The intensity of the bombardment meant the emergency services could not access the area and dead bodies lay in the streets as thousands fled, the Agence France Presse news agency reported.
More than 500 Palestinians, mainly civilians, have died since Israel began its offensive two weeks ago, according to Gaza's health ministry.
Twenty Israelis - including two civilians - have died.
Israel has also moved to deny claims by Hamas that an Israeli soldier had been captured.
Kerry is travelling to Cairo to push a ceasefire offered by the Egyptians, which Israel accepted but Hamas rejected.
Speaking on the show, Kerry said: "Israel has accepted a unilateral ceasefire, accepted the Egyptian plan, which we also support and it is important for Hamas to now step up and be reasonable and understand that you accept the ceasefire, you save lives, and that's the way we can proceed to have a discussion about all of the underlying issues, which President Obama has clearly indicated a willingness to do."